GOMACO World Index --- GOMACO World 31.2 - October 2003
Earning Bonus With An IDBI On Highway 81
Highway 81 has been Werner Construction Company's mission for the last 10 years. They have been slipforming their way south on Highway 81 in southeastern Nebraska. Since 1997, their goal for the highway has been to turn 36 miles (58 km) of the two-lane highway into a four-lane roadway leading to the Nebraska/Kansas border.
In 2001, the GOMACO owners decided to upgrade their paver to a GHP-2800 equipped with an In-The-Pan Dowel Bar Inserter (IDBI).
"We wanted the IDBI mainly because of production, labor and trimming," Rob Wemhoff, project manager, said. "Production and labor-wise, it saves us between five and six people that would usually be working on the dowel basket crew. Trimming-wise, if you're behind on your trimming and you still have to set dowel baskets, you need a day in between trimming and paving. With the IDBI, essentially you can follow the trimmers. You can be paving a quarter mile behind the trimmers and have two operations going at the same time."
Werner's jobs on Highway 81 are any project manager's dream job. Traffic runs on the existing two-lanes while the new lanes are constructed. The project is open and accessible and a portable batch plant supplies concrete without a long haul time. Between seven and 13 trucks haul concrete to the job site at a steady pace.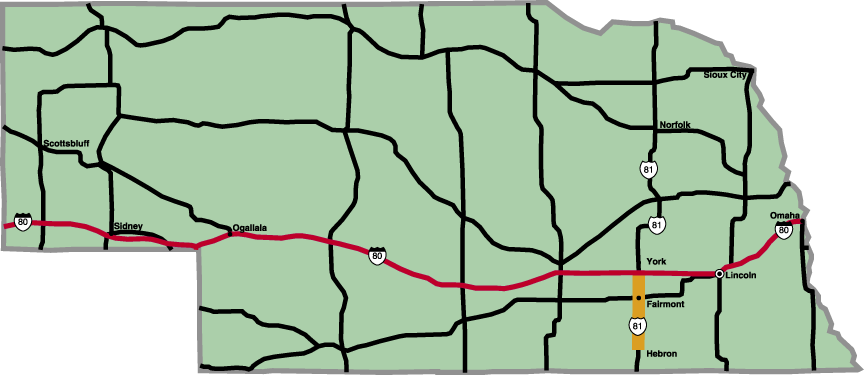 The map of Nebraska illustrates the scope of Werner's projects on Highway 81.
"This is good work," Wemhoff said. "We're still dealing with traffic, but it's nothing like city or interstate work. I like building work like this and it's fun to do new work. We can be a lot more productive."
They are in the process of completing the last contracts on the highway, two separate jobs connecting Fairmont to Geneva and Geneva to Strang. The biggest problem they've faced is Mother Nature and an extremely wet Nebraska spring. It's affected not only the concrete paving, but base preparation, too.
"Geneva has a lime-treated subgrade with a crushed concrete or millings base course. Strang has a fly-ash treated subgrade with crushed concrete base," Wemhoff said. "The crushed concrete base at Strang is pretty forgiving if it gets rained on. The millings base, if that gets a couple of inches of rain on it, we might have to tear it back up and start over. We've prepped non-treated subgrade three or four times... it gets rained on, and we start all over again."
Werner Construction Company has 36 miles (58 km) of new roadway on Highway 81 in Nebraska. They are using their GHP-2800 paver with IDBI to slipform the 29.5 foot (9 m) wide, 10 inch (254 mm) thick concrete road.
Despite the rain, Werner completed the two contracts ahead of schedule.
"Geneva north and south started April 2, 2001, with 320 working days allowed," Wemhoff said. "Strang north and south started on November 5, 2001, with 200 working days. Both jobs will have five to 10 days left over when they're completed."
Their production has been averaging 3000 yd3 (2294 m3) per day with some days exceeding 3500 yd3 (2676 m3). Werner's rideability has been excellent, also. The state of Nebraska is paying them a three to four percent or higher incentive bonus on these last two jobs on Highway 81.
Werner's paving process begins with grade preparation and two 9500 trimmers. The 9500s are each equipped with 18.8 feet (5.7 m) wide trimmerheads for maximum cutting width. The 9500s run in tandem, one in front of the other, with the back one trimming in the opposite lane than the first. The first 9500 windrows the trimmed material to the trailing machine and that trimmer discharges into the haul trucks. They run off a dual-stringline with telescoping extended sensor arms reaching over to the stringline.
"We have the longest trimmerheads made so we can run them side by side," Duane Childs, job superintendent, explained. "We'll trim subgrade half a day, back up, lay the base and then trim the base, and just keep a procession between them and the paver. I think the dual-stringline setup is more accurate and increases our production. We can trim a mile (1.6 km) per day."
The GHP-2800 with IDBI follows closely behind the 9500s. It is paving the new roadway and shoulders 29.5 feet (9 m) wide and 10 inches (254 mm) thick. The IDBI inserts 26 bars, 12 inches (305 mm) apart, across the width of the slab. The 1.5 inch (38 mm) bars are inserted into the slab every 16.5 feet (5 m).
A rear-mounted bar inserter places a #5 bar every 24 inches (610 mm) into the center line of the two lanes. The bar inserter is controlled by the IDBI's computer.
"The IDBI wasn't a hard process to learn," Childs said. "We have Clyde Stamper, he's our paver operator, and he's pretty good on a computer. When we first got our machine, service representatives from GOMACO and Tim Jindra, from our distributor Murphy Tractor, came out and helped us with set up. Tom Bell helped us with start up and taught us how to run the IDBI computer. They all took pretty good care of us."
Sections of the new roadway were saw cut to check the accuracy of the IDBI's bar placement. All of the bars were accurate and well within the state specifications.
"The GHP-2800 with IDBI does a nice job," Childs added. "They run a profilograph with the two-tenths blanking band to check our ride and we usually get bonus pay on all of it.
"To get bonus pay, you have to make sure your machine is set up and lined up right. We use the two-quarter trick. You run your stringline across and make everything flat. Then, you take two quarters and put them together and that's how much draft you put in your pan just to feed the back pan."
The GHP-2800 is also equipped with an Auto-Float® to apply a finish to the new roadway. The T/C-600 texture/ cure machine follows the paver applying a longitudinal tine and spray cure.
Werner operates two 9500s with 18.8 feet (5.7 m) wide trimmerheads to trim the subgrade and grade. They are run off a dual-stringline which Werner feels increases the accuracy of the cut.
"There's three things to get a good ride... stringline, stringline, stringline," Wemhoff said. "Stringline is the most important thing. Track line and finishing are important, too. You've got to run on a trimmed grade and your track line has to be hard. You can't have any soft spots in it at all.
"With finishing, the state wants us to check the slab with a straight edge. When it comes out of the paver, it's fine and you just don't want to mess up the slab while you're straight edging it."
The last two jobs of Werner's project on Highway 81 are almost complete. They will have finished the $26 million project early and earned bonus on the 418,610 yd2 (350,000 m2) of mainline concrete pavement that they have slipformed with their GHP-2800 with IDBI.
Their next project takes them to Highway 26 slipforming a new roadway between Scottsbluff and Minatare, Nebraska.
"We're the subcontractor on the project and all we have to do is pave seven miles (11.3 km) of 30 foot (9.1 m) concrete on a new grade," Wemhoff said. "It's going to be a really nice job."
The accuracy of the IDBI was tested in several saw cut slabs. All of the bars were accurate and within the state's specifications.
Subscribe to Receive GOMACO World Magazine