GOMACO World Index --- GOMACO World 31.2 - October 2003
GT-3600 Opens Doors For A Handforming Expert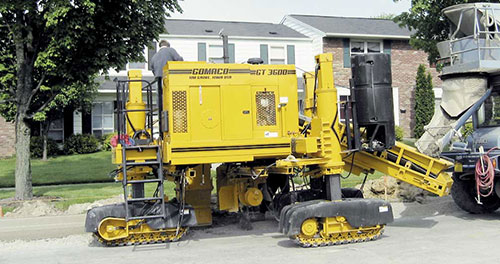 Hipskind Concrete has more than tripled their curb and gutter production since adding a GT-3600 to their operation last year.
Hipskind Concrete Corporation in Fort Wayne, Indiana, is a company with a varied past. In the 1970s, they specialized mostly in asphalt paving but did a little bit of everything to stay competitive. It was during the '70s that Patrick Hipskind, the current owner of Hipskind Concrete, started working for his father and taking care of the concrete work.
The '70s is also when Hipskind first tried slipforming curb and gutter with a tow-behind form. Their first attempts didn't prove to be successful.
"Ninety percent of what we did was reconstruction where you remove and replace the existing," Hipskind explained. "With the old pavement grades and the rest of it, the machine just didn't adjust fast enough to carry a decent grade."
Slipforming was abandoned and Hipskind returned to their tried and true method of handforming all of their curb and gutter.
In the '90s, Hipskind decided it was time for a total career change. He packed up his family and headed out to the Yukon Territory of Canada.
"I just got fed up with the headaches and went to the Yukon Territories and mined gold for four years," Hipskind said. "We took out $3.5 million in gold but it cost me $3.8 million to do it and that wasn't a good thing."
He returned to Indiana and went back to concrete work, mainly handforming curb and gutter.
It wasn't until 2002 that Hipskind Concrete would once again reinvent itself. Handforming would be replaced by slipforming when Hipskind purchased a GT-3600 curb and gutter machine from GOMACO.
"Last spring we had a couple of really good hands just up and walk without any notice at all," Hipskind explained. "We had a pretty good load on the books at the time and there was some work coming up that I knew we could be competitive with if we could get the curb in faster and increase our production.
"I just called Kent Godbersen, GOMACO's Midwest District Representative, on the phone and asked him if he had one in stock. Never flew out to Ida Grove, never ran a machine, just jumped in with both feet..."
The majority of Hipskind's projects are reconstruction in residential neighborhoods with existing trees, utilities and tight-clearance conditions. They also face the challenge of scabbing on to the existing roadway and essentially pouring their curb and gutter in a hole. Tight clearances and below the grade slipforming are some of the challenges the GT-3600 was designed for.
"Seldom are we in the open grade where you're wide open and there's no trees or any of the rest of it to get around. Because of those reasons, we liked the smaller, tighter design of the GT-3600," Hipskind said. "We use the extra steering features a lot when we're picking up, moving off, getting around in the neighborhood and it works really well. We go around a lot of trees where we have to pull up, move over, shift a little bit here and there and it all works just like they planned. It saves a lot of back turning, twisting and tight-clearance with the rehab work."
The majority of the curb and gutter Hipskind slipforms is either 24 inch (610 mm) roll curb, 20 inch (508 mm) stand-up or a 24 inch (610 mm) chairback that has to have continuous steel reinforcing. The profile they slipform depends on the existing curb in the neighborhood they're reconstructing.
Steel reinforcing (left) is manually fed into the mold on the GT-3600. The steel is mandatory in Indiana's 24 inch (610 mm) chairback curb and gutter.
"We're dropping and changing the mold all the time," Hipskind said. "It's not a tough process and it goes real quick. One man can do it. The system on the GT-3600 works really good... drop the profile, replace it, lock it in place, and she's ready to go."
Their concrete mix design is a standard Indiana Department of Transportation #8 mix with slump averaging 1.5 inches (38 mm).
Depending on the project size and the number of driveways, the crew will average between five to six men. In residential neighborhoods, driveways will be every 50 to 100 feet (15.2 to 30.5 m). The driveway cutout attachment saves both time and concrete.
"It saves us a lot of grief and a lot of concrete because we don't have to shovel half of it off again," Hipskind said.
Finishing work, according to Hipskind is almost nonexistent as long as a quality mix is fed into the GT-3600. It was a hard lesson for the new slipforming crew to learn.
"To run a curb machine, you have to know what concrete looks like and what it's supposed to look like," Hipskind explained. "It helps when the operator has been around it long enough to know when the concrete's not coming out of the truck right. It's all in getting the mix and the consistency right to eliminate the finishing. When we first started, nobody had worked behind a machine before and they wanted to get on the curb and start rubbing it. They were just making themselves more work. Now they've learned to leave it alone, just touch it up a bit, and broom it. It was a big learning curve for the boys behind the machine."
Production continues to increase on every project. By the end of the season, they were slipforming 3200 feet (975 m) of curb and gutter in a day, more then tripling what they averaged while handforming.
"We're used to doing hard-way construction, but by the end of the season, my boys were standing with their hands on their hips thinking this machine is the only way to go," Hipskind said. "It's all ready opened up a few more doors for us, just with the workload we did last year and the versatility of it. It makes us a lot more versatile. Things go a whole lot faster and production is a whole lot quicker."
Hipskind is now into his second season of slipform paving. His advice for other people considering a curb and gutter machine is simple.
"If you want the production, if you want to do it right, if you want to do it fast, and if you want to drive the Cadillac, you better order the GT-3600," Hipskind said. "There's only one top of the line and I like to do things right so I don't have to do it again. In concrete, doing it once is the only way to go."
Subscribe to Receive GOMACO World Magazine