GOMACO World Index --- GOMACO World 32.1 - February 2004
Slipforming London Heathrow's T5 Project In England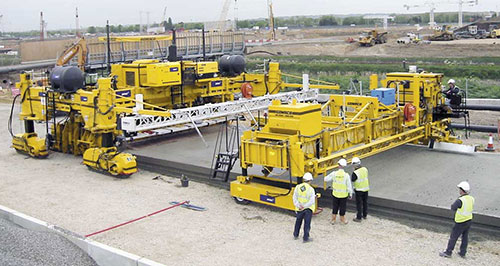 A total GOMACO package is at work on London Heathrow's massive T5 runway project. A four-track GHP-2800 paver, equipped with the stringless 3D guidance package, is paving passes 21.7 inches (550 mm) thick with a female keyway in the side of the slab. A GOMACO T/C-400 follows the paver and applies a transverse texture and cure to the new slab in a single pass.
Concrete for the project is being produced by two Compactor batch plants, sold by GOMACO International Ltd. The two plants, synchronized to work together, are capable of producing 445 yard3 (340 m3) of concrete per hour.
The airport project has some very demanding specifications that are being met by AMEC with their GHP-2800.
Watch for a complete article on AMEC's work on London Heathrow's T5 project in a future edition of GOMACO World magazine.
Subscribe to Receive GOMACO World Magazine