GOMACO World Index --- GOMACO World 33.1 - February 2005
Slipforming A Fast Track At Martinsville Speedway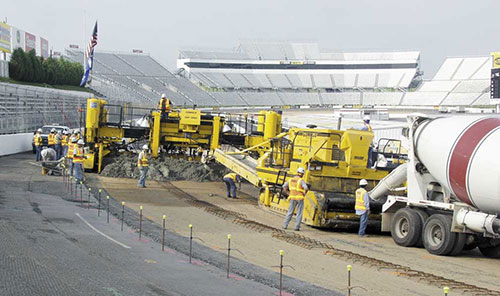 For those familiar with NASCAR racing and follow the sport, the spring race at Martinsville Speedway in Martinsville, Virginia, was an exciting one. Jeff Gordon was leading the pack when a chunk of the racing surface in turn three broke loose and badly damaged his car, lost him the lead and eventually eliminated him from the race entirely.
The owners of Martinsville Speedway met with Ballenger Paving Division and APAC of Ashland to help them decide how best to fix the track. They decided to completely remove and replace all four turns on the track.
Ballenger Paving brought in their two-track GHP-2800 paver to slipform the challenging project. Temperatures soared into the upper 90 degrees F (32.2 degrees C) and created problems with the concrete mix design. Ballenger paved at night to help with the problem and also added ice and chemical retarding admixtures to the 650 psi (44.8 MPa) flexural strength mix design. The curves also had a nine degree banking or superelevation.
The GOMACO Smoothness Indicator® (GSI) followed behind the paver and tracked the smoothness of the slab throughout the pour. Ballenger wanted to be sure they were meeting the project's smoothness specifications and the GSI provided an instant printout of their rideability directly behind the paver.
The new section of track was slipformed 28 feet (8.5 m) wide and six inches (152 mm) thick. The concrete on the exit of turns two and four was extended an extra 100 feet (30.5 m) to help the racecar drivers transition out of the curves and into the straightaways more efficiently.
The improvements to Martinsville Speedway were a success. When NASCAR racing returned to the track last fall, it was the first side-by-side racing ever seen through the turns.
Subscribe to Receive GOMACO World Magazine