GOMACO World Index --- GOMACO World 33.2 - September 2005
Curb Machine #9
Greater Austin Development's Ninth GT-3600 Goes to Work in Austin, Texas
Greater Austin Development has been slipforming curb and gutter since 1993 when Bobby Finley, president of Greater Austin Development, bought his first GOMACO GT-3600 curb and gutter machine. Finley just recently purchased his ninth GT-3600, equipped with new features that his paving crew are enjoying.
This GT-3600 has the new digital G21 operating system that allows push-button steering control setup. It features Commander III style legs that are 15 percent larger in diameter than the previous legs. The legs are also equipped with "smart" cylinders. The cylinders, along with the G21 controller, allow the operator to teach the "smart" cylinders to set the desired degree of leg rotation. This keeps the tracks from hitting any objects on minimum-clearance projects.
It also features the new two-speed track system. The majority of Greater Austin Development's projects are subdivisions that require moving the GT-3600 across the job site for different reasons. The travel speed on this new machine has doubled from the older style from 66 fpm (20 mpm) to 125 fpm (38 mpm).
"All of our GT-3600s turn out really great curb, but this one is going to be different from the past eight because of the new improvements," Finley said. "The Commander III style legs, G21 controller, and faster travel speed are going to help us move faster, and with better equipment, you're obviously going to get a better end product."
Riverside Meadows, a new subdivision in Austin, Texas, was one of the first projects for Greater Austin's new GT-3600. The subdivision had approximately 8000 feet (2438 m) of curb and gutter, with some large radii for cul-de-sacs and several water inlets in the path of the curb and gutter.
"This is a type of project that just doesn't happen anymore in the city of Austin," Finley explained. "The timing of the project hit perfectly and everything was ready at the same time. The project has lots of straight runs and, except for the water inlets, it's just a good, clean job."
The project called for the city of Austin's specified catch curb and spill curb, requiring a mold change on the project to switch from one type to the other. The mix design is also a city of Austin spec which contains some fly ash with a slump that averages between 1.5 to two inches (38 to 51 mm).
The GT-3600 trimmed and poured simultaneously on the project.
"The only time we don't do it that way is if we have to put steel in the curb, then we have to pretrim," Finley said. "We'll bring in one of our GT-3600s and we send it down the stringline pretrimming. Then, with a second GT-3600, we just sideshift the trimmer out of the way, lay out the rebar in 40 foot (12.2 m) pieces, and feed it into the machine as it slipforms."
Finley's crew has also mastered the art of water inlets and getting around them. As they approach an inlet, they meter the concrete to control the stopping point so when the mold reaches the inlet, they simply have to raise the mold hydraulically. The operator pulls off the stringline and uses the GT-3600's All Track-Steering and Reverse Steer to get it back on the stringline in three simple moves on the other side of the inlet. The mold is lowered back down and the operator takes off slipforming down the stringline again in no time at all.
"All-Track Steering just gives us so much versatility," Finley said. "We save a lot of time and extra moves getting on and off stringline because of it."
The new GT-3600 is working out well for Greater Austin Development. Finley says that his operator is enjoying the new machine with G21 operating system and equipped with a remote control for travel speed and manual steering control.
"That is a big deal and something my operator really likes," Finley said. "I asked immediately if we could retrofit our other machines to be able to do the same thing, but that is a benefit offered through the G21 control system."
Greater Austin Development specializes in all types of concrete work, from curb and gutter to detention dams and small bridges. From the very beginning, their choice for curb and gutter slipforming machines has been the GOMACO GT-3600.
"I've had a relationship with GOMACO and Closner Equipment since 1993 when I bought my first GT-3600 from Frank Closner," Finley said. "Relationships, people and service are important to me and I've got a relationship with them that will be there forever."
Editor's Note: Thank you Bobby for your time showing us around your job site in Austin. It's interesting to watch a good curb and gutter crew in action.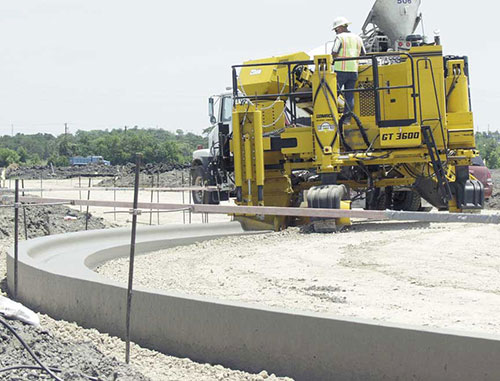 Greater Austin Development's GT-3600 slipforms curb and gutter past a fire hydrant and around a radius on a project in Austin, Texas.
Subscribe to Receive GOMACO World Magazine