GOMACO World Index --- GOMACO World 34.1 - February 2006
A Paver As Efficient As The Company That Owns It...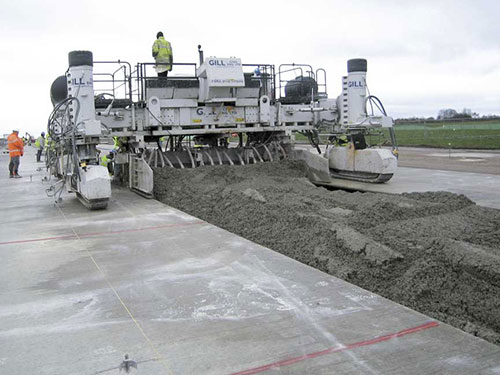 Gill Civil Engineering in Kent, England, has carved out a unique niche for their company in the last three years. The country has several prime contractors and most aren't equipped to handle the slipform concrete work on contracts. Gill Civil Engineering saw that need and offer their subcontractor services solely as slipform pavers specializing in mainline paving for highways, and runway and taxiway work at airports.
The company is constantly on the move handling a variety of different projects and specifications. They needed a concrete paver that was easy to transport and could change widths quickly and easily. The GOMACO GHP-2800 four-track slipform paver fit the company criteria perfectly.
"I've been slipforming for 15 years all together now and I've always worked with GOMACO," Simon Renker, paving contract manager for Gill Civil Engineering, said. "We chose the GHP-2800 because it's so versatile and user-friendly. Everything is made simple to change from transport mode to paving mode and back again. It's all made so simple, even changing the width of the frame is easy and that's really one of the best selling points on the machine."
They just recently finished up a taxiway and runway project at the Leeds and Bradford Airport in Leeds, England. The airport called for 16,744 square yards (14,000 m2) of concrete and, according to Renker, was one of the company's smallest projects.
"Basically, it was a taxiway that blended into a runway and it was a small job for us," Simon Renker said. "We bid it because of our versatile GHP-2800 and our ability to change widths with it very quickly and move it from site to site."
The new taxiway/runway was built over the existing one that had been planed down. When the old structure was planed though, it was planed at variable depths. Gill's paving runs would have to accommodate the inconsistency over the 79 foot (24 m) wide concrete paving.
"The variable depth was the tricky part," Simon Renker explained. "It was the reason the airport authorities wouldn't let us go very wide with our paver."
Paving was accomplished in five passes, 15.75 feet (4.8 m) wide. Slab depth varied between 12.2 to 18.1 inches (310 to 460 mm) thick. Each pass was approximately 1722 feet (525 m) long.
Concrete on the project was supplied by Gill's own batch plant. The company currently owns two plants purchased from GOMACO International Ltd.
"Obviously, if you understand slipform paving, you want to get your concrete just right and having control of your batch plant allows you that," Simon Renker said. "We really are self efficient with our own batchers on site, our own transport and then we slipform it, as well."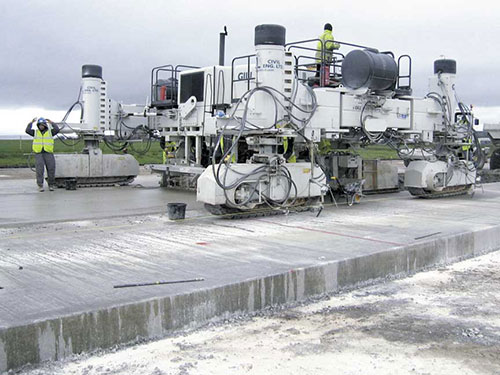 The new taxiway/runway was built over the existing one that had been planed down. Paving passes could only be 15.75 feet (4.8 m) wide and depth varied between 12.2 to 18.1 inches (310 to 460 mm) thick.
The batch plant has the capacity to produce an average of 157 cubic yards (120 m3) per hour. On this project, production averaged 1236 cubic yards (945 m3) per day.
The Pavement Quality Concrete (PQC) is a C-40 mix design with 641 pounds per cubic yard (380 kg/m3) of cement. Slump averages 1.5 inches (38 mm).
Three articulated dump trucks capable of carrying an 11.8 cubic yard (9 m3) load delivered concrete to the site. An excavator was used to level out the concrete in front of the GHP-2800 paver.
"Our paver is a nice machine," Simon Renker said. "The lower engine and shroud gives a better view around it and it definitely is a lot quieter now. The G21 controller combined with the steering makes the paver more responsive."
Behind the paver, the new slab has a bull-float finish followed by a brush-texture finish. Joints are wet saw cut 18 hours after the mainline paving during the winter months. Summer temperatures shorten that time down to six hours. Joints are cut every 16.4 feet (5 m) with crews cutting up to 105 joints per day in the new runway/taxiway.
In addition to their GHP-2800 paver, they also own a GOMACO four-track GT-6300. They certainly have the work for it with projects on several airports in England including the Birmingham Airport, the East Midlands Airport and the Manchester Airport.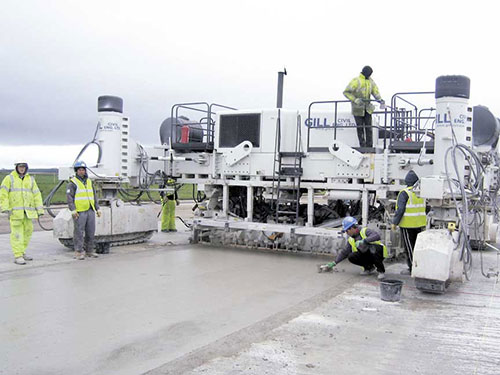 The airport project, with only 16,744 square yards (14,000 m2) of concrete paving, was a small one for Gill Civil Engineering.
Subscribe to Receive GOMACO World Magazine