GOMACO World Index --- GOMACO World 34.1 - February 2006
Round And Round Goes The GT-3600...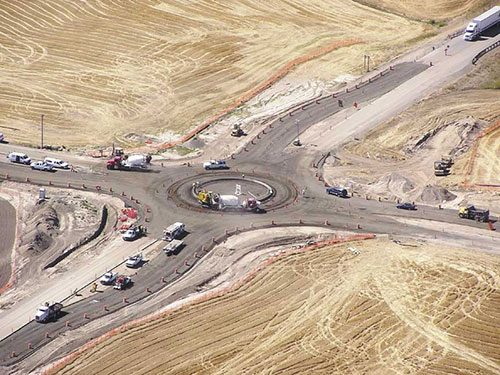 An aerial view from Cameron Contracting best shows the radius work they performed on this round-about in the state of Washington.
It must be quite a sight to see when Cameron Contracting Inc. in Airway Heights, Washington, is working on a project.
The company, never afraid of tackling the most challenging projects, also believes in enjoying their work to the fullest. They have a truck on the project with a 700 watt stereo system mounted to it pumping out music.
Then there's the "flaming" GOMACO GT-3600 curb and gutter machine slipforming anything from curb and gutter to sidewalk. The GT-3600 is hand-painted with bright red flames... the result of a pin-striping job gone to the extreme...
"You've got to have fun and when we're rolling down the road, we put on quite the little show," Jim Cameron, president of Cameron Contracting, said.
The company specializes in curb and gutter and sidewalk work, and has owned GOMACO curb and gutter machines since 1990. In fact, they were one of the first companies to introduce slipformed concrete sidewalk to the state of Washington, according to Cameron.
"We like to try new things, and more than anything else, a new challenge is fun," Cameron said. "There weren't too many people trying to slipform sidewalk when we started and it was a challenge. Setting the stringline and the mold right was a little bit of a learning curve. Plus, since this was a new thing, we were really under the microscope and had engineers and inspectors watching our every move.
"We learned that a quality subgrade and properly set stringline are essential to any slipforming project. We like to have 'banjo tight' stringline, nice and tight, because whatever is in the stringline is going to come out in the curb or sidewalk."
They conquered the challenge of sidewalk, so much so, that it's now one of Cameron's favorite applications to slipform. It's also an application that adds to the versatility of his company and the work they can perform for clients.
"We do a lot of subdivisions and road work," Cameron explained. "We looked at the 2005 GT-3600 and liked the new features and decided to add one to our company."
Those new features include new two-speed track motors that provide a smooth, uninterrupted crawl while slipforming and a travel speed up to 125 fpm (38.1 mpm) for moving around the job site.
"It's a huge benefit for moving around the job site and saves us a ton of time," Cameron said. "The track system is so much smoother. Any curb machine I've been around is constantly compensating for itself by adjusting up and down and going left and right. The tracks are so smooth on this new GT-3600. That's the only way to describe it. It's just smooth and you don't feel any movement on it."
The 36 inch (914 mm) stroke legs are 15 percent larger in diameter than the older style and have the same quality and durability as the Commander III legs. "Smart" cylinders on the legs eliminate the sprocket, chain and potentiometer at the top of each leg and simplifies steering control and setup.
Cameron's GT-3600 has the trimmerhead with the new, more efficient, direct-drive, radial piston motor. The new system provides a 15 percent increase in torque for more power and a faster tooth-tip rotational speed which moves the trimmed material out of the trimmer box at a higher rate.
"The new trimmer is just amazing and works really well," Cameron said. "We've trimmed gravel up to eight inches (203 mm) deep while slipforming curb and gutter at 12 to 14 feet (3.7 to 4.3 m) per minute. It powers through a ton of stuff and it's very impressive."
The new GT-3600 also has the G21 digital control system with push-button steering setup. The controller allows the operator to teach the "smart" cylinders to set a desired degree of leg rotation, so the tracks won't strike any objects while tight-clearance paving.
"I'm intimately aware of the GT-3600 and how it operates," Cameron said. "One of our operators quit this summer and I was actually out running the new machine for a couple of months. The G21 is very nice, easy to learn and easy to operate. It works very well."
So far, Cameron Contracting has had the opportunity to slipform barrier wall, sidewalk and curb and gutter with their new machine. A new kind of project is gaining popularity in the state of Washington - roundabouts. Cameron and his crew had the opportunity to slipform the first one in the state.
"The state is trying to get away from traffic signals and all that expense by going to roundabouts," Cameron explained. "We had to slipform this one in live traffic with a constant barrage of cars and trucks. We had a lot of traffic control, a lot of flaggers and we really had to be aware of everything going on around us."
The roundabout called for an 18 inch (457 mm) tall curb with a 24 inch (610 mm) wide gutter. The engineers designed it that size to create a visual impact for drivers who would be approaching the roundabout at 50 miles per hour (80.5 km/hour).
"It was challenging," Cameron said. "We had to get ready-mix trucks through the traffic and to the machine all the time. With curb and gutter that size, we were only getting nine feet per cubic yard (3.6 m/m3) of concrete and one truck didn't go very far."
The concrete mix design was a six-sack mix with a three-quarter inch (19 mm) aggregate. Slump averaged 1.5 inches (38 mm).
Finishing work was kept to a minimum with a broom finish applied to the top. Joints were tooled in every 10 feet (3 m).
"We figure we're running about 20 percent faster with this new GT-3600," Cameron said. "That's a huge difference and we have to be careful not to tire out our finishers too much."
The GT-3600's faster production, more powerful trimmer and the versatility of the G21 controller is the perfect fit for Cameron Contracting, a company that's not afraid to put the versatility of their new curb and gutter machine to the test.
"The GT-3600 is the perfect machine for what we do," Cameron said. "It's a good fit, all the way around."
Subscribe to Receive GOMACO World Magazine