GOMACO World Index --- GOMACO World 35.1 - February 2007
There's Nothing Remotely Like It...
GOMACO Partners with OMNEX Controls to Create the GT-3400's Remote Control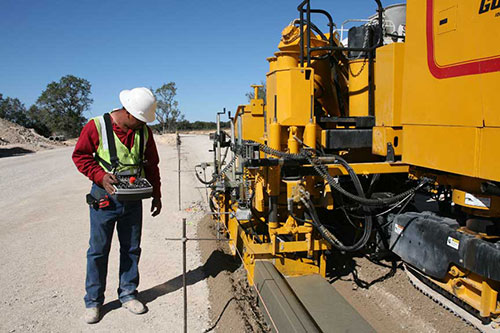 OMNEX Controls worked with GOMACO to develop the wireless remote for the new GT-3400, making it the first remote controlled curb and gutter machine.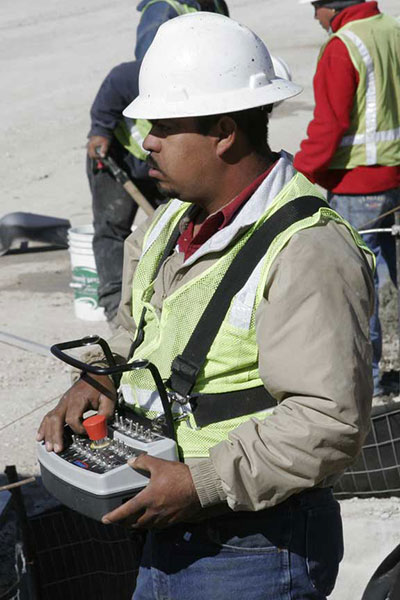 An operator carries the remote control, operates the machine from the ground and has total freedom to move around the project.
One of the most exciting new features on the GT-3400 curb and gutter machine is the remote control. The GT-3400 is the first in the industry to be wirelessly controlled and allows the operator total freedom to move about the project while still controlling the machine.
GOMACO partnered with OMNEX Control Systems ULC in Port Coquitlam, British Columbia, Canada, to develop the control system. It has been a partnership that has worked out well and the final product is very impressive. A recent interview with Conrad Penner, Business Development Manager for OMNEX, reveals some insight into the development of the GT-3400's remote control, their impressive background in the controls industry, and the worldwide acceptance and usage of their products.
Who is OMNEX Controls and what do you specialize in?
OMNEX Controls is a wireless company. We specialize in wireless control of mobile equipment. We also have a second division that specializes in industrial equipment, which is a completely different environment where radio signals move from fixed point to fixed point. Mobile is more complex in that we have an operator and a machine which are both mobile and so there are variables there. OMNEX specializes in both on-road and off-road mobile equipment. Our company was officially incorporated in 1986, so we've been at it for 20 years now.
What's your experience in the concrete industry?
We've been supplying controls to both concrete boom trucks and concrete line pumps. What's significant there is the robustness of the remote control. It's essentially like any other tool that the tradespeople use. It's subjected to extreme temperature, vibration, concrete dust, concrete chemicals, and is an extremely harsh environment due to the chemicals.
Is working in the concrete industry a new application for your company?
No, there are tens of thousands of systems on mobile equipment, specifically in the concrete industry. Line pumps are another very important area to us that we've been supplying controls to. What's significant about that, is the concrete pump trucks that place concrete over a distance of several hundred feet are generally line of sight applications. Line pump applications, the majority of the time are non-line of sight, the operator does not see his equipment at all. It's very significant that our radios work in either line of sight or non line of sight, provided they're in the parameters of what we specified the product to do.
When you first get started with a client, like GOMACO, how do you begin the process of developing a remote control that will operate a curb and gutter machine?
We take on the role of the consultant, initially. Yes, we have a lot of products and ultimately we will sell a product/service, but initially we always take on the role of the consultant and we want to propose an A and possibly a B solution. We have a long list of questions or work sheets/fact finders and we go through that process. That's something that Scott Pedersen, GOMACO's GT-3400 project manager, did. He had to understand these parameters and provide us with answers. What we need to do is get someone like Scott up to speed as quickly as possible on what the key parameters are. What we can do and what we cannot do. GOMACO gave us a very well written set of specifications. We knew what GOMACO required and then we met with our own R&D staff to do the design work and incorporate all of the details that GOMACO required in the system.
How do you determine the design and the look of the remote control?
Ultimately, we create what we call a portable dashboard that the operator will strap on and carry with him. He's going to use this portable dashboard with potentiometers and switches to control the machine exactly the way he would if he was standing at the machine console. We create the portable dashboard to be a very reasonable facsimile of the controller he's comfortable operating on the machine. This has to be an environment that he becomes accustomed to very quickly. In other words, it has to look almost exactly like what he's always been using, the only difference is, he doesn't have wires attached and he's not standing on the machine he's operating. Ergonomics is another key issue, and we have a lot of different options for creating those ergonomics. We need a certain amount of real estate so we can build the ergonomics and load it with hardware, the buttons, the switches and the potentiometers. We have to create room so the operator, with a pair of winter gloves on, can operate all of the switches.
Will international contractors be able to operate the GT-3400 wireless all over the world?
We have been able to build radios that will satisfy the vast majority of global requirements. That was very significant for the design group at GOMACO. This system incorporates a 2.4 GHz frequency hopping spread spectrum radio that can work almost anywhere in the world.
What is a 2.4 GHz frequency hopping spread spectrum radio?
The wireless engine that drives the GOMACO remote control is an OMNEX Trusted WirelessTM 2.4GHz spread spectrum frequency hopping radio. The radio derives its robustness from its ability to rapidly frequency hop between numerous narrow band radio channels inside a license-free bandwidth. By hopping many times a second, and by constantly updating the signals from the operator's controller on each hop, the radio is able to withstand high levels of interference that may affect some updates, but can never affect them all. Since each update is error checked, and the time between updates is measured in tens of milliseconds, any encounter with interference is seamless to the operator.
Do you design and manufacture all of your components in-house or do you rely on outside suppliers?
We design in-house and we manufacture in-house. We've decided that's the only way we're going to control quality. We can do prototypes, short runs and customizations very quickly and accurately. Once we go into production and a problem potentially pops up, we can respond to that within a day, as opposed to if we're doing things overseas, then you'd be talking about months. That's not acceptable. Our system is extremely reliable. We've put a lot of checks and balances in place, and of course we've done this over the last 20 years.
That holds true with the battery and keeping things simple. It's just a regular nine-volt Makita battery that can be bought in any hardware store.
We decided a long time ago to use non-proprietary batteries because when you look at the overall system that GOMACO has, the only maintenance on the system is the battery. If that's the only maintenance, we don't want to drive people nuts with proprietary batteries and proprietary charging systems. What we've used is standard, off-the-shelf, and you can go to any hardware store to buy a new battery or the charging system for it. We've made it very simple.
The remote has built in safety features on it to keep everyone working around the machine safe. Could you explain those?
We learned a lot about safety from the railroad industry. There are so many checks and balances built into the wireless systems there and we've built those same checks and balances into GOMACO's. It has a tilt warning system and it is an excellent feature to have. In many industries, they call it "Man Down." He's fallen over and we can program the machine to respond to that signal. It means that as soon as it sees a tilt of over 60 degrees on its axis, it will shut down the machine. We have an E-stop built into it as well that sits right in the center of the remote control. There's a lot of safety built into the system. GOMACO has also built two-way communication into the system, so that's another level of safety/redundancy. There are a number of things we're displaying on the portable dashboard that the operator is carrying. He's seeing a number of indicator lights that are telling him a certain operation is running, besides just visually looking at it with line of sight.
This remote also has the ability to be tethered, if the machine has to work in an area that doesn't allow wireless control.
Yes, there are two significant things about the tether. We don't put it there because we think the remote is going to fail. We believe the wireless system is going to work just fine. However, the tether is available in the event the machine is going to be used in an area where wireless is not allowed. Let's say it's road construction and you get into an area where they're doing some blasting not too far away. Typically, the blasters will ask you to turn off all of your radios. If the operators want to keep operating their equipment, they have the option to just simply tether the remote to the machine and it will shut the radio off. That's the number one reason for putting that tether connector there. The second reason goes back to the whole idea of the only maintenance on the system is the battery. If the battery were to go dead and wasn't usable, but the operators have to keep going and don't have any other way of getting a battery, they can simply go and tether it and bypass the battery.
Whenever we've taken the GT-3400 and remote into the field for testing, the operators never want to give the remote back to us. It's fun to see that they're excited about the product.
I think a lot of your customers are going to have fun with it. It's always interesting for us to find out what the value of it is to the end user. Yes, safety is one and efficiency is another. A lot of people can't even imagine yet what they're going to end up doing with it, but they will find ways. They'll find they have more freedom to move about, that they can do better quality control of the product, or stand in another position that they've never been able to stand at before... and hopefully they'll have fun while discovering all these new things.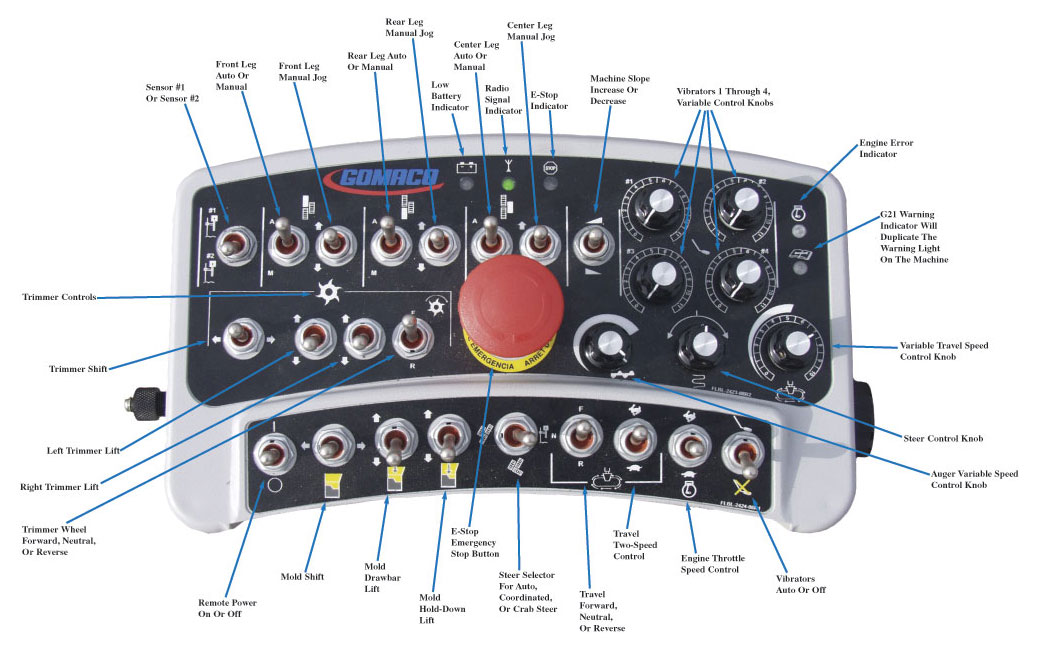 The GT-3400's wireless, shown at actual size, is 11 inches (279 mm) wide, seven inches (178 mm) tall, 4.5 inches (114 mm) deep, and weighs only 6.75 pounds (3.1 kg).
Subscribe to Receive GOMACO World Magazine