GOMACO World Index --- GOMACO World 35.1 - February 2007
12 Percent Grades Can't Slow Down a GT-3600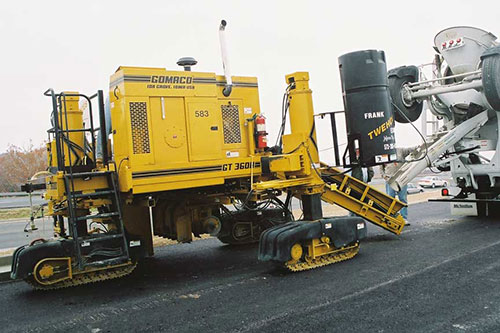 Twehous Excavating's history began in 1959 when Frank and LaVerne Twehous became land improvement contractors. They started their company in Jefferson City, Missouri, with two employees.
The company purchased their first GOMACO, a Commander III, in 1989. It was one of the first in the country to have the three-track 16 foot (4.9 m) wide GOMACO paving package. Twehous used it to pave a 16 foot (4.9 m) wide pavement with integral curb up and down a 17 percent grade on one of their first paving projects. The project was McClung Park in Jefferson City.
Twehous added a curb and gutter machine, a GOMACO Commander II, to their inventory in 1995. A crew of six men placed 4500 feet (1372 m) of curb and gutter in an eight-hour shift during the Commander II's first pour.
Today, Twehous has over 100 employees working in several company divisions, including concrete flatwork, concrete bridge, excavating and grading. They slipform approximately 40,000 feet (12,192 m) of curb and gutter and 20,000 feet (6096 m) of sidewalk every year. This past summer, they decided it was time to upgrade their Commander II and purchase a new machine.
"We were looking for a machine that is dependable, easy to operate, easy to maintain, and has excellent product support through both the manufacturer and the distributor," Ed Twehous, vice president of Twehous Excavating, explained. "I did look at all available machines on the market and nothing compares to GOMACO. I always check out features and prices on all comparable brands before making a purchase, and I always make my equipment purchase decisions based on value.
"I've got a history with GOMACO and their distributor, Fabick CAT, and both companies have always delivered what they promised, when they promised. Benny Walker and Tom Held with Fabick CAT are knowledgeable about the products and I trust what they say."
Twehous purchased a new GOMACO GT-3600, which matched all of their machine requirements. One of their first projects with their new GT-3600 was slipforming approximately 11,000 feet (3353 m) of curb and gutter on the Christy Drive Extension project on the south edge of Jefferson City. The project connects four of Jefferson City's major roadways, Ellis Boulevard, State Route B, State Route 179 and US Highway 54. It is also the new access to 150 acres (60.7 ha) of new commercial property on Jefferson City's south side.
The project included a new 36 foot (11 m) wide street with curb and gutter on both sides. It involved blasting and moving approximately 220,000 cubic yards (168,203 m3) of rock, installing 3000 lineal feet (914 m) of reinforced concrete pipe, constructing a reinforced concrete box culvert, installing 1500 feet (457 m) of guard rail, installing 2500 lineal feet (762 m) of fence, and slipforming 11,000 feet (3353 m) of curb and gutter and 8000 lineal feet (2438 m) of sidewalk. All of the work was completed by Twehous and its different divisions in less than a year.
The first day's work for the curb and gutter and the GT-3600 involved slipforming up a 12 percent grade.
"It was our very first pour on the project and it was the steepest grade," Twehous said. "We didn't do anything special to the GT-3600 for the project. It made the pour on the 12 percent grade right out of the box."
The curb profile was a Type-A curb and gutter with a six inch (153 mm) tall curb on top of a 30 inch (762 mm) gutter. They used a 6.5 sack cement, 4000 psi (30 MPa) concrete mix with a two inch (51 mm) slump. Production averaged 2,150 lineal feet (655 m) per day.
Twehous runs a four-man curb and gutter crew, an operator, a chute man and two concrete finishers. Two additional men follow the machine installing expansion joints every 300 feet (91.4 m), as required by Jefferson City specifications.
The GT-3600 is working out well for Twehous and their curb and gutter division. They're enjoying its radius turning capabilities, the sideshifting trimmerhead and mold, and the finished product.
"We were accustomed to operating the Commander II with its sideshifting trimmerhead and it was great," Twehous said. "With the GT-3600, you can put the trimmerhead and mold where you need them. It works better in tight spots and allows us to run the machine tracks on the surface or area we choose."
The new GT-3600 has made everyone involved with it at Twehous happy, including the maintenance staff, concrete crew, finishers and the company's customers.
"Our maintenance staff likes the ease of maintaining the machine and the support they receive from GOMACO," Twehous said. "Our concrete crew likes the ease of machine set up. Our concrete finishers like the product that comes out of the mold. Our customers love the finished product."
Subscribe to Receive GOMACO World Magazine