GOMACO World Index --- GOMACO World 35.1 - February 2007
Power and Performance Combine for a World Championship Season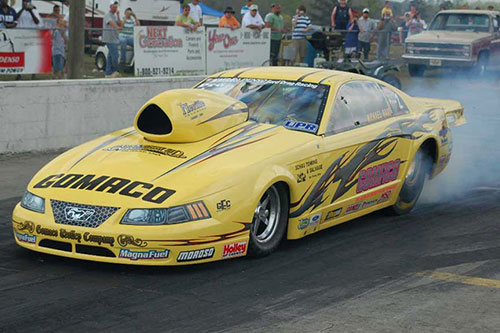 A World Championship– this 2004 Ford Mustang, sponsored by GOMACO, won the NMRA Pro 5.0 World Championship in the DiabloSport division for the 2006 season.
The H&R Motorsports racing team was recently crowned the National Mustang Racing Association's (NMRA) Pro 5.0 World Champions in the DiabloSport PRO 5.0 division for the 2006 season. Jeff Rasmussen, a former GOMACO district manager and now Godbersen Equipment Company (GEC) manager, is the manager for the championship team. Other H&R Motorsports team members include Driver Michael Hauf and Crew Chief John Hauf.
Rasmussen and his team compete in 1/4 mile (0.4 km) drag racing with a 2004 Ford Mustang, equipped with a 1700 hp (1268 kW) Hauf/Kasse, 814 cubic inch Hemi engine, CS3 Lenco Liberty Gears Extreme transmission and a Ram eight inch (203 mm) Pro Billet clutch. This is the third year they've competed with their 2004 Mustang in the division. In their first two years of racing, they placed second overall, and this year unseated a three-time champion to win the 2006 championship.
Their races and placings for the year in the PRO 5.0 division included: Runner-up in Bradenton, Florida, on March 12; winner in Reynolds, Georgia, on April 2; semi-finals in Reading, Pennsylvania, on June 18; semi-finals in Martin, Michigan, on July 9; runner-up in Joliet, Illinois, on July 30; semi-finals in Atco, New Jersey, on August 3; runner-up in Columbus, Ohio, on September 3; and runner-up in Bowling Green, Kentucky, on October 1.
Their fastest time for the year was at the World Ford Challenge 9 in St. Louis, Missouri, at 6.50 seconds at 213 mph. They set their division's NMRA speed record three different times during the year, at 6.64, 6.63 and 6.59 seconds.
The championship team's racing partners include GOMACO, Gomaco Trolley Company, GEC, Fabick CAT, Schau Towing and Salvage, Sign Masters, Mark Hansen's Rex Chevrolet, Roeder Farms, G. Goodenow Ltd., Neville Trucking, Finkbiner Equipment Company, and Tractor and Equipment Company.
Subscribe to Receive GOMACO World Magazine