GOMACO World Index --- GOMACO World 35.2 - July 2007
Commander
III

: The Contractor's Choice
for both Concrete Pavers and Curb and Gutter Machines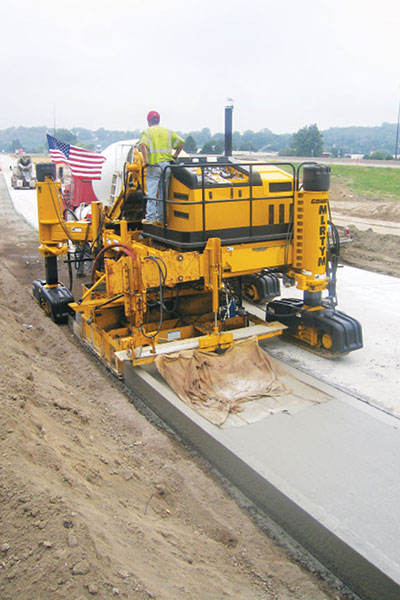 The GOMACO Commander III has been named the "2007 Contractor Choice" by Roads and Bridges magazine. The Commander III earned the magazine's gold award distinction for both concrete pavers and concrete curb and gutter, making both the three-track and four-track machine the choice of concrete contractors.
Roads and Bridges had asked manufacturers and service providers to nominate products to be eligible for the second annual Contractor's Choice awards. An expert panel of judges reviewed all the nominations and a ballot was formed and delivered to more than 22,000 contractors subscribing to the magazine. Contractors in this segment were eligible to vote for the best equipment on the job site and their choice was the Commander III.
GOMACO was also named the #1 Brand Leader for the categories of curb and gutter machines and slipform pavers by Concrete Construction magazine. Contractors who participated in the survey ranked the GOMACO name first in brand familiarity, and first in the brand used in the past two years. The magazine, whose publisher sponsors the World of Concrete show each year, surveyed contractors from their circulation. The sampling was divided into four regions of the United States: Northeast, Midwest, South and West, to get the fairest representation.
Better Roads magazine also recognized not one, but two GOMACO products in their Top 50 Rollouts. The variable width V2 mold and GSIToolsTM software application for use with the GOMACO Smoothness Indicator® (GSI) each earned the top honor. Each year, Better Roads magazine reviews all product introductions made over the past year, and picks out the 50 with the most significance to highway and bridge professionals. Priorities for inclusion are new concept products and new generation products.
GOMACO has been recognized as a "Patriotic Employer" by the National Committee for Employer Support of the Guard and Reserve. The award is for contributing to national security and protecting liberty and freedom by supporting employee participation in America's National Guard and Reserve force. The program recognizes employers whose support and good will are important to retaining highly skilled and qualified members of the Guard and Reserve.
Subscribe to Receive GOMACO World Magazine