GOMACO World Index --- GOMACO World 36.1 - January 2008
Island Hopping with the GT-3600 on a Curb and Gutter Project in Wisconsin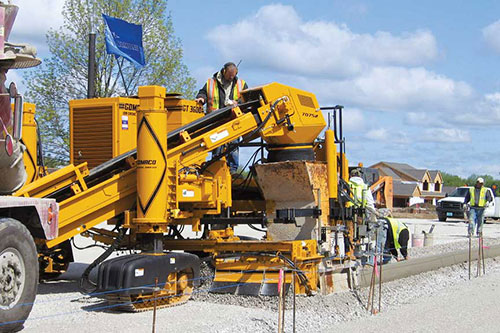 Black Diamond currently owns three GT-3600 curb and gutter machines, and all of them are at work on this hospital project in Franklin, Wisconsin.
Black Diamond Group, Inc., first started in the construction industry in 1959 in Oak Creek, Wisconsin. The company has always maintained the vision of being the easiest company to do business with. Their philosophy includes business with not only their customers, but also suppliers, subcontractors and equipment suppliers. When the company decided to create a concrete division in 2005, their first choice for a curb and gutter machine was GOMACO.
"We strive to live our vision every day," Mark Pichler, Concrete Division Manager for Black Diamond, said. "The construction industry is very challenging, especially in our climate and the seasonality of where we're located. You have to be on top of your game. We separate ourselves from the competition by being easy to do business with. GOMACO has the same values as Black Diamond and that's why we've picked them as a treasured partner in the relationship."
The company currently owns three GOMACO GT-3600s and slipforms a variety of applications with them. Their subdivisions and parking lot work include several different profiles for curb and gutter, sidewalk and barrier wall. They are currently at work at the Wheaton Franciscan Hospital in Franklin, Wisconsin. They have approximately 5000 feet (1524 m) of sidewalk and 25,000 feet (7620 m) of curb and gutter to slipform. Two of their GT-3600s, including their new 2007 model, are on the site slipforming the work.
Concrete for the project is supplied locally and has 395 pounds (179 kg) of cement and 170 pounds (77 kg) of fly ash in the mix design. Slump averages 1.25 to 1.5 inches (32 to 38 mm).
The non-reinforced sidewalk on the project is five feet (1.5 m) wide and four inches (102 mm) thick. Joints are tooled in every five feet (1.5 m) with expansion joints every 100 feet (30 m). The GT-3600 is simultaneously trimming six feet (1.8 m) wide through four inches (102 mm) of crushed limestone base.
"On this particular job we were averaging 1000 feet (305 m) of slipped sidewalk production per day," Stan Maertz, Concrete Project Manager, said. "Our production just depends on the job-site conditions. On a good subdivision, we'll average around 2000 feet (610 m) per day."
The second GT-3600 on the project is slipforming the 18 inch (457 mm) wide curb and gutter. Municipal requirements for green space on developments are increasing each year in the state and requiring more islands on projects. This hospital parking lot has approximately 50 islands with several two and three foot (0.6 and 0.9 m) radii in the design.
"We construct numerous parking lot projects yearly with a variety of different island profiles and complexities," Deb Teglia, President of Black Diamond, explained. "Customers count on us for quality, timeliness and attention to detail. When performing these types of projects, we take pride in being their contractor of choice."
Black Diamond isn't afraid of slipping the 18 inch (457 mm) curb and gutter around a two foot (0.6 m) radius with their GT-3600s. It's something they've become quite successful at, which is a handy asset to have on a project like this one.
"We just slide the right, front leg of our GT-3600 out and go with a 12 inch (305 mm) offset," Maertz explained. "We use stringline on the straight-aways and use fiberglass rods to set the radii..."
"We also trim a little deeper out in front so the mold doesn't catch as we go around the radius," Pichler continued to explain. "We lose a little bit of concrete on a tight radius, but that's not a big deal. We just send the machine right around and if we've got a good mix design, we have minimal tearing around a two foot (0.6 m) radius with an 18 inch (457 mm) curb and gutter."
Curb and gutter production averages 1600 feet (488 m) per day, even with all of the radius work. Finishers work behind the GT-3600 cutting in joints every 10 feet (3 m), with expansion joints every 300 feet (91 m), or one per island.
It's surprising to learn that the most challenging aspect of their project isn't the number of tight radii, but simply job-site logistics and tight working spaces.
"It's a fairly good-sized site, but in some of the smaller sections, we are dealing with 10 subcontractors in a quarter-acre area," Pichler said. "Keeping those guys out of our way and out of our curb and gutter is a challenge."
The hospital project is almost complete for Black Diamond and their GT-3600s. They'll be onto the next challenge soon and looking towards the future and what the next season of work will bring. The company is always searching for new innovative ideas and are currently looking into stringless paving.
"We want to be innovative," Pichler said. "We want to find ways to be easier to do business with and we envision stringless as being a way to do that. We like to be in the fore-front of being prepared. Even though our customers aren't demanding stringless right now, we want to be ready for it when it becomes desired in the market place."
They have the right machines to accommodate their vision. Black Diamond's GT-3600s are as innovative as the company that owns them.
Subscribe to Receive GOMACO World Magazine