GOMACO World Index --- GOMACO World 36.1 - January 2008
Another High-Production Day for Shirley Concrete...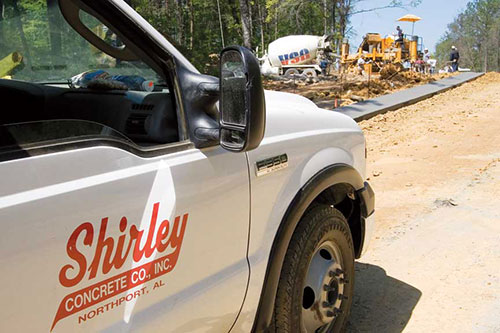 Shirley Concrete slipformed 16,357 linear feet (4986 m) of valley gutter in nine hours and 23 minutes.
The Willow Oaks subdivision project in Shelby County, Alabama, had over 16,000 feet (4877 m) of 30 inch (762 mm) valley gutter. It would be a typical project for Shirley Concrete Company and their GOMACO Commander III.
Walter Ivory had been on site for three days in advance running the company's motor grader and getting the grade properly prepared. James Shirley and his stringline crew spent two days setting up 8000 feet (2438 m) of line each day with approximately 2500 pins, and finishing up the work on the third day, setting the remaining 400 feet (122 m). The company's three-track Commander III was driven off its low-boy trailer and set on line. Slipforming was ready to begin on this typical project.
This typical project quickly became anything but that. Hilary Shirley, Vice President, and Wendell Shirley, President of Shirley Concrete, and their employees had something to prove within their company. You see, the company had four curb and gutter slipforming world records and they are the current holders of the record at 16,625 feet (5067 m) in 11 hours and 10 minutes. That record was set on October 11, 1986, with their GOMACO GT-6300.
The Willow Oaks project wouldn't give them a chance to break that record in actual feet, but it would be a test to see if they could beat the time. It was a challenge for both the company and their machine.
"This is the first job that we've had in a long time with so many feet on it," Wendell Shirley explained. "We know that if you have a good machine, a good crew, and a good ready-mix man, you can accomplish a lot in a day. Every once in a while we just have to prove within the company what we can do and remind ourselves that we can still do it. Hilary put everything together and orchestrated the whole pour and he did an excellent job with it."
The project included seven cul de sacs, 26 radii that were 25 feet (7.6 m), and 42 inlets. Shirley Concrete used their Commander III, serial #900100-605, for the long pour. Concrete was supplied by Ready Mix USA.
By the time the day was finished, Shirley Concrete had slipformed 828 cubic yards (633 m3) and 16,357 linear feet (4986 m) of valley gutter in nine hours and 23 minutes. It's an astounding feat of planning, organization, skill and determination.
"All of the credit for this pour goes to Hilary, James our lineman, Robert Shirley our operator, and Steven Shirley my nephew," Wendell Shirley said. "Seven men, including myself, working on the pour that day each has over 35 years of experience with Shirley Concrete and have been on all of our record pours. It was just a combination of a good ready-mix company and our own good people.
"Basically we just did the same thing we do every day. It just happened that instead of two separate 8000 feet (2438 m) jobs, we had one 16,000 foot (4877 m) job."
The pour started at 6 a.m. on a Thursday morning. Ready Mix USA had several trucks on site and Shirley's crew had them in position. It's one of the keys to their success... the proper staging and slumping of the trucks. Hilary's son and Wendell's nephew, Steven, was in charge of the ready-mix trucks that day.
"We had 14 ready-mix trucks on hand that day from Ready Mix USA. They wanted to make sure we didn't have to wait on any mix and we did not," Wendell said. "I asked Robert Shirley, our machine operator, several different times during the pour, 'How fast are you running?' He said wide open! We were pouring 50 feet (15.2 m) per minute at different times on this job. Overall, we averaged 100 cubic yards (76.5 m3) per hour, which meant a truck every five minutes."
Two men were working the chute position, getting trucks in and out, and also watching out for rocks. The site was filled with grapefruit-sized or larger rocks that had to be moved out of the way. Four finishers worked behind the machine applying a broom finish to the valley curb. Joints were tooled in every 10 feet (3 m).
Three laborers were in charge of setting headers at the 42 different inlets on the project. A crew led by Randy Booth goes into the project the following day to set the inlets and finish around them.
"The boxes are set low enough so the trimmerhead and mold don't catch on them," Wendell said. "Hilary goes in before the pour, removes the silt fence and lays a piece of plywood over the box to keep the dirt from getting in the inlet. It's what's so wonderful about this machine of ours. We just put it on the stringline, pour up to the box, sit down on the other side of the box, and keep on going down the line."
By 3:23 p.m. that afternoon, the day's pour was finished and the company had 16,357 feet (4986 m) of curb and gutter on the books. Fifteen of Shirley Concrete's men, including one on the grader, one on a backhoe, one checking line, a machine operator, two chute men, two checking slump and spotting the trucks, four finishers, three laborers setting headers at inlets, and Wendell's dog, Lucy, had completed the pour.
The figures associated with the day's pour are astounding. The concrete alone for the day consumed 1,531,800 pounds (694,824 kg) of stone, 1,126,080 pounds (510,790 kg) of sand, 298,000 pounds (135,173 kg) of cement, 121,520 pounds (55,121 kg) of fly ash, and 25,668 gallons (97,164 L) of water.
"Just think about that conveyor on the Commander III having to carry all of that up," Wendell said. "It makes me tired just to think about it!"
The company has once again proven what they can accomplish. The successful long pour has built up excitement within the company and with area developers. A record breaking project of 20,000 feet (6096 m) of curb and gutter is hopefully in the works for next year.
"We think we have a job next year with 20,000 feet (6096 m) on it so we can get a new record," Wendell said. "We've got a good crew, everybody knows their jobs, and we have a machine that isn't even broken in yet. We want to get a job big enough to see what the real potential of this machine is, because we haven't really had a chance to test it out yet. We are learning and when this machine gets broken in and we get a little more experience, we hope to give you some higher figures."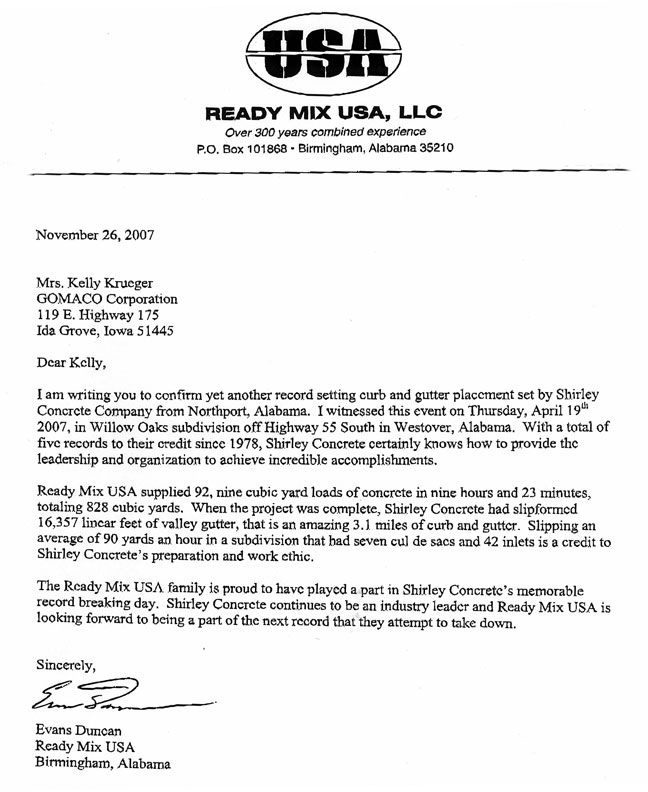 Subscribe to Receive GOMACO World Magazine