GOMACO World Index --- GOMACO World 36.1 - January 2008
Preparation Meets Opportunity on a Record-Setting Day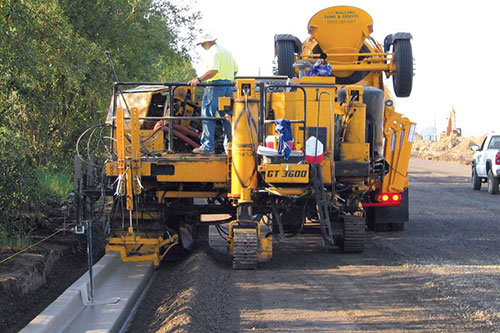 Axis Curb slipformed 542 cubic yards (414 m3) of concrete, taking an average of 12.5 minutes to unload each ready-mix truck. The original seven trucks had to be increased to 11 to keep up with the GT-3600's fast production speed.
Almost ten years had passed since Axis Curb had set a company record for one day's curb and gutter slipforming production. Their record was 6,003 feet (1830 m) of curb and gutter in a single day and it was set using their GOMACO Commander II with the Analog control system.
The company record came close to falling a couple of different times since then, but never has... until now. One of their projects, a semi-industrial area near Woodburn, Oregon, had approximately 15,000 feet (4572 m) of curb and gutter built into it. Conditions were finally right for the company to make another record-breaking attempt. This time they would be using their GOMACO GT-3600 curb and gutter machine to set the new record.
Everyone, including the slipforming crew, the prime contractor, the ready-mix plant and the ready-mix drivers, knew what was at stake before the pour began.
"When I first saw how this job laid out, that it was about 15,000 feet (4572 m) in total and had some really nice pulls on it, I knew that we had to try to beat the record," Mike Blakley, Concrete Superintendent for Axis Curb, explained. "We made sure everybody was fired up for it and I kept preaching to them that this was preparation meeting opportunity. Everyone out there was on-board with setting a new personal record. We didn't think we'd get over 10,000 feet (3048 m), but we were going to be disappointed if we didn't make it over 6000 feet (1829 m)."
By the time they called an end to their pour at 4:30 p.m., they had slipformed 10,712 feet (3265 m) of 24 inch (610 mm) wide curb and gutter with a six inch (152 mm) thick gutter and 12 inch (305 mm) high curb. They had shattered their old company production record by over 4700 feet (1433 m).
Preparation was one of the keys to success. Axis Curb worked closely with their concrete supplier, Walling Sand and Gravel. The project was located 25 miles (40.2 km) away from the batch plant. Seven ready-mix trucks, each capable of carrying either 10 or 11 cubic yard (7.6 or 8.4 m3) loads, were assigned to the pour.
Stations were also created throughout the job site for the ready-mix drivers to drop their receipts off and to wash out after emptying. This was done in an effort to keep drivers in their trucks, ready to move when they were needed.
"We wanted the drivers on-board with us so we could move those trucks as efficiently as possible," Blakley explained. "We knew it would be important to get the trucks in and out, because if the GT-3600 wasn't moving, we weren't going to break the record."
Grade preparation was essential as well. The prime contractor, Emery and Sons Construction, was in charge of preparing the grade and leaving 1.5 inches (38 mm) of trim for the GT-3600 to cut through as it slipformed.
Two days before the pour, a five-man stringline crew was on-site setting up the first 8000 feet (2438 m) of stringline. Survey work wasn't completed yet for the entire project. The morning of the pour, the crew was once again at work setting up the remainder of the stringline. With everything in place, all that was left to do was bring in the company's 2002 GT-3600 and begin the record-setting pour.
"We started the morning off really strong with a 2500 foot (762 m) perfectly straight run without any pickups," Blakley said. "We ran that out and picked up and moved to an island that was 5000 feet (1524 m) by itself. We were halfway around the island and everybody was laughing and in really good spirits."
They poured a total of 542 cubic yards (414 m3) of concrete throughout the course of the day. On average, it took 12.5 minutes per ready-mix truck to dump its load onto the GT-3600's conveyor belt. The original seven trucks was increased to 11 after the first 10 trucks had unloaded. Seven trucks just wouldn't have been capable of keeping up with the GT-3600.
"The GT-3600 ran flawlessly," Blakley said. "Our full-speed pouring capability with the curb machine was right at 39 feet (11.9 m) per minute and we did that for several loads throughout the day. The product came out nice. The inspectors in that area, who are notorious for not being easy, all said it was nice looking curb. It was almost a fantasy how well it ran."
All the while the slipforming crew of 12 kept working away. They quickly surpassed their record of 6003 feet (1830 m) and soon were over 7000 feet (2134 m), 8000 feet (2438 m) and then 9000 feet (2743 m). And it was just mid-afternoon with several thousand more feet of stringline already set up on the site.
"I was talking to the crew, talking to ready-mix and asking them, 'How about 10,000 feet (3048 m)?' Everybody said they were on board," Blakley said. "It was running so well they weren't even tired."
They went on to slipform 10,712 feet (3265 m) of curb and gutter and at 4:30 p.m., they ended the day's pour. They could have gone further, but didn't want to leave their ready-mix supplier without a project for the next day.
"We stopped pouring at 4:30 p.m. because we didn't want to put ready-mix in a position of having seven trucks to find some place to go the next day," Blakley explained. "But the owner, once he found that out, said we should have kept pouring! We are certain we could have done 12,000 feet (3658 m) and we think we could have pushed 14,000 feet (4267 m), but that would have been a bad thing to do to ready-mix."
The company also acknowledges that they couldn't have beaten their old production record without the cooperation of their partners on the project and some good equipment, which includes the GOMACO GT-3600.
"The GT-3600 is very versatile, very adaptable from project to project, and that includes both width and height," Blakley said. "We like the vertical-lifting and sideshifting trimmerhead and mold, its ability to turn a tight radius, and the fact that it backs up really tight on line. We like the ability to move the tracks around in relationship to the pour. If we have an asphalt edge or other obstacles that we're working around in relationship to the curb, we can find a position to set the mold and the tracks to avoid the obstacle. We also get some fabulous service from GOMACO and Jim Preston, who is our salesman from GOMACO's Oregon distributor, CONAGGBIT Inc.
"This project's success was a team effort and Axis Curb could not have done this by ourselves. We relied on the general contractor to prepare it well, the concrete supplier to produce and deliver concrete within the tolerances needed and our own crew to work the project. Everyone deserves to be proud of what they accomplished. It really was a phenomenal day."
Subscribe to Receive GOMACO World Magazine