GOMACO World Index --- GOMACO World 36.3 - December 2008
Paving 1,000,000 Meters (3,280,540 ft) with Commander
III

's in the UK

Peter Davidson has accomplished something unheard of for slipform paving in the United Kingdom. This year he hit the 1,000,000 linear meter (3,280,840 ft) mark for concrete slipforming. And he paved it all with GOMACO equipment, specifically, the Commander III.

"It's just a very versatile machine," Davidson said. "We've got a great relationship with GOMACO and we're all on board together. I've never had an application that GOMACO hasn't already done before and they offer us help and support every time."

Davidson started out in the concrete business in 1981. He purchased his first Commander III in 1994, and has owned nothing else since.

The paving milestone was reached on the M1 Motorway near London, between Junctions 6A and 10. Davidson has the contract to slipform 32 kilometers (20 mi) of 900 millimeter (35.4 in) tall European step barrier, 28 kilometers (17.4 mi) of v-channel, and 3000 meters (9843 ft) of slot drain. Kent Godbersen, GOMACO's Vice President of Worldwide Sales and Marketing, Rory Keogh, GOMACO International Ltd.'s Managing Director, and Randy Bean, GOMACO's International Sales Coordinator, joined Davidson on the project as the million mark was hit.

"Peter is not only a long-time customer of ours, but also a true friend of GOMACO," Godbersen said. "It's been fun watching him take on all of the challenging projects that he has, and it was an honor to be a witness to his paving milestone. It is always interesting to see what unique projects Peter will come up with next."

Davidson's Commander III on the project is as unique as the accomplishment. It has several features on it to fit the company's demand for accomplishing challenging projects.

It's a four-track machine with the capability of either right-side or left-side slipforming. GOMACO engineers basically took the standard Commander III framework and rotated it 180 degrees underneath the prime mover. The hydraulics normally used for telescoping the four-track frame are now used to position the conveyor. The conveyor can be positioned by the operator for right-hand or left-hand pours by simply pushing a button from the operator's platform.

His Commander III features a hydraulically folding conveyor. It's a standard 610 millimeter (24 in) wide, six meter (20 ft) long conveyor, with a 1.7 meter (5.5 ft) folding section. Again, the operator can accomplish the task simply by pushing a button from the operator's platform. The folding conveyor cuts down on the overall length of the machine and makes loading and transporting the machine easier.

Davidson's machine also has 300 millimeters (11.8 in) of offset built into the mold's mounting beams. He can position the Commander III's tracks on the roadway and hydraulically offset the mold in or out for correct placement.

"It's a great feature," Davidson said. "Sometimes the people who are preparing our grade and saw cutting the existing roadway get it grossly wrong. Before, we'd either have to come in and back fill or run our tracks down in the hole. Now, we just position the machine on the roadway, hydraulically move the mold out, and set the machine up."

Davidson's Commander III has GOMACO's G22 control system. The G22's new graphical display provides the operator with an easy to understand interface to the machine's controls. Newly designed icons and screens with pictograms reduce the operator's learning curve to a minimum. The brightly colored graphics and full text explanations provide a user-friendly operator experience. The G22 has a dual-language feature with the ability to operate in English or a second language.

"The clarity of the G22 is really nice," Davidson said. "It makes moving the machine easier and the setup time quicker."

There are currently three Commander IIIs in Davidson's inventory and he keeps all of them busy on projects throughout Europe. On this barrier project, his crews slipformed 17 kilometers (10.6 mi) of wall in 25 working days. Crews worked 24 hours a day, six days a week on the project, barely letting the engine oil on the Commander III cool down.

"Usually on an ordinary day shift we can average 300 lineal meters (984 ft) of wall," Davidson said. "If we go 24 hours nonstop, we'll average around 700 lineal meters (2297 ft). I wanted to hit one kilometer (0.6 mi) of production in a day's time, but we haven't done that... yet."
Select any photo for a closer view.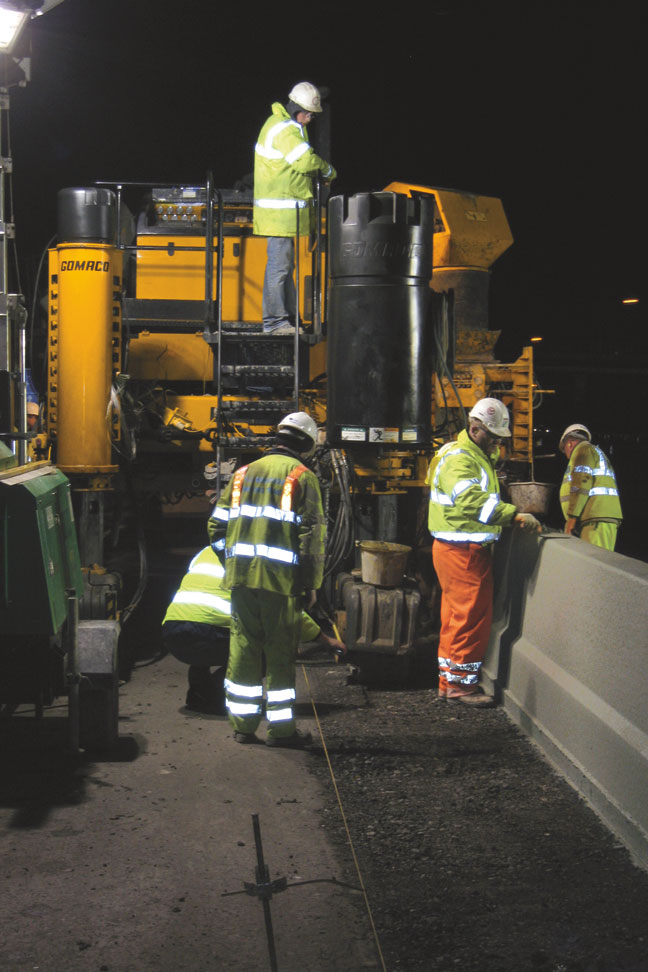 Modifications to Davidson's four-track Commander III has given his company the versatility of a right-side or left-side slipforming machine.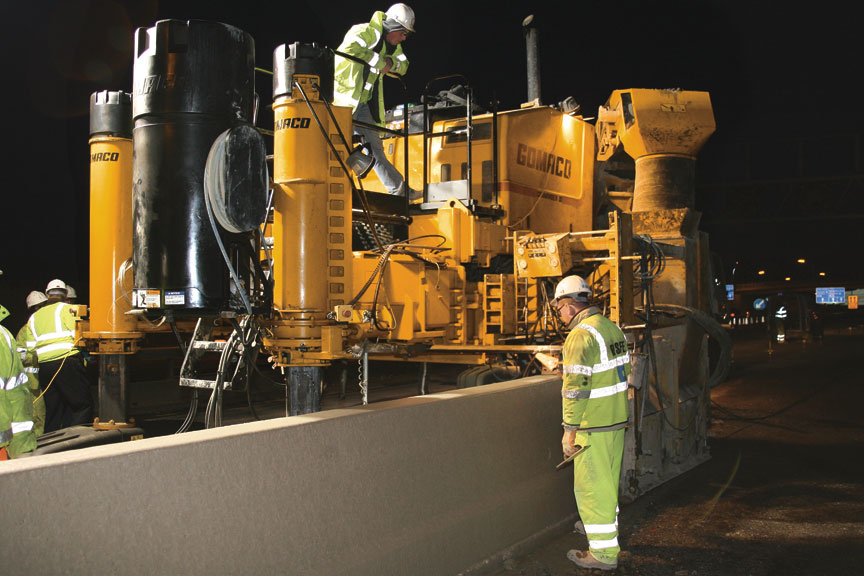 The mold can be hydraulically telescoped up to 300 millimeters (11.8 in) for easy positioning and setup.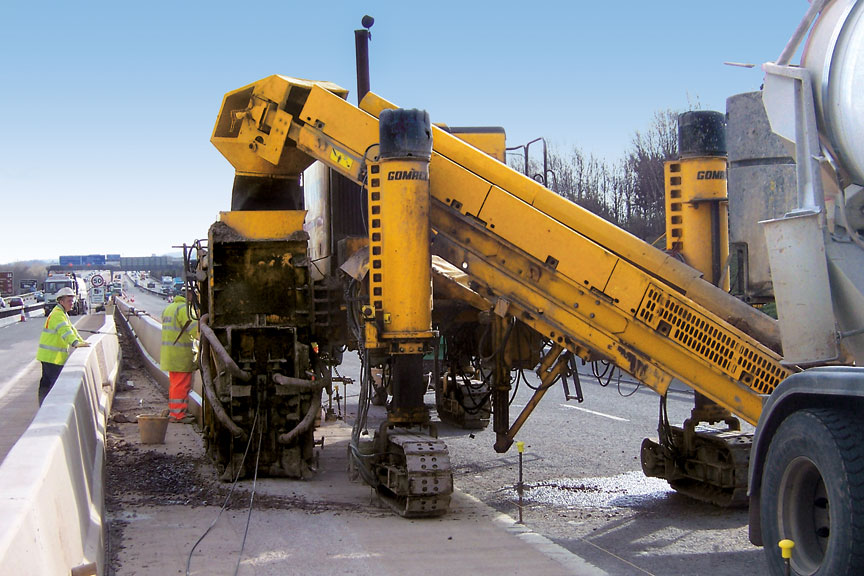 Vibrators are mounted through the front of Davidson's barrier mold. He feels the vibrators' location gives him a smoother end product.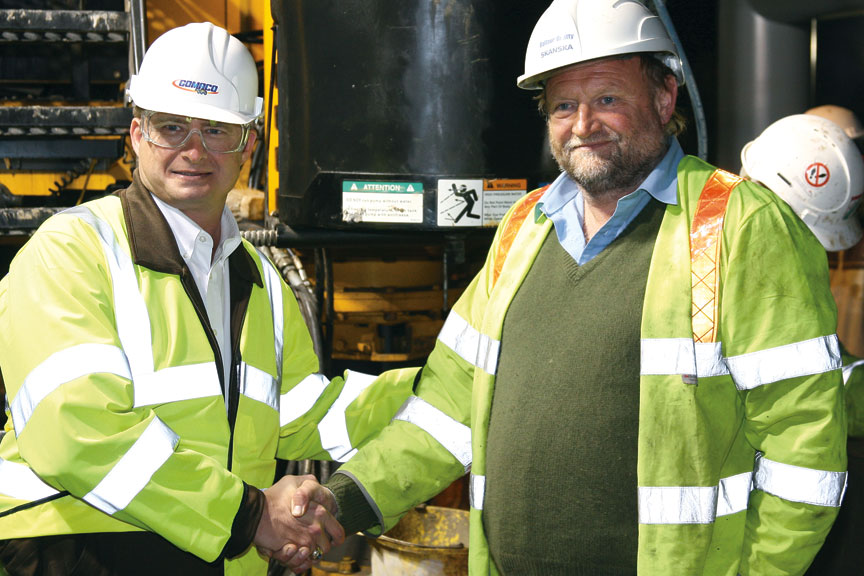 Kent Godbersen (left), from GOMACO, was on-site when Peter Davidson (right) hit the 1,000,000 linear meter (3,280,840 ft) mark with his four-track Commander III.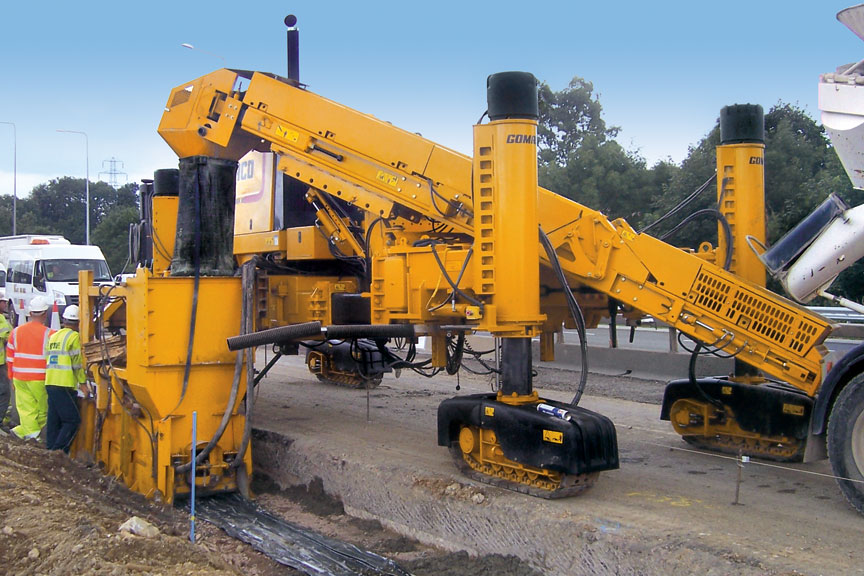 The Commander III's hydraulically folding conveyor is positioned for slipforming right-side slot drain on the M1.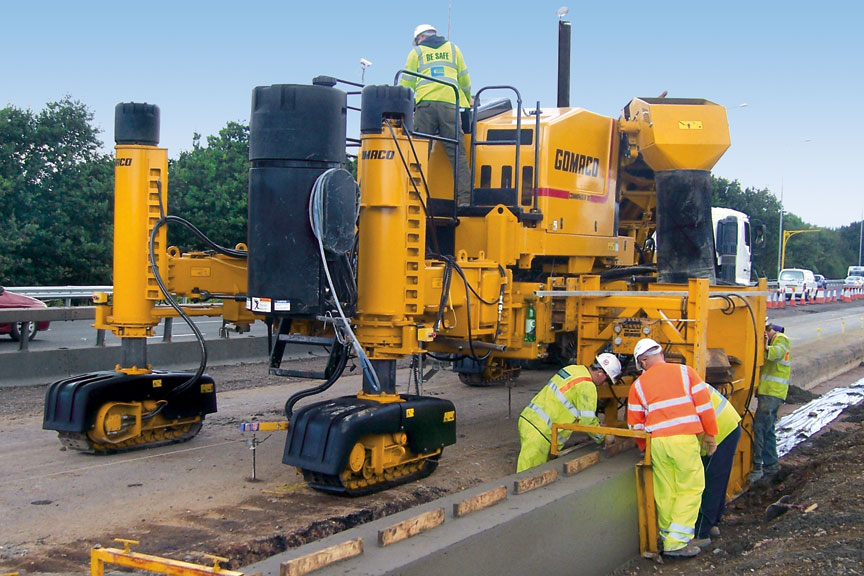 The slot drain's profile features a square-shaped design which is unique from the standard round profile found in the UK.