GOMACO World Index --- GOMACO World 36.3 - December 2008
Superb Production on Indiana's Super 70 Project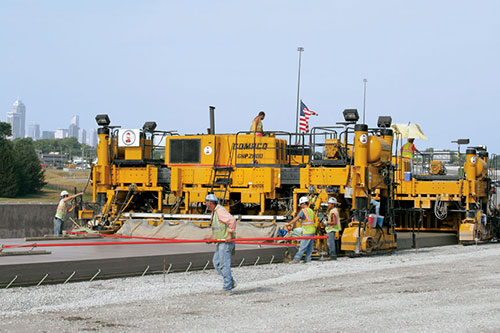 GOMACO pavers slipformed 564,000 square yards (471,560 m2) of mainline paving on Indiana's Super 70 project by Indianapolis.
Indiana's Interstate 70, from the east side of Indianapolis to the north split with Interstate 65 (downtown Indianapolis) and the east leg of Interstate 465, is one of the state's most heavily traveled roads. It carries nearly 180,000 vehicles daily through the six mile (9.7 km) stretch.
The interstate was originally built in the early 1970s and has never been rebuilt. The heavy traffic volumes were taking their toll on it. The pavement and bridges were deteriorating. Its old design also had inside shoulders that were only seven feet (2.1 m) wide and too narrow, curves that were difficult for motorists to see around, and low vertical clearance on several of the bridges.
The Indiana Department of Transportation's (INDOT) solution for I-70 became the Super 70 project. The $175 million project would create 75 lane miles (121 km) of new pavement, including the travel lanes and new inside and outside shoulders. Twenty-eight bridge structures would also be rebuilt along the route. In total, 262,000 cubic yards (200,314 m3) of concrete, 665,000 tons of stone and 10,090,760 pounds (4,577,169 kg) of steel would be used on the project. And INDOT wanted the project basically completed in one paving season. The penalty for missing the deadline would cost $120,000 per day.
The project had to be completed without shutting down any more lanes of interstate than was absolutely necessary to help traffic flow in and out of Indianapolis. Three lanes of traffic had to be open into downtown and two going out during morning rush hour. It was reversed during the evening rush hour. A moveable barrier system helped open and close the lanes.
E&B Paving, based out of Anderson, Indiana, was in charge of paving the approximately 564,000 square yards (471,560 m2) of mainline paving on the project. They used not one, but two GOMACO paving trains on the project... two PS-2600 placer/spreaders, two GHP-2800 two-track pavers, and two T/C-600 texture/cure machines.
They also had three GOMACO Commander IIIs on site paving the shoulders and ramps with a GOMACO RTP-500 rubber-track placer feeding the concrete. A GOMACO 9500 trimmed the final grade.
"We knew going into this project that we had to be able to pave every day if we were going to beat the deadline," Mike Korba, Concrete Paving Superintendent and Project Manager for E&B Paving, said. "We took the project's two jobs, combined them, and then divided that up into six segments. We placed one GOMACO paving train on the east end of the project and put another paving train on the west end. If we were waiting on a bridge or some other reason why we couldn't pour on one end, we'd just jump down to the other end. We always had to have a Plan B.
"We also spent a lot of time with the GOMACO 9500 trimming the grade. It ensured that our grade was correct and the track line for our paver was smooth. We're adamant about double-checking our trimmed grade, especially with that many bridges on the project. We're very proud of the fact that we only had a 5.6 percent average concrete overrun on the project."
E&B had their new portable batch plant with horizontal drum on site. It had the production capabilities of feeding both paving trains, if needed. Seventeen to 19 trucks, each hauling 10 cubic yard (7.6 m3) loads of concrete, were needed to keep the paving train supplied on the farthest ends of the project. They would often times get caught up in I-70's heavy traffic. Because of that reason, they tried to maintain their concrete slump around 2.25 to 2.5 inches (57 to 64 mm).
All of the pavement on the project was slipformed 16 inches (406 mm) thick. The two-track GHP-2800s paved three passes, 24 feet (7.3 m) wide, to complete the new six lanes of interstate. Baskets with 1.5 inch (38 mm) dowel bars were placed on grade every 18 feet (5.5 m). A #7 bar was manually inserted every 36 inches (914 mm) on both sides of the new roadway.
T/C-600 texture/cure machines followed behind the pavers and applied a burlap drag finish, transverse tine and white spray cure.
The three Commander III four-tracks on the project were busy paving shoulders, zero-clearance shoulders with a side-mounted paving package, and outside shoulders and variable-width ramps with a V2 mold.
The 14 foot (4.3 m) wide zero-clearance shoulder was slipformed up against a new retaining wall separating the job site from live traffic while scabbing onto the new roadway. Project phasing dictated the wall placement first and then the shoulder, so E&B's equipment had to be able to accommodate the requirement.
The most effective way for them to pave the shoulder was to side-mount their 14 foot (4.3 m) mold. The 12 foot (3.7 m) paving mold was kept mounted underneath the Commander III so they didn't have to switch out molds for the two different applications.
An RTP-500 placed concrete from the dump trucks on the grade in front of the Commander III. Baskets on the grade were placed at 18 foot (5.5 m) intervals.
"The extra reach from the RTP-500's 35 foot (10.7 m) placing conveyor saved us a lot of headaches and overall, the placer gave us the production we needed," Korba said.
The RTP-500 also worked in front of the Commander III equipped with a V2 hydraulically-adjustable dual mold system.
"We had several visitors on our job site at different times and they were all impressed with our V2 and the way we made our width changes on-the-go," Korba said. "We slipformed 12 feet (3.7 m) and then widened out to 18 feet (5.5 m) on-the-go. Then we would go from the 18 feet (5.5 m) back in to 12 feet (3.7 m). It's pretty impressive to be able to make those kind of width changes on-the-go."
E&B completed their portion of the Super 70 project in just 130 paving days. Seventeen of those days had both paving trains at work on both ends of the project. Sixty-five days were spent paving the west portion of the project with approximately 250,000 square yards (209,025 m2) of concrete. Another 65 days was spent on the east project's 314,000 square yards (262,535 m2) of pavement. That's an average of 4338 square yards (3627 m2) of concrete pavement slipformed on a daily basis.
"I can't say enough good things about the GOMACO equipment and how happy I am with it," Korba said. "We have a great crew, too. A lot of them are seasoned employees who have been with us for several years and that helps a great deal.
"It's all about teamwork. The people at GOMACO work with us and we know we can count on them to stand behind us. The personalities of everyone on this job meshed, too. Everybody was on board and respected each other's needs. That is very important. You're just better off having everybody on your team."
Editor's Note: E&B Paving's work on the Super 70 project has earned the company national recognition and the highest award in the industry. They were named the 2008 Gold Winner for the Divided Highway-Urban category of the American Concrete Pavement Association's 19th Annual National Awards in Concrete Pavement. Congratulations to everyone at E&B for such a great accomplishment!
Subscribe to Receive GOMACO World Magazine