GOMACO World Index --- GOMACO World 37.1 - June 2009
Commander
III

Power on a Mono Project in Arizona

KCR Inc., doing business as Petra Contracting, in Buckeye, Arizona, has a current inventory of five GOMACO Commander IIIs. The company specializes in commercial and residential curb and gutter work. Another company speciality is monolithic sidewalk and curb and gutter. They've even worked together with local cities developing specific monolithic profiles for their needs. Petra Contracting has made themselves very competitive in their market area by putting the customer first and developing profiles for their specific needs. Their Commander IIIs also add to their competitiveness.

"Our Commander IIIs do a great job," Keith Riefkohl, President of Petra Contracting, said. "It's the best curb machine on the market by a long shot."

Three of their Commander IIIs were recently at work on a new development project in Goodyear, Arizona. The project is the development of the Palm Valley 303 Master Planned Residential Community and Business Park. It will be constructed over the next 26 years as a 1600 acre (647 ha), 19.6 million square foot (1,820,840 m2) master planned business park. It will feature areas for offices, retail, light industrial and warehouse and distribution along Interstate 10 and Loop 303 in Goodyear.

Petra Contracting was responsible for slipforming 160,000 lineal feet (48,768 m) of curb and gutter and monolithic sidewalk and curb and gutter on the project.

"We set up one Commander III for the 36 inch (914 mm) roll curb with five foot (1.5 m) sidewalk," Riefkohl explained. "Then, there was the 24 inch (610 mm) roll curb with five foot (1.5 m) sidewalk on the second machine. The sidewalk for both profiles is four inches (102 mm) thick. The third was our curb and gutter machine slipping a six inch (152 mm) vertical curb with 24 inch (610 mm) gutter. We had the three machines with three crews on the project. That way we were always ready to pour, and didn't have to worry about switching molds out and reconfiguring machines."

All three of the applications are trimmed and poured simultaneously. They use a blade to get the grade close to the profile. The Commander IIIs feature not only the monolithic mold, but also a monolithic trimmerhead trimming the profile for both the curb and gutter and sidewalk. Petra trims an extra six inches (152 mm) wider than the application, and the trimmer unit's side-discharge feature moves the trimmed material out of the way.

"We don't pretrim with the machines unless we're in really rocky ground," Riefkohl said. "The last three Commander IIIs were bought with the CAT engine with 225 hp (167.9 kW), and we can literally trim through three inches (76 mm) without any problem. It trims really well and has a lot of power."

Two different concrete suppliers were needed on the project to keep all of the Commander IIIs supplied with concrete. The concrete was a MAG AA 4000 psi (27.6 MPa) curb mix with a 2.5 inch (64 mm) slump.

Finishing work behind the machines consisted of cutting in joints every 10 feet (3 m) with expansion joints every 50 feet (15.2 m). The new profile was given a light broom finish and sprayed with white curing compound.

Production on the project varied, depending on the length of the day's run, number of cul-de-sacs, and concrete delivery. Curb and gutter production averaged 4000 feet (1219 m) per day. The monolithic sidewalk and curb and gutter would average around 2000 feet (610 m) per day. On some of their better days, with long runs and good concrete supply, their average would jump to over 6000 feet (1829 m) in a 10 hour shift.

"The Commander IIIs work great and do an impressive job," Riefkohl said. "They have a lot of power for the work we need them to do and the needed horsepower to trim the monolithic profile. We could get by with less, but it's nice to have that extra horsepower."
Select any photo for a closer view.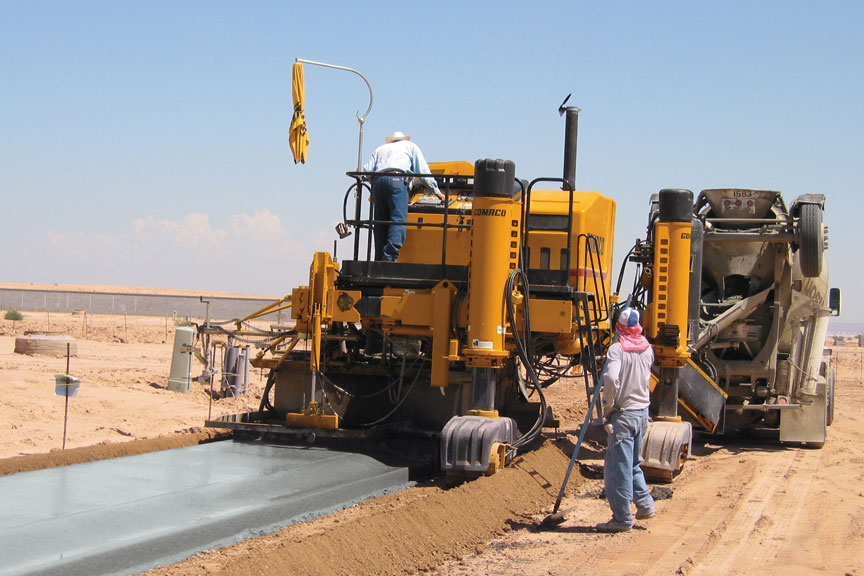 Petra Contracting slipformed two different profiles of monolithic sidewalk and curb and gutter at a business park in Arizona.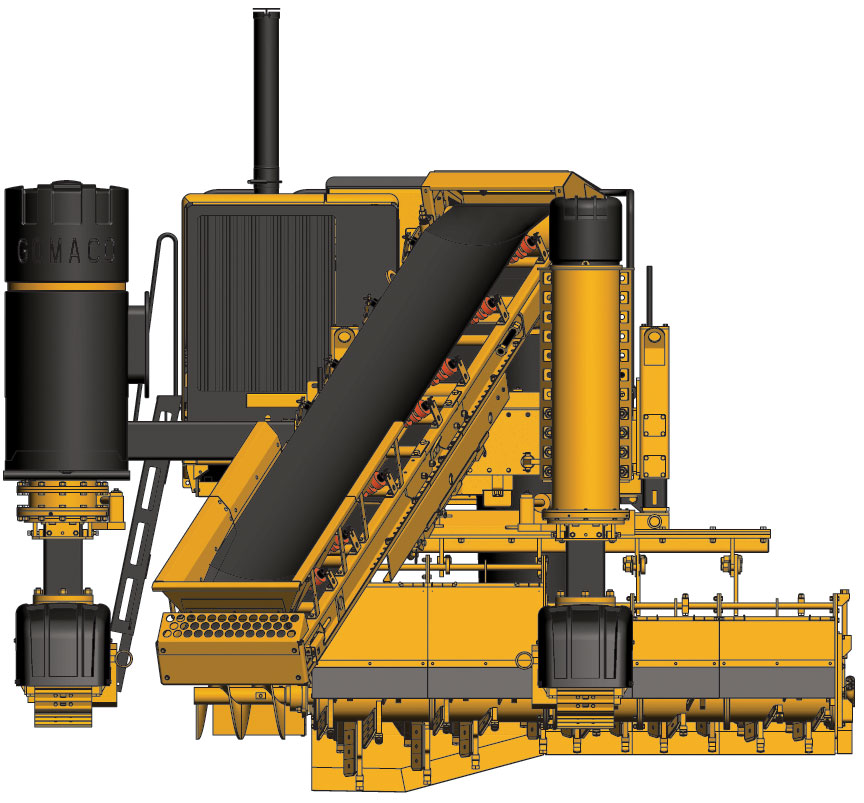 The monolithic trimmerhead on Petra's Commander III trims the grade to the sidewalk and curb and gutter's profile.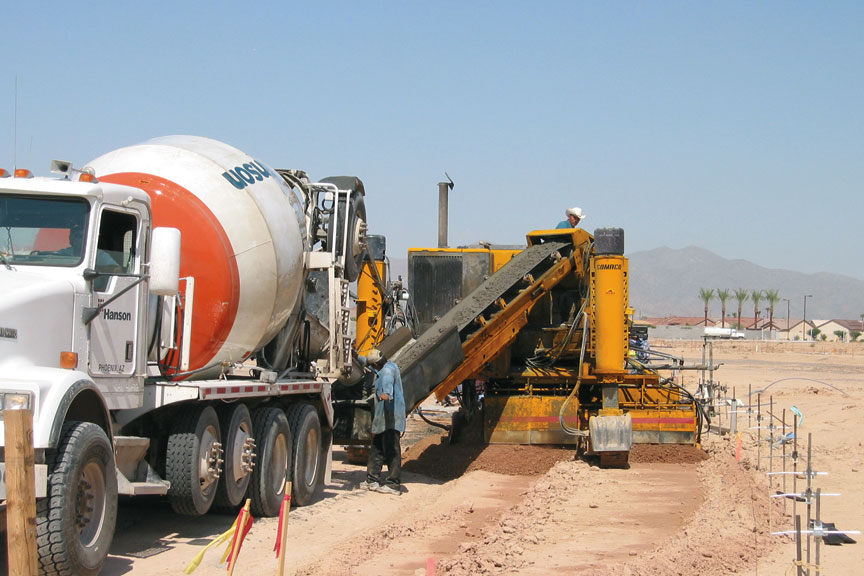 The Commander III's monolithic trimmerhead trims an extra six inches (152 mm) wider than the profile and moves the trimmed material out of the way with the side-discharge feature.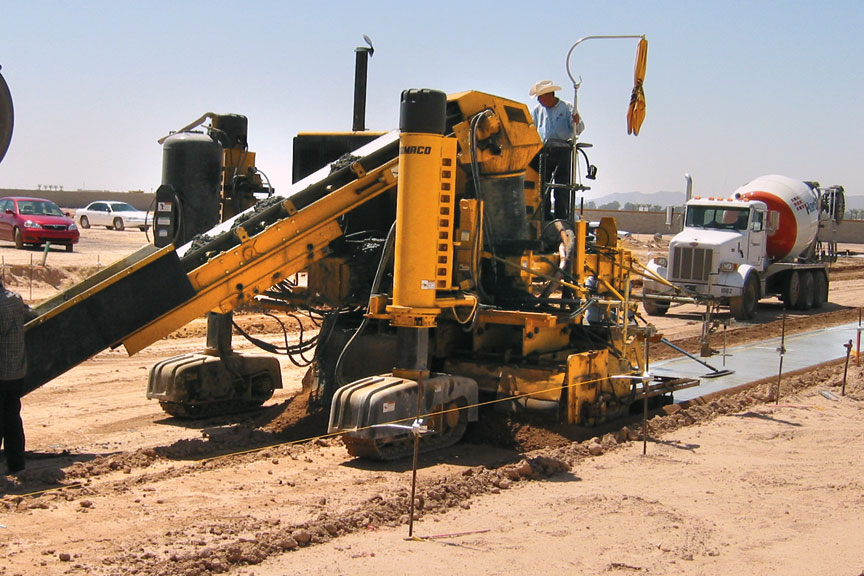 A total of 160,000 lineal feet (48,768 m) of curb and gutter and monolithic sidewalk and curb and gutter was slipformed on the project. All of the concrete was done with Commander IIIs.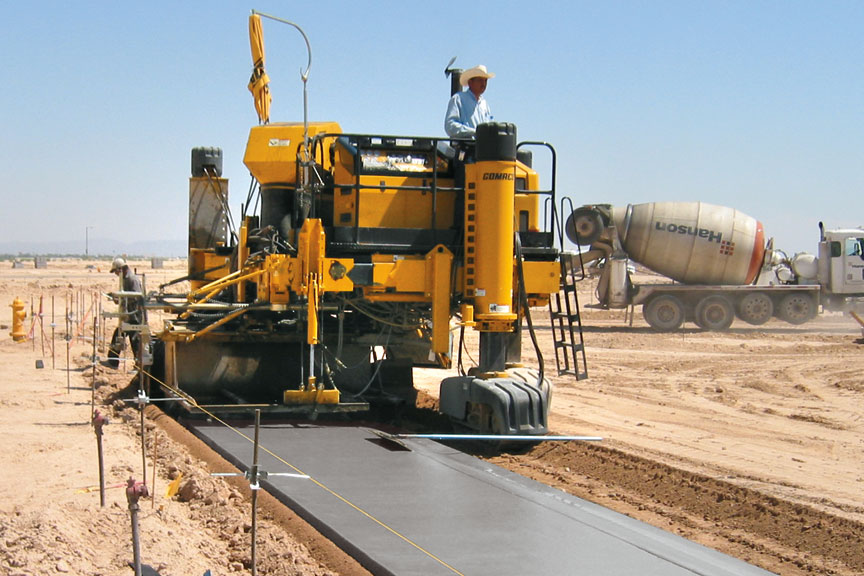 Production, on good days, would average around 6000 feet (1829 m) of monolithic in a 10 hour shift if the concrete supply was good and steady.