GOMACO World Index --- GOMACO World 37.2 - September 2009
The Future Has Begun To Favor Concrete Over Asphalt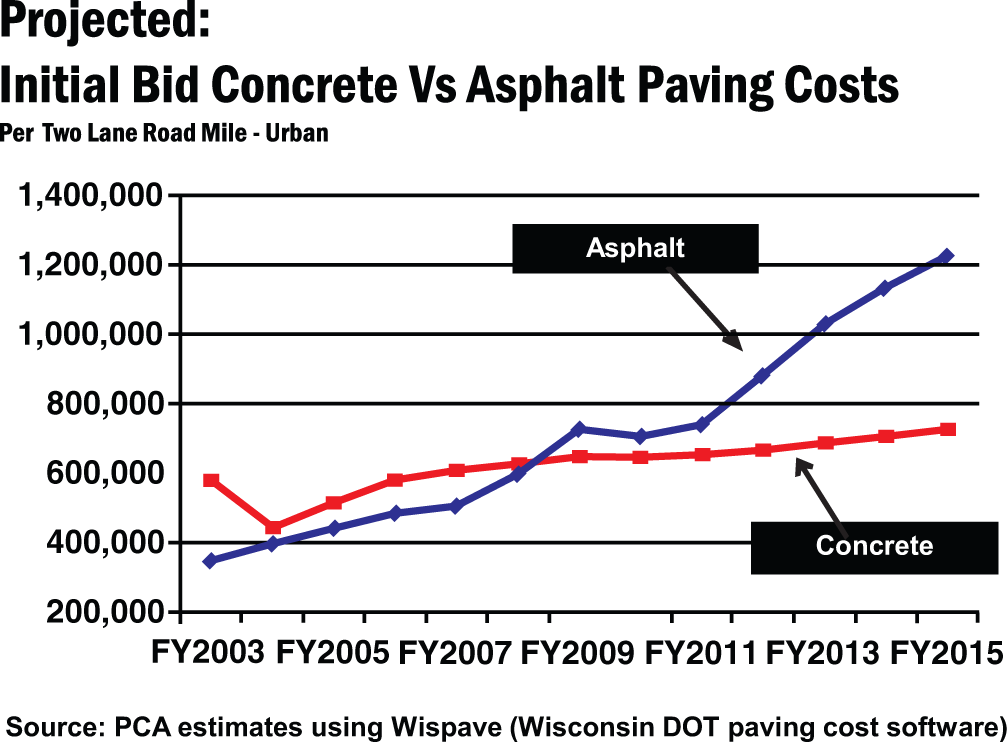 Paving dynamics continue to shift in concrete's favor as oil prices, changes in refining practices, and increasing emphasis on life-cycle cost continue to widen the gap between the cost of asphalt and concrete, according to a report, white paper, and Webcast released by PCA (Portland Cement Association).
The report, "Update: Paving, The New Realities," written by PCA chief economist Ed Sullivan, compares the cost for one mile of standard two-lane roadway calculated with estimating software used by state departments of transportation (DOTs). Six years ago, asphalt held a $120,000 initial bid cost advantage versus a concrete-paved road. Today that situation has reversed completely. Concrete now enjoys the initial bid advantage—to the tune of $82,000. PCA estimates that by 2015 concrete paved roads will enjoy a $500,000 initial bid cost advantage over asphalt–roughly a 41 percent savings.
Concrete offers dramatic savings for cash-strapped state governments. "Given the supply challenges facing asphalt and the need to repair and expand the nation's infrastructure, if all roads in 2015 were paved with concrete, state governments would save $37.5 billion in initial paving costs," remarked Sullivan. "During the road's life cycle, the savings resulting from paving with concrete compared to asphalt would total nearly $55 billion."
PCA's economic research department was recently named the most accurate overall forecasting group by the Chicago Federal Reserve.
You can read more about this topic, and see the web cast at http://www.cement.org.
Subscribe to Receive GOMACO World Magazine