GOMACO World Index --- GOMACO World 37.2 - September 2009
7728 Cubic Yards (5908 m3) One Day's Production Rate!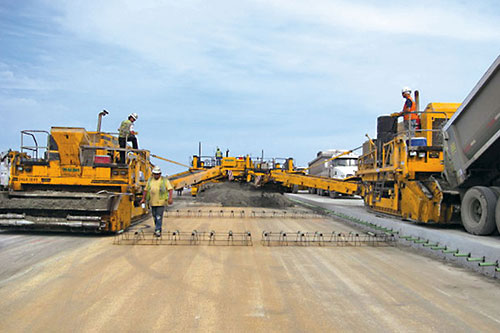 Two GOMACO 9500s placed concrete on grade in front of the PS-2600 which was placing and spreading the concrete in front of the GHP-2800 paver.
A phenomenal single-day production rate was recently accomplished with a GOMACO paving train at the O'Hare International Airport in Chicago, Illinois. Walsh Construction Company is at work on the airport slipforming a new runway. In a single day, they slipformed 7728 cubic yards (5908 m3) of concrete with their GOMACO equipment during a 12.5-hour shift.
Two on-site batch plants worked continuously to keep ahead of the paving spread. Thirty-nine end-dump trucks carried the concrete to the paving site. Concrete was placed over dowel baskets and cans for runway lighting.
The trucks dumped their loads into two 9500 placers and a PS-2600 placer/spreader working in front of the paver. A GOMACO two-track GHP-2800 paver slipformed the new runway 21 inches (533 mm) thick and 25 feet (7.6 m) wide. Production averaged 618 cubic yards (472 m3) per hour under the watchful eyes of project superintendents Mike Osika and Dennis Entwistle.
Both the PS-2600 placer/spreader and GHP-2800 paver were equipped with the Leica PaveSmart 3D system, eliminating the need for stringline on the project. The string-free site eliminated a lot of hassles with 39 concrete trucks continually driving through the site, laborers at work in front of and behind the paver, and various other personnel coming and going.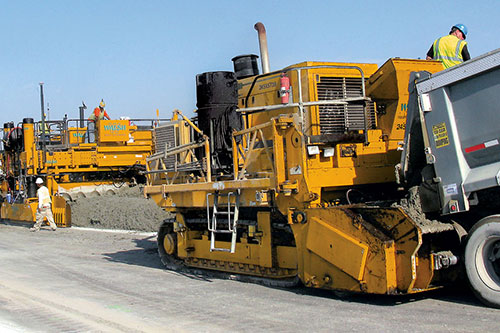 Thirty-nine end-dump trucks were needed to keep the average paving production at 618 cubic yards (472 m3) per hour.
Subscribe to Receive GOMACO World Magazine