GOMACO World Index --- GOMACO World 39.1 - March 2011
A Really Sweet Project - Slipforming Sugar Beet Pads in North Dakota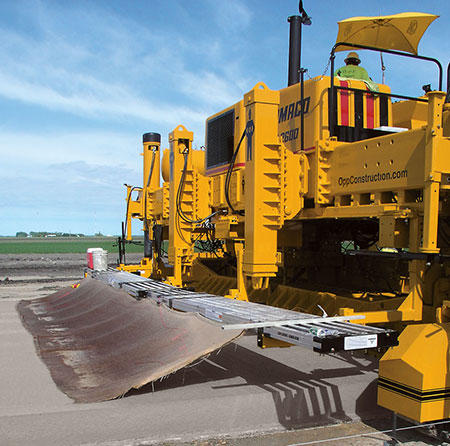 The sugar beet pads are 1500 feet (457 m) long, 75 feet (22.9 m) wide, and 10 inches (254 mm) thick.
Opp Construction Company, based out of Grand Forks, North Dakota, with an office in Fargo, specializes in all kinds of paving applications, from curb and gutter and barrier wall to municipal and airport projects. They also work on the agricultural side of things and perhaps one of their more unusual slipform paving applications is concrete pads for sugar beets.
Opp Construction has a unique relationship with American Crystal Sugar Company, based out of the Red River Valley of North Dakota. Every year, American Crystal begins its full sugar beet harvest around October 1. Its members harvest 24 hours per day until finished. The sugar beets are placed in huge outdoor piles, covered, and allowed to freeze until they can be processed into sugar.
"The concrete pad is a better surface for stacking the sugar beets on and they've been hand-forming these pads for years," Greg Opp, President of Opp Construction, said. "We actually introduced the concept of slipform paving to American Crystal and they accepted our suggestions. They take a really scientific approach to the piles, as far as how high and how wide each should be."
Last year, Opp Construction decided it was time to add another slipform paver to their fleet.
"We mainly do municipal and agricultural-type paving and we wanted a paver that was fairly easy to move around and something that can do the type of work that we're doing," Opp explained. "We've got a really good GOMACO distributor here in Swanston Equipment Company, and also Brad Barkema as our GOMACO salesman. We worked together to find a solution that fit our needs."
That solution was a two-track GP-2600 slipform paver and an RTP-500 rubber-tracked concrete placer. The company's first project with their new paving equipment was a sugar beet pad near Grand Forks.
The new pad was 1500 feet (457 m) long, 75 feet (22.9 m) wide and 10 inches (254 mm) thick. The GP-2600 was set up to pave the pad in three 25 foot (7.6 m) wide paving passes.
Concrete was provided by a mobile batch plant, but due to the remote location of the project, it had to be set up 25 miles (40 km) away from the paver. Fifteen ready-mix trucks carried eight cubic yard (6.1 m3) loads of the high fly-ash content mix. Concrete slump averaged two inches (51 mm).
"The 10 inch (254 mm) thick concrete was continually reinforced with #4 bars every 24 inches (610 mm) on center," Opp said. "American Crystal has engineered these over the years and this is the design that works best for them. We also had #5 tie bars, 36 inches (914 mm) long on 36 inch (914 mm) centers."
Opp Construction's GOMACO RTP-500 rubber-tracked placer and two-track GP-2600 paver slipforms sugar beet pads.
Very little finishing work is required behind the GP-2600. The new slab is broomed and a spray cure applied. Joints are placed every 12.5 feet (3.8 m) transversely and longitudinally to create a series of 12.5 foot (3.8 m) squares in the new pavement. Opp Construction completed the 4000 cubic yard (3058 m3) project in three days, slipforming approximately 1300 cubic yards (994 m3) per each 10 hour day. It took approximately two months to complete the entire scope of the project.
"We are really happy with the performance of our new GP-2600 paver and the men are smiling because they don't have to work so hard anymore," Opp said. "Our operator is doing well with and liking the G22 controller on it."
A few of Opp's operators were able to attend a pavers class at GOMACO University in Ida Grove, Iowa, in preparation for the spring arrival of the new paver. The class gave them a first-hand look at the G22 control system, and covered the setup and operation, maintenance, and advanced diagnostics for their new GP-2600.
"We're pretty happy with the program they run at GOMACO University and our operators came back with some valuable information," Opp said.
The GP-2600 and RTP-500 went on to complete several other municipal and city street projects during last year's paving season. The RTP-500 was kept busy nearly every day on a variety of Opp Construction projects.
"The RTP has been a really good machine for us and we've used it almost daily since we bought it," Opp said. "We use it in front of our bridge deck finishers, for municipal street patching, water line replacements and short stretches of street. It's helped us eliminate a couple of guys in front and has been a very good investment for the company."
Subscribe to Receive GOMACO World Magazine