GOMACO World Index --- GOMACO World 40.1 - June 2012
New 3D Stringless and IDBI Classes Part of Successful 2012 GOMACO University Season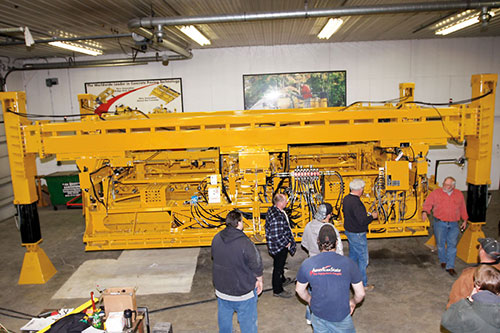 Students gather around the new IDBI trainer in the shop at the Paving Center and learn the finer points of inserting transverse dowel bars in the pavement.
GOMACO University in Ida Grove, Iowa, experienced a very successful 2012 school season that attracted students from across the United States, Canada, South America, Europe and Asia. Overall, the number of registered students attending classes at GOMACO University in 2012 doubled from last year.
Part of the reason for the successful season was the addition of 3D stringless paving classes to the University's curriculum. GOMACO equipment has been using 3D stringless paving technology on projects around the world since its inception 13 years ago. In 2011, GOMACO created its own in-house department for 3D controls. The 3D classes, offered for the first time this year, were part of GOMACO's continuing effort to promote 3D paving and to educate end users about the system. The classes were taught by GOMACO's 3D paving specialists at our 3D headquarters in Ida Grove. Five 3D classes had to be scheduled to accommodate the number of students interested in attending.
A new dowel bar insertion (IDBI) class was also added to the 2012 GOMACO University schedule this year to help educate contractors on GOMACO's system of inserting transverse dowel bars in pavements on-the-go. GOMACO's Research and Development department custom-built an IDBI trainer for the class. The new IDBI trainer simulates the entire IDBI paving process and has a front pan and the entire dowel bar inserter section. It has been designed so owners of both the older GOMACO IDBI units, as well as the current independent IDBI attachments, can train on this one unit. Half of the machine has the older-style IDBI hardware, and one half of the machine has the current-style IDBI hardware. The trainer allows hands-on learning of every aspect of an IDBI system, including the G+ controller with touch screen. It also gave students the chance to learn about the very latest software upgrades to the system.
"It was a really good year at GOMACO University and we were happy to see the number of registered students increase so much from last year," Dennis Clausen, GOMACO University's Director of Training, said. "We hope the students learn as much from us each year as we learn from them. It was good to have them all visit our hometown of Ida Grove, Iowa, and we look forward to seeing them back again next year."
The two-track and four-track pavers classs were the most attended classes this year, followed by the 3D stringless sessions.
GOMACO University's class schedule ran from January through March this year. Each week focused on a specific piece of GOMACO equipment, and the three-day or four-day class covered everything from machine set-up to troubleshooting in both classroom lectures and actual hands-on shop time.
Each student is asked to review their class and express any comments or concerns that they may have. Below are just a few of the positive statements our students had to say about their University experience.
Commander III:
• Well instructed and went into full detail.
• Excellent in showing illustrations to be learned in classroom.
GT-3600:
• Very detailed with a lot of one-on-one time.
• Rod (Schneider, GOMACO University Training Coordinator) does a great job. He knows the GOMACO better than anyone and it's a pleasure to learn some of what he knows.
GT-6300:
• Reviewed subjects in-depth, much more comfortable with the machine now.
IDBI:
• Comfortable, many opportunities for learning through photos posted and miscellaneous presentations.
Two-Track and Four-Track Pavers:
• Explained very well so you can understand. Covers a lot of subjects in a short amount of time.
• Very smart. Instructor knows everything about the topic. Answered every question and kept the class involved.
• Dennis (Clausen, GOMACO University Director of Training) knows a vast amount of information on pavers, which helps with our end product.
• Very good speaker, very intelligent on GOMACO products. Learned a lot.
• Really good class, applies real-world applications. Excellent instructors.
3D Stringless:
• Very knowledgeable. Explained scenarios well. Willing to discuss our individual problems.
• Like the way the instructor made sure everyone understood before he moved on to new material.
• I'd never question the instructor's knowledge on the GOMACO and Leica 3D.
• Kevin (Ackley, GOMACO 3D Support Specialist) did a great job with a diverse class.
• Hands-on training is always the best training.
Trimmers:
• This being my third year here, second time with trimmer class. I found it to be one of the most informative classes. I was able to understand it alot better.
Please check the GOMACO University web site this fall at www.gomaco.com/university to see the new 2013 class schedule.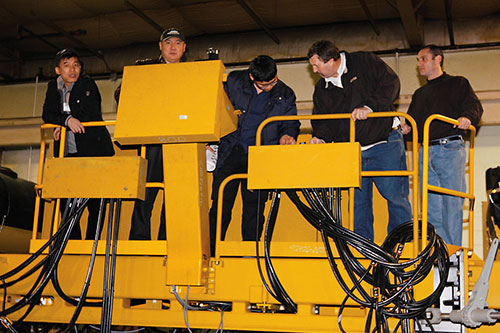 Oyu Tologoi LLC, a contractor from Mongolia, sent representatives from their company to learn about their new GP-2400 paver.
Subscribe to Receive GOMACO World Magazine