GOMACO World Index --- GOMACO World 40.1 - June 2012
GT-3600 Slipforms Floors for Russian Cattle Barns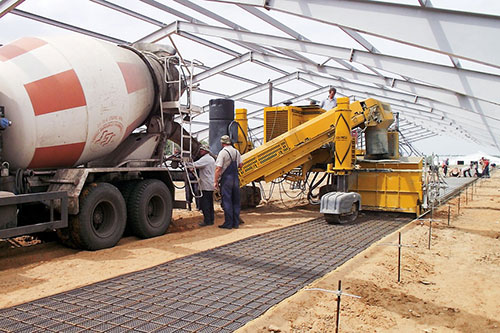 Soyuzspecstroy Ltd. is using their GT-3600 to slipform floors for cattle barns in the city of Voronezh, Russia.
Russian contractor Soyuzspecstroy Ltd. is using their GOMACO GT-3600 to slipform flooring in cattle barns in Voronezh, a city approximately 805 kilometers (500 mi) south of Moscow, Russia. The new flooring is slipformed in passes 1.74 meters (5.7 ft) wide and 200 millimeters (7.9 in) thick.
Soyuzspecstroy modified their GOMACO-built sectional sidewalk mold to slipform the barn application. The floor required longitudinal grooving to help give cattle traction as they walk across the floor. Thirteen blockouts were attached to the back of the mold to form the grooves. Each groove is 20 millimeters (0.8 in) wide at the top and the bottom, and 20 millimeters (0.8 in) deep. They are spaced on centers 140 millimeters (5.5 in) apart.
The GT-3600 is slipforming the new cattle barn flooring on a black geotextile fabric with steel reinforcing placed on top of it. The concrete is a standard slipform mix design with a slump averaging 40 millimeters (1.6 in). Curing compound is hand-sprayed onto the new floor behind the GT-3600.
Soyuzspecstroy says that their GT-3600 with G22 controller operating in the Russian language is performing well slipforming this unique application, and they are happy with the performance of their GOMACO machine.
Subscribe to Receive GOMACO World Magazine