GOMACO World Index --- GOMACO World 41.1 - October 2013
FSD: Closed for the Weekend

The intersection between the two major runways at the Sioux Falls Airport was removed and replaced in just two weekends by T&R Contracting Inc.
The Sioux Falls Regional Airport (FSD) in Sioux Falls, South Dakota, has been working on upgrading and improving their runways for the past three years. Last fall, they tackled what was probably the most difficult portion of the project... the removal and replacement of 750 feet (228.6 m) of the intersection of the two main runways, 3-21 and 15-33. The location of the intersection did not leave enough room on either runway to land commercial airplanes so the airport would be essentially shut down during the intersection reconstruction.
Conventional construction would have the airport closed to commercial air traffic for almost a month. That just wasn't economically plausible. A different construction approach had to be developed. The answer: a series of four long weekends to rebuild the intersection, two weekends for actual work and an additional two backup weekends in case of inclement weather. The runways would be completely closed down starting at 2 p.m. Friday until 8 p.m. on Monday. One small runway, 9-27, would remain open for general aviation and air ambulance services. Penalties were in place if the main runways weren't opened up in time. They started at $20,000 and went up to $185,000 at four hours late, the maximum penalty faced per day.
A Sioux Falls-based company, T&R Contracting Inc., won the bid to complete the time-challenged project. Project subcontractors, Soukup Construction and Runge Enterprises, would handle the removal of the existing runway and the base course preparations while T&R Contracting would complete the concrete paving on the project. T&R Contracting's paver of choice for this concrete paving project was a GOMACO GP-4000, purchased reconditioned from Godbersen Equipment Company (GEC) in Ida Grove, Iowa.
"We like working with GEC and this isn't the first piece of refurbished equipment we've purchased from them," Ryan Gulbrandson, Project Manager for T&R Contracting, explained. "It's an economical option for a company our size and you're basically getting a totally refurbished machine for less than the price of a new one."
At 2 p.m. on Friday, August 17, 2012, the airport closed down their runways and demolition work began. Removal of the runways was started right in the center of the two and worked towards the outer edges. Approximately 42 inches (1067 mm) in depth of existing runway, subbase and dirt was removed using 30 pieces of equipment and over 80 trucks. New subbase preparations included a layer of geotextile fabric and then 25 inches (635 mm) of P209 crushed aggregate base course.
Six hours after the runways closed, T&R Contracting was ready to slipform their first paving pass with the GP-4000. Each pass was 37.5 feet (11.4 m) wide and 17 inches (432 mm) thick across each of the 150 foot (45.7 m) wide runways. T&R Contracting also had their GOMACO GHP-2800 slipform paver on site, ready to go, as a precautionary measure in case a second paving train was needed.
"We set up a batch plant right outside the gate of the airport," Gulbrandson said. "But being 17 inches (432 mm) thick and 37.5 foot (11.4 m) wide, one cubic yard (0.8 m3) of concrete would only get us six inches (152 mm) of movement lengthwise so it wasn't moving the fastest with the one plant. We had to fire up another plant in town to help us out."
The concrete was an airport specified mix design with the ability to reach 3000 psi (20.7 MPa) within 24 hours. It also needed to set up quickly to allow T&R Contracting to come through and drill holes in the edge of the new runway for sidebars. Slump averaged between 0.5 to one inch (13 to 25 mm). Twenty trucks were used to feed the GP-4000, each one carrying 10 cubic yard (7.6 m3) loads. No placer/spreader was used, instead two trucks at a time dumped directly onto grade in front of the paver. Production averaged 400 cubic yards (305.8 m3) per hour.
Paving production with the GOMACO GP-4000 averaged 400 cubic yards (305.8 m3) per hour. A second batch plant had to be utilized to keep up with the paver's production while slipforming 37.5 feet (11.4 m) wide.
During the first weekend of paving, T&R Contracting completed four pours and finished one of the 750 foot (228.6 m) long sections of runway by 4 p.m. Sunday afternoon. Monday morning was spent on hand pours for tie-ins and radii at the intersections. By 8 p.m. on Monday night, the runways were reopened and commercial plane traffic restarted.
"Our biggest worries that first weekend were definitely the weather and just making sure the concrete was going to make strength so we could open up the runways again in time," Gulbrandson said. "A lot of guys worked 56 hours straight with only a couple of hour breaks, so it was a grueling weekend for everyone, but a successful one. The GP-4000 worked well and had no problems slipforming the high-strength concrete mix design."
Four days later, on Friday, August 24, T&R was back at the Sioux Falls Airport to finish what they had started. Paving runs would be shorter this weekend, because of the angled runways and the pieces left to pave. They'd have to work the GP-4000 over 16 headers and footers on that final weekend.
"The GP-4000 handled everything we threw at it and performed well over the course of the project and GEC's Manager, Jeff Rassmusen, was available the entire time to answer questions or provide support. He even stayed up with us all night on our first pour," Gulbrandson said. "The GP-4000 applied a nice finish and all we had to do was run a 10 foot (3 m) straightedge behind it. The airport really frowns on touching the edges just in case you drop the slab and create edge slump, but that really wasn't an issue because the GP-4000 was building a good edge for us."
The two extra weekends as backup would not be needed. Rain was only a factor on the very first and the very last pour of the project. Otherwise, Mother Nature cooperated with the tight completion deadline. T&R Contracting finished their last slipforming run early on Sunday morning, August 26.
"This project was a great experience for T&R Contracting and the airport ended up with a project they were really happy with," Gulbrandson said. "It definitely put us and our equipment to the test."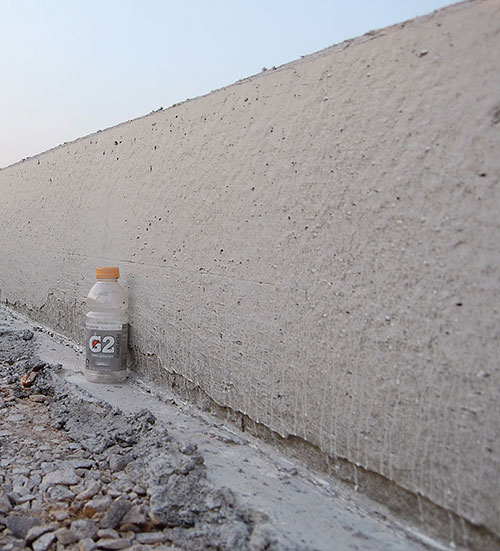 The GOMACO edge on the airport's new 17 inch (432 mm) thick runway.
Figure 2. Photo from original construction of the concrete overlay at Spirit of St. Louis Airport in 1994.
Subscribe to Receive GOMACO World Magazine