GOMACO World Index --- GOMACO World 41.1 - October 2013
The Challenges of Time, Traffic, and Church on Easter Sunday...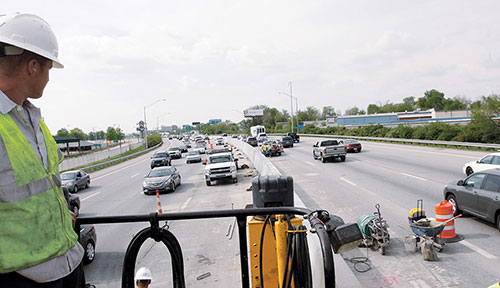 Last year, Tim Sigler, Vice President and General Manager of JBI Construction in Evansville, Indiana, was reading through bid specs and came across one for 12,000 linear feet (3658 m) of barrier wall in Louisville, Kentucky. He thought it seemed like a perfect job for his company, which, among other things, specializes in concrete barrier wall. But what's that expression... if something sounds too good to be true, it probably is?
The project on Louisville's I-65 required the removal of the existing 32 inch (813 mm) tall barrier wall and replacing it with a 50 inch (1270 mm) single slope barrier wall. All of the work had to be completed in just nine days, with JBI being allowed seven days to slipform the new wall.
Work was scheduled to begin the week before Easter Sunday. An added deadline was imposed by Mrs. Sigler. She really wanted her boys home to celebrate the holiday with her. Her "boys" include grandsons Michael and Jon, and various other members of the JBI crew in this tight-knit, family-owned company. JBI's seven day work week would have to be shortened to six to try to accommodate her special request.
"We were facing hourly penalties up to $690,000 for not completing on time," Sigler explained. "It could have gotten really ugly. Plus, Mama wanted us home and in church with her on Easter Sunday. We didn't want to disappoint her."
The success of the project had to begin during the pre-planning phase. JBI would bring their GOMACO equipment, three machines in total, to the site for slipforming the safety barrier. The GOMACO machines included a three-track Commander III, a four-track Commander III and a GT-6300. The Commander IIIs featured new GOMACO-built barrier molds with a profile that was 50 inches (1320 mm) tall, with a 12 inch (305 mm) top width and 30 inches (762 mm) wide across the bottom. The molds were also equipped with a hinged door on the front that hydraulically raises or lowers. Sigler worked closely with GOMACO engineers before the project was let, finalizing the mold design. Once word was received they had won the bid, GOMACO immediately began production on the molds.
Then, all JBI had to do was move their GOMACO equipment into place and begin slipforming. They would need to average 2000 feet (610 m) of barrier wall per day to complete the project in just six days.
JBI brought their entire company to work on the 4.2 mile (6.8 km) section of I-65 that stretched from downtown Louisville to the I-264 Henry Watterson Expressway interchange. They were divided into three crews placed on the north, south or center portion of the project. Each crew was only allowed the one lane in each direction to work in. Working conditions were a challenge with minimal space to get ready-mix trucks in and out as thousands of vehicles passed by the JBI slipforming crews.
The first day on the project proved to be the most challenging. Rain delayed them by three hours when a thunderstorm rolled through. Consistent concrete delivery also proved to be a challenge at start-up, but it was a challenge that was quickly overcome and production improved every day they were on the project.
"The concrete is a state of Kentucky Class A curb mix that has undergone a little bit of tweaking to make it better at this low slump," Sigler said. "We also made it a little bit better for slipforming barrier wall."
The new wall was slipformed over a large trench left over from the removal of the existing barrier. Careful placement of the vibrators within the mold was a consideration for proper concrete consolidation in the trench for a solid foundation for the barrier wall.
There was no steel reinforcing in the single slope barrier wall. The only steel was located at inlet boxes placed for drainage underneath the new wall. The hinged door on the GOMACO molds could be hydraulically raised to clear and slipform over the inlet's steel reinforcing. Once the mold had cleared the steel, the operator simply hydraulically lowered the door again, never having to stop forward progress.
"Almost everywhere we go with barrier wall, there's some kind of cage that we have to pour over," Sigler said. "The hydraulic gate is a great feature and I don't think we have a barrier wall mold made that doesn't have a front door of some type on it."
After six straight days of barrier paving with three different GOMACO machines, sometimes running double shifts, JBI completed their 12,000 feet (3658 m) of barrier wall. They finished on Saturday afternoon, packed up their equipment, and headed home to Indiana. Mrs. Sigler was able to spend Easter Sunday with her tired, but successful JBI boys.
"To make a project of this size a success, you need a good concrete supplier, good equipment, good people, and a lot of patience," Sigler said. "Everything on this project, including the GOMACO machines, worked as good as you could have ever expected it to work."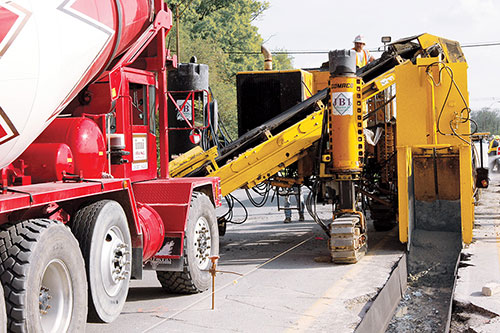 The removal of the existing barrier on the project left a large trench. JBI had to placevibrators in the mold to help consolidate the concrete in the trench to create a solid foundation for the new barrier wall.
Subscribe to Receive GOMACO World Magazine