GOMACO World Index --- GOMACO World 42.1 - November 2014
Commander
III

Slips a Variety of Wall on a Texas Interstate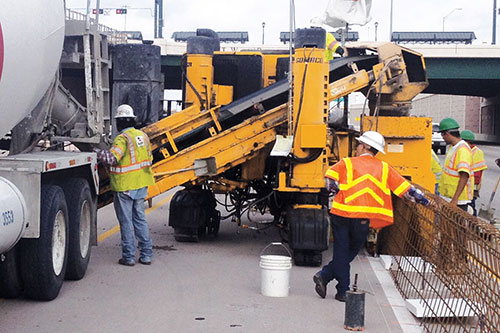 Austin Bridge & Road is slipforming over 18 miles (29 km) of barrier wall on a Texas interstate project with their GOMACO three-track Commander III.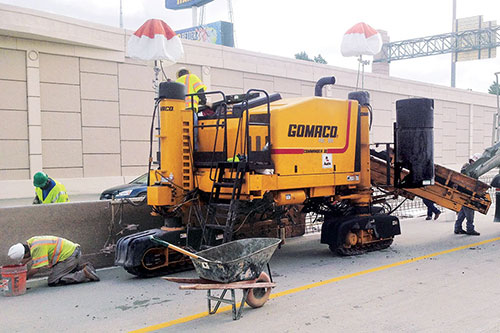 Austin Bridge & Road Company in Irving, Texas, is currently at work on the Interstate 30 project in Dallas and Tarrant counties. The project includes replacing the single HOV lane with two new lanes that will be open in each direction. Austin Bridge & Road has their fleet of GOMACO equipment at work on the project, including their three-track Commander III, which is slipforming a variety of different barrier and rail profiles along the 18.3 mile (29.5 km) project.
"The largest wall profile on the I-30 project is a single slope barrier that is 42 inches (1067 mm) tall," Chris Smith, Operations Manager for Austin Bridge & Road, explained. "It has a base that is 24 inches (610 mm) wide and has a nine inch (229 mm) top cap. It's just one of several different profiles of the 213,000 linear feet (64,922 m) of wall and rail that we'll be slipforming on I-30."
The three-track Commander III with exclusive G+ controls was purchased specifically for the I-30 project.
"We have a GOMACO four-track GT-6300 that we do barrier wall with, but knew we needed to add a machine to help handle the volume of work on this project," Smith said. "We went with a three-track Commander III because of its mobility and the ease in which we can load and unload it for transport. On this project we may spend a week working in Dallas County, then pick up and load the Commander III for another section of wall in Tarrant County next week. We just drive it onto a lowboy trailer and head out."
The wall is slipformed over continuous steel reinforcing that has drainage slots on 12 foot (3.7 m) centers in the base of the wall. Styrofoam is inserted into the drains to keep concrete out during slipforming, and later has to be removed.
Austin Road & Bridge's wall production is limited to the amount of hours they're allowed to work. For example, on days when the Texas Rangers have a baseball game, their working hours are limited to accommodate the heavier traffic load of fans trying to reach the ballpark.
Production averages 100 linear feet (30.5 m) per hour on the single slope barrier, with up to 1500 linear feet (457 m) per day on larger production days. The concrete for the wall is a standard Texas Department of Transportation mix design with slump averaging between 1.5 to two inches (38 to 51 mm).
"Monitor the slump of the concrete closely, because if it's not right by being too wet or too dry, then your wall is not going to be right," Smith said. "On our projects, the dump man is the most important man on the job site because he monitors the concrete constantly to maintain the perfect slump. If you have a good slump, you'll have a good wall."
Austin Bridge & Road's work on the I-30 project began last fall and is scheduled for completion in spring 2015. The company specializes in heavy highway construction and bridge projects in the Dallas-Fort Worth metroplex.
Subscribe to Receive GOMACO World Magazine