GOMACO World Index --- GOMACO World 42.1 - November 2014
G+
®

and 3D: Putting the Fun Back Into Curb and Gutter

England Contracting LLC, based out of Murray, Kentucky, specializes in curb and gutter. More specifically, they specialize in tight radius island paving and other parking lot challenges with their GOMACO GT-3600 curb and gutter machine.

"The GT-3600 is the only thing I've ever run and I know pretty much everything there is to know about them and if it has a problem, I can troubleshoot it," Scott England, owner and GT-3600 operator for England Contracting, said. "I prefer an auger over a conveyor mainly because it will carry a little bit more concrete through a radius. We have probably 30 different molds in our inventory. Some we've used one time and will never use again and some that I trade every three years because we wear them out."

In 2013, they added another new GT-3600 to their inventory and were introduced to the concept of 3D stringless paving for curb and gutter. Vinnie Miller, GOMACO's Southeast District Manager, pitched the concept to England. After researching the 3D systems, they went and watched another GOMACO GT-3600 at work in Tennessee with a Topcon mmGPS system. After watching it work, England was convinced he needed 3D on his projects, too.

He has worked closely with the GOMACO 3D controls group, Topcon, and Billy Price from Roper Laser, the local authorized Topcon dealer. England put his new system to work on a parking lot project recently in Murfreesboro, Tennessee. They had approximately 15,000 feet (4572 m) of curb and gutter to slipform, including 43 islands with 2.5 to four feet (0.8 to 1.2 m) radii. The curb and gutter profile was an 18 inch (457 mm) wide, six inch (152 mm) tall gutter with a six inch (152 mm) curb.

"We've had 20 years of looking at stringline on our pours and then there's none there," England said. "It was a big change for us."

On the first day with his new system, England slipformed 16 islands. Without the 3D system, he would have still been setting stringline with no concrete on the ground.

"We figure about 25 stakes per island and with 16 islands, that's 400 stakes that have to be set," England explained. "It would have probably taken us a day and one half to string, then a day of pouring, so 2.5 days for 16 islands. Instead, we did it all in one day. And at the end of the day, after we're done pouring, we didn't have any stakes or stringline to pick up. That, as much as anything, is going to save me a lot of overtime."

England's Topcon 3D equipment inventory now includes three mmGPS laser transmitters, a GPS base station, and a GPS rover used to check grade. On the GT-3600, hardware was added including an integrated GPS antenna and mmGPS receiver, a dual GPS receiver, a GPS antenna and a GX-60 control box which is Topcon's user interface using their 3DMC software.

The GPS antennas on the GT-3600 are used to track the machine's movement and calculate its position and heading. The mmGPS lasers are used to control elevation, and long and cross slope are controlled by GOMACO's G+® control system. The lasers are set up over an established survey point that is included in the control file to ensure the elevation accuracy of the curb and gutter.

"We use a rotating laser type of technology which actually puts out a 33 foot (10 m) band of vertical information," Brian Lingobardo, System Manager for Topcon, explained. "Steering is coming from GPS and then we're augmenting the vertical accuracy through the mmGPS laser. It's what gives us our two to three millimeter (0.08 to 0.12 in) accuracy, which is required for most concrete paving applications."

The model for the curb and gutter is built from the same 3D data used by the dirt contractor on the project. A 3D alignment for the GT-3600 is added to the model and resides in the GX-60 controller which in turn sends the steering and grade corrections to the G+ controller. The G+ controller then keeps the machine on line and at the correct elevation during slipforming when traveling on uneven grade. The GX-60 communicates with the GOMACO G+ control system using G+ ConnectTM.

A map of the entire job site and each individual island can be viewed on the Topcon GX-60's display screen. The islands are named and it's simply a matter of choosing which island to slipform next in the system software. As England watches the next island approach on the display screen and gets the GT-3600 near the designed location, he puts the curb and gutter machine into automatic and lets the 3D system take over from there.

England still has to carefully meter the concrete supply. He uses the auger on his GT-3600 to fill the hopper full, and then fills the auger as well, and it will carry him through the radius and halfway around the island.

"All in all, there's no comparison between 3D and stringline island paving," England said. "The entering and exiting of the radius is smoother and straighter. I think that's because you can't set your string in as perfect of an arc as the GPS is telling it to turn."

The GT-3600 with All-Track Steering is built for turning tight radii. The Topcon system uses algorithms for tight radii that simulates how steer sensors on stringline work and automatically adjust in and out of a radius. The software also has definable parameters to help sharpen cornering, as well as transitions in the entry and exit of a radius to provide smoother results than stringline can offer. And with the project model loaded into the computer with the upcoming design elements, the 3D system is able to anticipate and adjust to the radius accordingly.

"All-Track Steering combined with our steering algorithms and the G+ control system working with our system allows us to accomplish some really tight radii and curves," Lingobardo said.

England and his new GT-3600 with G+ controls would go on to finish the entire project in less than five days... The 43 islands were slipformed in only 2.5 days. Another 1.5 days were spent slipforming the perimeter curb and gutter for the parking lot. On the fifth day, they were loading up and heading out to their next project.

"I know I'm not going to be able to use the 3D system on every parking lot project, but I'm going to hate it when I have to go back to stringline," England said. "I guarantee I'll recommend it to anybody that asks me.

"I looked at the different 3D systems and bought the Topcon system mainly because of the price. From what I know now, I would probably choose Topcon no matter what. It's actually put fun back into slipforming curb and gutter."
Select any photo to enlarge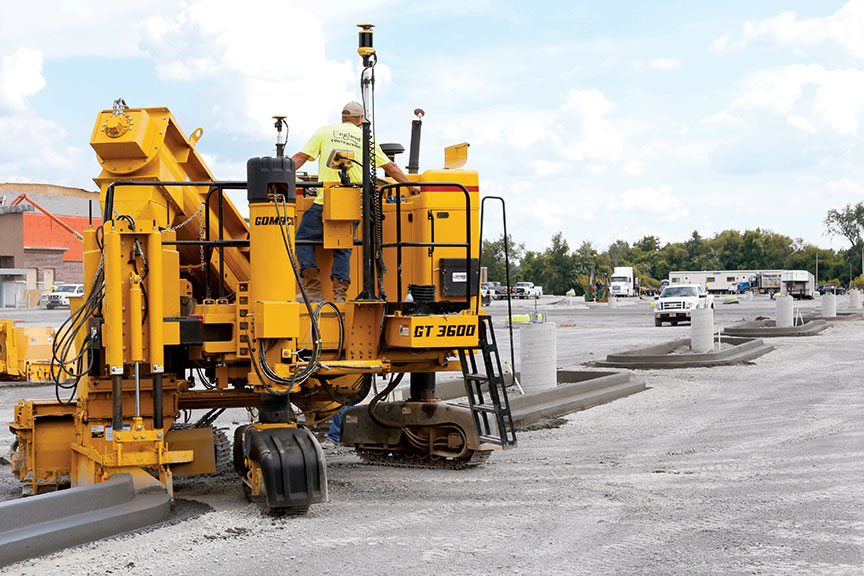 England Contracting is slipforming radii as tight as 2.5 feet (0.8 m) with their GOMACO GT-3600 curb and gutter machine with Topcon mmGPS system on a parking lot project in Murfreesboro, Tennessee.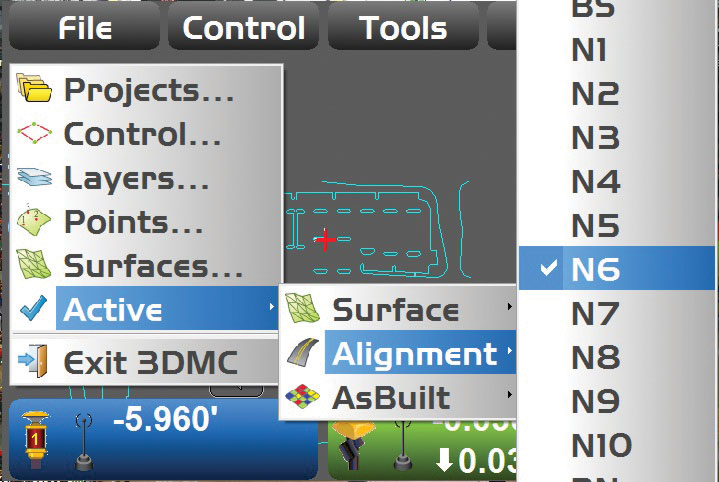 Each island on the project can be named, so it's just a matter of choosing the next island on the computer screen and traveling the GT-3600 to the location.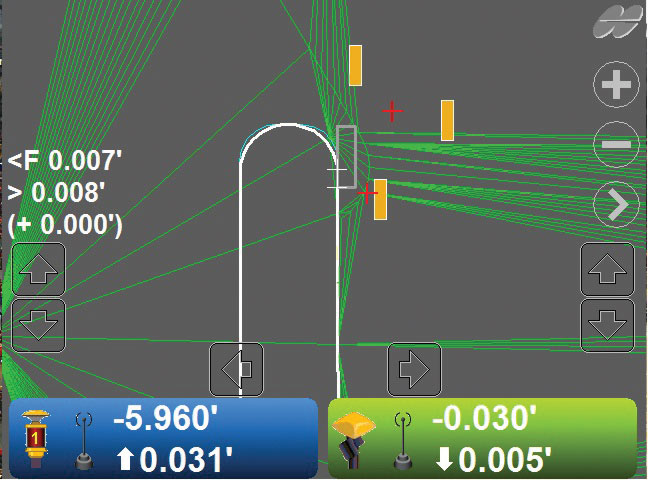 The GT-3600 starts slipforming another island and the Topcon computer shows the curb and gutter machine's correct location on the project map as it travels around the island.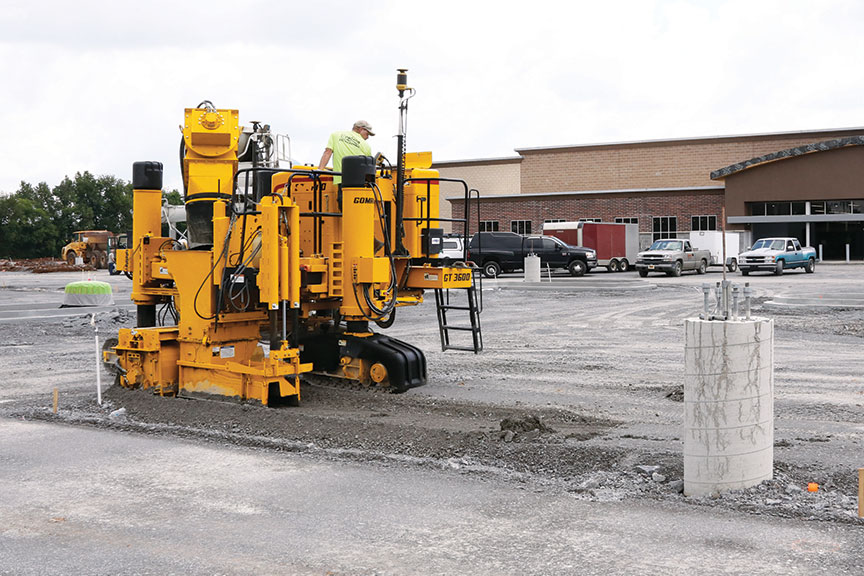 England approaches the island, puts the GT-3600 into automatic, lowers the trimmerhead, and the 3D system takes over.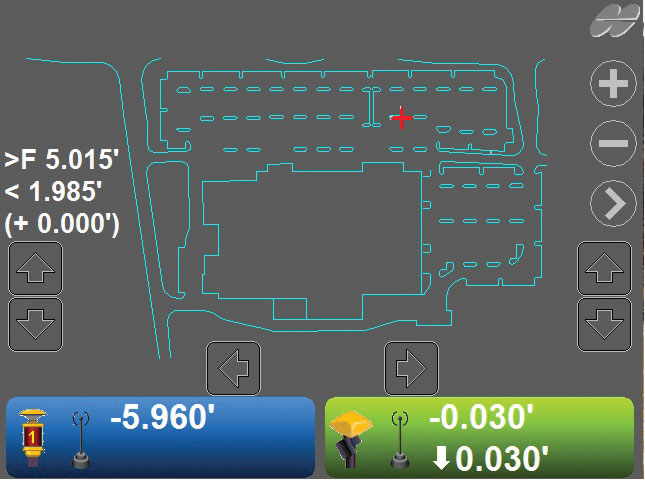 The entire model of the project, showing each island, is illustrated in a screen shown above.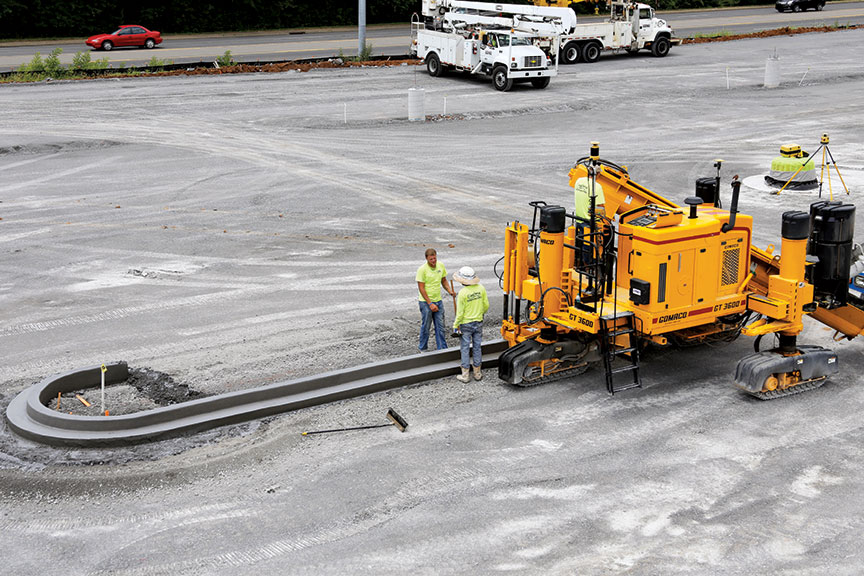 The GT-3600's All-Track Steering, combined with Topcon's steering algorithms, allow for smooth entrances and exits and tighter cornering for tight radii work on parking lots.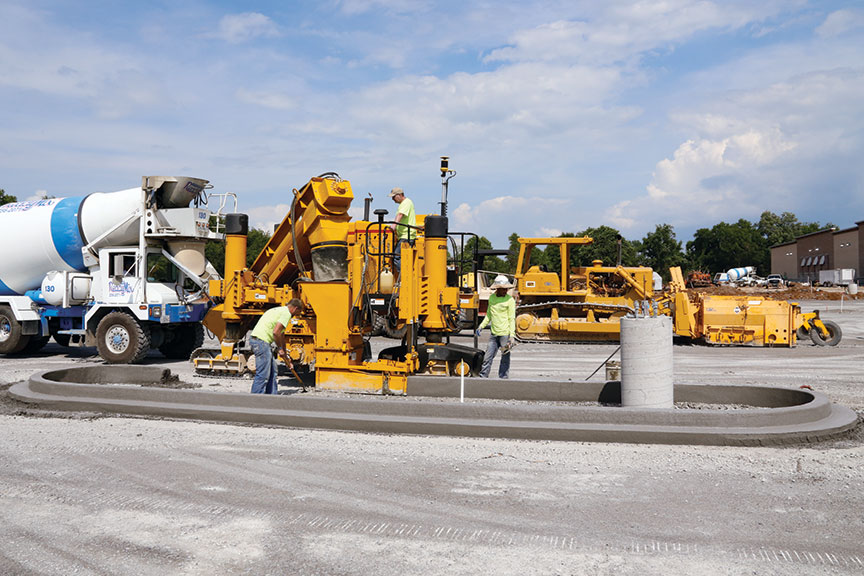 On the first day with the new 3D guidance system, England Contracting and their GT-3600 slipformed 16 of the project's 43 islands. The GOMACO GT-3600 is England's curb and gutter machine of choice for slipforming tight radii.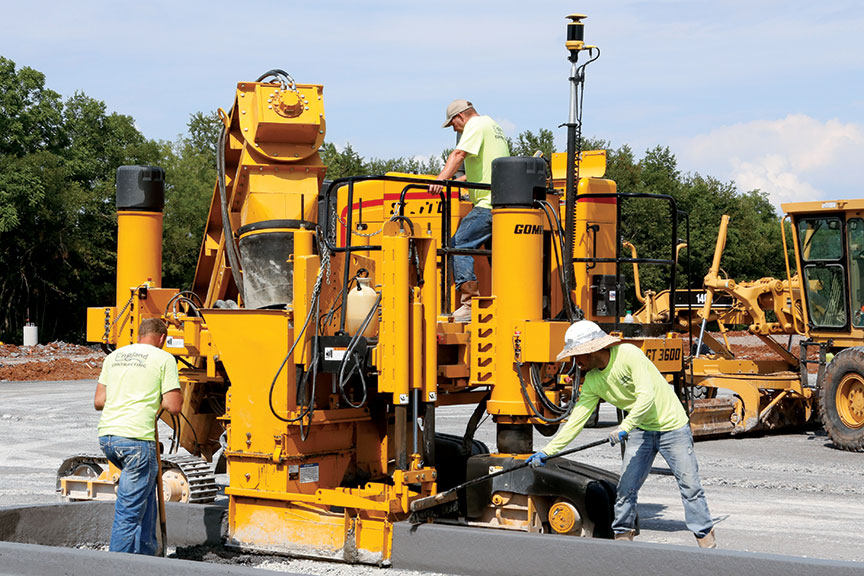 The GT-3600 completes another island, perfectly lining up again at the beginning.