GOMACO World Index --- GOMACO World 42.1 - November 2014
Working Smarter, Not Harder, On New York's Bridges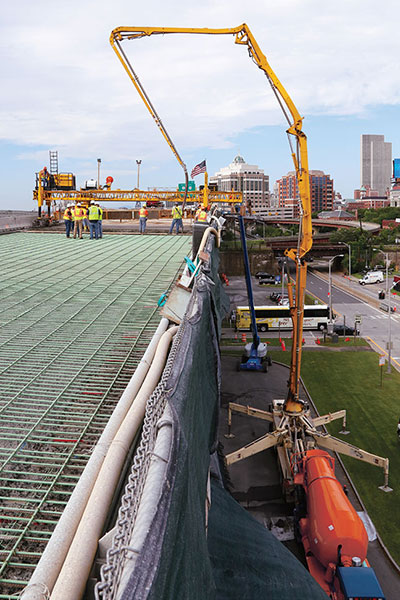 D.A. Collins Construction Co., Inc., based out of Wilton, New York, has just finished up work on a two year, 350,000 square foot (32,515 m2) bridge overlay project. The concrete overlay took place on bridges and interchange ramps along Interstate 787 between Exits 3B and 4 in the heart of Albany, New York. Traffic had to be maintained at all times for the 122,000 commuters who travel I-787 each day, and construction was carried out in tight-clearance conditions and under a tight completion deadline.
"It's a New York State Department of Transportation (NYSDOT) job that has to be done while we maintain traffic, very tight deadlines, very small windows to do the work in so we have a very rapid pace schedule," Ken Blizzard, Project Superintendent for D.A. Collins, explained. "We're using hydro-demolition to take four to 4.5 inches (102 to 114 mm) off the deck, remove all of the old rebar, and remove all of the full depth joints, basically four feet (1.2 m) wide by the width of the bridge. Once we get all of that done, we put our rebar back in and pour the new concrete overlay between five to 5.5 inches (127 to 140 mm) thick."
The company, who has always used GOMACO C-450s for their bridge deck work, added a new C-450 to their inventory at the start of the project two years ago. Last year, to help further accommodate the aggressive two-year completion schedule, D.A. Collins purchased another new C-450 for the I-787 project.
"We've been working with C-450s for a long time, so we're very comfortable with them," Blizzard said. "The new models are really nice. They have a little longer drum so it touches the concrete surface a little more. The new legs have the screw jack type legs versus the old hand crank and they work a little nicer.
"The new machines we run five feet (1.5 m) in the air so we can walk underneath the machine without having to try to walk around it. We're pouring 65 feet (19.8 m) in the air so we don't have much of an option to walk around it."
D.A. Collins is only allowed a six inch (152 mm) wide granite curb to place their rails on. The curb is butted up against a concrete safety barrier further minimizing their working area.
"It's very tight up there and there's not a lot of room to work... not a lot of room to move," Blizzard said. "We literally have only six inches (152 mm) to run our machine on."
The main bridge decks on the project average five to six lanes wide with a 10 foot (3 m) shoulder. The on and off ramps to the bridge are roughly 25 feet (7.6 m) wide. One reason D.A. Collins likes the C-450 is because it can easily be converted to the different widths each bridge requires. Framework sections can be added or removed to reach the required width. Also, their C-450s are equipped with self-widening capability allowing up to 10 feet (3 m) of on-the-go adjustment.
With the C-450s raised higher than normal, they are equipped with a 36 inch (914 mm) lowering kit so the undercarriage reaches the concrete. The carriages are equipped with dual augers to strike-off the concrete, five foot (1.5 m) long externally-vibrating double cylinders to compact and level the concrete, and double float pans with a double burlap drag to provide the final finish and texturing on the concrete.
During one phase of the project, D.A. Collins had just 76 days to remove and replace 90,000 square feet (8361 m2) of bridge deck. The clock started ticking as soon as the first barriers were placed on the roadway separating out the construction zone from the live traffic traveling by at speeds up to 70 miles per hour (113 km/hr).
The new C-450 at work on a 2200 foot (670.6 m) long bridge was set up to finish three lanes of deck, 38 feet (11.6 m) wide in each finishing pass. A concrete pump truck worked from down below, at street level, placing concrete in front of the C-450. The concrete is a NYSDOT required Class DP mix design created for overlays and high-performance decks.
"The Class DP mix uses smaller stones for the thinner overlays," Blizzard explained. "It has a lot of microsilica in it and a lot of cement in it so it's very sticky concrete to work with. Since it is extremely sticky, it makes it very hard to finish and seal up."
To counteract the sticky issue, D.A. Collins asked the DOT if they could outfit their C-450s with an optional fogger system. A set of misters mounted to both sides of the undercarriage, ahead of the finishing cylinders, keeps the concrete from sticking to the cylinders and helps create a smooth, sealed finish.
"The foggers are absolutely awesome and I don't think we'll pour another bridge deck without them," Blizzard said. "Before them, the concrete liked to tear open and with the foggers, the concrete just seals right up. The foggers are the cat's meow."
The C-450's attachments and finishing capabilities have allowed D.A. Collins to reduce the number of laborers they have on each bridge deck pour. The foggers are just part of the equation. They also like the float pans and double burlap drag to help them achieve just the right finish that NYSDOT requires on their bridge decks.
"We're about as lean as you can get on a concrete crew and we have some automation things we've hooked up to the C-450 and let it do the work," Blizzard explained. "We place the concrete, the C-450 knocks it off and finishes, and the double turf drag gets the right texture that the state likes to see. They're very happy with it and it eliminates a guy off our crew. It also gives you a nicer finishing job because you're not pushing and pulling manually. It's all mechanical and once you get it set up, it's very efficient and does a nice job."
On an overlay project, average production isn't measured by yardage, it's measured by the length of the pour.
"I'm pretty happy if we're pushing 60 feet (18.3 m) an hour with the machine," Blizzard said. "Sometimes we get a little faster, but if we're doing a 360 foot (109.7 m) pour for the day, from start to finish which is set up to clean up, we'll do it in about seven to seven and one-half hours. Our guys are working smart up there, they aren't having to work too hard. The GOMACO C-450s make it easy."
Ten feet (3 m) behind the C-450, workers use a GOMACO Spanit® Work Bridge to place wet burlap and soaker hoses for a seven day wet cure. After curing is completed, saws are brought in for a longitudinal grooving. Once it's grooved, the whole deck is washed, cleaned, dried off, and a waterproof seal is applied before the newly overlaid lanes are opened to traffic again.
"We're going to be closing in on 350,000 square feet (32,515 m2) on this project and it has all gone well," Blizzard explained. "The C-450s are very versatile and that's why we use them."
The C-450's undercarriage is equipped with a 36 inch (914 mm) lowering kit, dual augers, five foot (1.5 m) long externally-vibrating double cylinders, and double float pans with a double burlap drag. It also features a fogger system to keep the microsilica concrete from sticking to the finishing cylinders.
Subscribe to Receive GOMACO World Magazine