GOMACO World Index --- GOMACO World 42.1 - November 2014
RTP-500 Teams Up with 4400 for High-Production Variable Barrier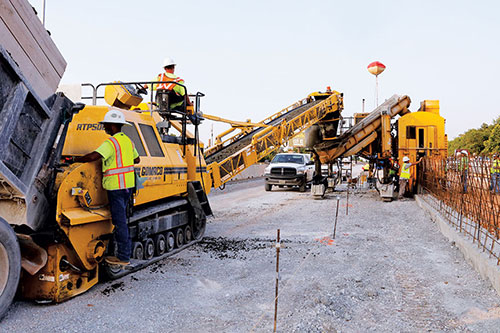 Gerdan Slipforming is achieving high-production variable barrier with their GOMACO RTP-500 rubber-tracked placer and 4400 barrier machine. Production averaged 600 feet (183 m) per night slipforming 76 to 78 inch (1930 to 1981 mm) tall wall over steel-cage reinforcing.
Gerdan Slipforming was founded in 1990 by Gerry Driskell, president and CEO, and her husband Dan, project manager, with a used GOMACO Commander III and the dream of someday being barrier specialists in Missouri. Marketing was key back then, because slipformed barrier wall and parapet wasn't a standard specification in the state. Project owners and engineers needed to be sold on the idea that it would succeed. The Driskells borrowed a video camera, filmed test pours with the Commander III in the yard at their company's headquarters in Cape Girardeau, Missouri, and ultimately produced a product presentation video. They traveled around the state with a 13 inch (330 mm) television/VCR combo and met with every official, engineer, and owner they could to show them their presentation.
They succeeded and so has Gerdan Slipforming. Now, almost 25 years later, their company has grown to include multiple states, and an inventory of four GOMACO GT-3600s and a three-track Commander III. Just last year they added a new GOMACO 4400, a barrier paver for the barrier specialists.
Since its purchase, it has been transported around the states of Missouri and Arkansas slipforming parapet and barrier projects. It usually stays on a project for a day or two before being transported again to the next location.
The I-49 project near Springdale, Arkansas, has been a different type of project for the company. They have to slipform five different profiles of concrete barrier wall along the 2.64 mile (4.2 km) stretch of reconstructed interstate. The project has also required Gerdan to slipform their first variable barrier. They knew going into the project that the variable barrier would require a learning curve and it would have to be learned quickly. The entire I-49 widening project must be completed in 99 working days or they will be fined $27,000 liquidated damages for every day past the deadline.
"The variable height barrier is called concrete barrier wall median type C and it varies anywhere from an inch (25 mm) all the way up to our tallest section having 56 inches (1422 mm) of variable height," Blake Driskell, Vice President of Gerdan Slipforming, said. "When the wall is less than 78 inches (1981 mm) tall, we slip it in one pass. When it's over 78 inches (1981 mm), we pour it in two passes. The bottom wall is 42 inches (1067 mm) tall and the top wall, in the second pass, is variable from 36 to 56 inches (914 to 1422 mm) tall. The interesting fact for the wall, from the bottom of the footing to the top of the tallest section is approximately 10.5 feet (3.2 m). It has presented us with several challenges."
Challenges included dealing with the continuous steel cage reinforcing, perfecting a concrete mix design and slump for tall wall, a job-site with limited access within a heavily-traveled interstate, and learning how to slipform variable barrier.
The design of the steel cage only called for a #4 rebar, which wanted to rack. The cage wanted to push forward with the direction of machine travel, because of the weight and the pressure of the amount of concrete required for the tall wall. Gerdan found themselves adding #6 bar within the existing cage to strengthen and reinforce it. During the first two weeks of paving, the mix of the concrete was fine-tuned. They found the best concrete for the variable barrier was a modified Class SAE mix similar to what they use when slipping bridge parapet. They added more cement to the mix design and specified a concrete slump of 0.75 inches (19 mm).
"It was a challenge finding the right point for the mix and finding the right slump," Driskell said. "Because it's so tall, you hear that you have to pour it so dry. What we found, when we fell below a 0.75 inch (19 mm) slump, it would be so dry that it would want to push the rebar and create more racking. If it was too wet, then you obviously have the slumping factor."
Early on with the project, the ready-mix supplier decided they would set up a central mix batch plant. When that was decided, the Gerdan team met with GOMACO personnel and Tom Held from Fabick CAT, their local GOMACO distributor, and the unanimous decision was made to use dump trucks and a concrete placer to feed the 4400. Gerdan chose to buy a new RTP-500 rubber-tracked placer after researching the used market and the rental possibilities.
"It was a big leap for us to add an RTP-500 because we're not a large paving contractor and we're very specialized in what we do," Driskell explained. "Our background and our bread and butter is in bridge parapet, so we had this fear that we were going to buy an RTP and it would be sitting in our yard 10 months out of the year. I can tell you, since we've gotten it, it hasn't been back to our yard and I don't know when it will be back, either."
The first stage of the project involved slipforming a concrete footing with a rebar stem wall. With the footing in place, the variable barrier production could begin.
Concrete is delivered to the site with dump trucks carrying nine cubic yard (6.9 m3) loads. The project only has four access points into the construction area, two at the far ends of the project and two in the center. Sometimes, trucks would have a long distance to back down to the RTP-500. Once there, they dump their load into the RTP's large receiving hopper.
All of the barrier was slipformed at night because of the challenge of dealing with heavy traffic on I-49.
The RTP-500 provides a continuous flow of concrete into the 4400's auger hopper. The auger's four-way hydraulic positioning, and an added 24 inch (610 mm) long auger extension, allows it be placed for optimum concrete receiving and delivery into the large double-variable barrier mold.
Gerdan runs the stringline underneath their 4400, between the four tracks. They have equipped their barrier paver with a 5000 pound (2268 kg) counterweight to off set the size of the double variable barrier mold. They have also positioned two smaller counterweights over the right-side tracks.
Behind the 4400, a broom finish is applied to the new wall followed by a white spray cure. Control joints are placed at 30 feet (9.1 m) spacings and expansion joints are saw cut every 120 feet (36.6 m) after the concrete cures.
Together, the 4400 with the RTP-500 out in front have created some impressive production figures along Arkansas' I-49. Slipping 76 to 78 inch (1930 to 1981 mm) tall wall, production averaged 600 feet (183 m) per night. It's the 4.5 to five foot (1.4 to 1.5 m) tall wall, though, where Gerdan really hit their production stride. On their best night, they slipformed 1309 feet (399 m), and in two consecutive night pours, they produced a total 2535 feet (773 m) of the variable wall.
"This project has been a challenge, but it's also been a lot of fun," Driskell said. "I think the key for success has been perseverance while swallowing a little bit of pride and asking for advice. We sought a lot of counsel and invited other contractors to view our job site, concrete mix design, machine set up, and more. I know this is going to sound like a quote just for the magazine, but I'm serious. The paving community and how much they were willing to help us out is just amazing.
"The 4400 has handled the mold and it's done the job," Driskell said. "We've had that machine for one and one half years now and have put some serious hours on it. It has been a very good paver to us. We're also really happy with our RTP-500. I honestly do not believe this wall could be poured out of a ready-mix truck. The RTP is a production machine that allows for seamless paving and now that we've had one, there's no way I'd let it go."
Subscribe to Receive GOMACO World Magazine