GOMACO World Index --- GOMACO World 43.1 - September 2015
"I've Seen a lot of Innovations in 50 Years..."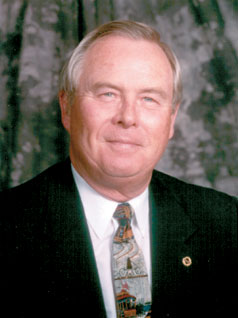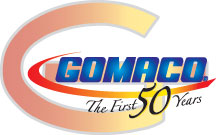 Gary Godbersen, GOMACO's President and CEO, reflects on the "The First 50 Years"
I guess you could say construction runs in Godbersen blood... and it is where the story of GOMACO ultimately starts. Harold Godbersen, my father, started his own construction firm in Ida Grove, Iowa, USA, in 1938. It would grow to become Godbersen-Smith Construction Company in 1946, and established a solid foundation in the field of heavy construction on both Federal and State projects. As the company grew so did their expertise, and as they learned they perfected the craft of bridge building.
In the early 1960s, a bridge deck project in Minnesota required a mechanical bridge deck finisher and the deck had to be completed end-to-end in one continuous pour. Godbersen-Smith rented a machine, the only one in existence, and used it to finish the deck. After that, Harold started the development of his own double oscillating screed finisher in the workshop at Godbersen-Smith Construction Company. He felt his machine should be a self-propelled unit, completely hydraulically operated, easily adjustable for various widths of bridges, and have built-in versatility to allow it to finish all types of concrete slabs.
The first machines were built by hand and featured a strike-off with two oscillating screeds working in opposite directions. It ran on rails that could be adjusted to the proper elevation. Pneumatic wheels and a hitch were also features that could be added to make it easily transported from one project to the next. The first deck finished with one of the machines was on Highway 30 near Denison, Iowa, in 1962. It was a success and Highway Commission engineers on-site that day said it was "one of a kind."
Five of the machines, what would later be named the GOMACO F-500, were built during Iowa's cold winter months. The machines were rented to Iowa contractors for concrete bridge deck finishing during the paving season. Their popularity grew so much, that whenever Godbersen-Smith actually wanted to use one of the F-500s on their own projects, they were always rented out elsewhere. Then, when Iowa incorporated the use of the finishers into state specifications, regional contractors began buying the machines, not just renting them, and a new market was created.
GOMACO Corporation, an acronym for Godbersen Manufacturing Company, officially began selling equipment in 1965. The company manufactured and marketed three original products, the RC-120 side discharge conveyor, F-500 double oscillating screed finisher (USA patent number 3,299,786) and the Spanit® Work Bridge.
Sales of the GOMACO F-500 were concentrated in the state of Iowa at first, but it didn't take us long to branch out. Soon, the first finisher was sold out of state and into Missouri when they wrote their specifications. I had been building bridges in Minnesota for my company, Highway Bridge. I came back that winter with the intention of helping with drawings, so they could build more machines that winter. But with the machine sale into Missouri, I never made it back to Minnesota. Not long after, we sold into California and the concept of skewability was introduced to GOMACO.
In 1966, GOMACO developed a cone drum or cylinder finisher to meet the needs for skewability and finishing wider bridge decks for freeways. It was introduced as the predecessor of today's C-450. Of all the machines manufactured by GOMACO, the C-450 concrete finisher made GOMACO a recognized name in the construction industry in the late 1960s.
In 1969, GOMACO expanded into city street and secondary paving markets with the development of the 550 slipform paver, which was an enlarged C-450 on tracks.
In the early 1970s, a fine grade trimmer was introduced and we also began work on a curb and gutter machine, introducing the GT-6000 curb and gutter trimmer/slipformer in 1970.
At the time, contractors were forming curb and gutter by hand with a daily production of 200 feet (61 m). The GT-6000 allowed contractors to slipform that amount in 30 minutes! The GT-6000 expanded into other applications, including barrier and monolithic sidewalk and curb and gutter.
GOMACO International Inc. was created in 1973 to develop the worldwide market. For the complete history of GOMACO International, see page 26.
The GOMACO Commander III three-track (GT-6300) was introduced in 1974. It has gone on to become the world's most versatile slipform paver. For over 30 years, it has been recognized around the world as the elite multi-application slipform paver in the concrete construction industry.
It was realized early on that educating contractors about our equipment and its usage was very important for everyone's success. GOMACO University was started in 1975 to help GOMACO machine owners successfully, profitably, and safely operate their equipment. In the past 40 years, over 17,000 students have traveled to the University to attend one of its specialized week-long classes.
In the company's second decade, new pavers were built for the interstate and mainline paving markets. These pavers included the full-width GP-2500 in 1980 and in 1984, the GP-5000 for mainline and airports. It was the world's largest paver ever built and could pave up to 50 feet (15.2 m) wide.
In addition to larger equipment, the '80s also brought the advancement of computer technology. This was the start of what has now become GOMACO's own propriety G+® operating system.
In the early 1990s, we developed the GT-3600 curb and gutter machine capable of slipforming a 24 inch (610 mm) radius. Three steer sensors on the GT-3600 automatically adjust trajectory in and out of tight radii. It also introduced the concept of a sideshifting and vertical adjusting trimmerhead and mold that is now found on our curb and gutter machines.
On the paver side, we developed both the GHP-2800 four-track paver ("H" for its hydrostatic design), and the two-track and four-track GP-4000 slipform paver. The GOMACO IDBI (In-The-Pan Dowel Bar Inserter) for placing dowel bars across the concrete slab on-the-go, and a two-lift paving mold was created soon after for the GP-4000. Then, GOMACO went from creating one of its largest pavers to its smaller, little curb and gutter machine, the GT-3200.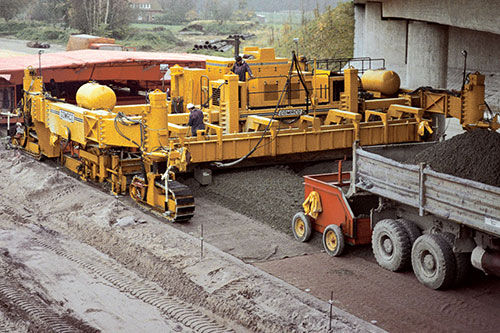 The GOMACO GP-5000, built in 1984, was the world's largest paver and had the ability to slipform 50 feet (15.2 m) wide. It was outfitted with a diverter plow and strike-off plate, two tie-bar inserters, and an automatic dowel bar placer for slipforming a project on the German Autobahn.
GOMACO would end the millennium in a memorable fashion. The new generation Commander III, designed for paving in the 21st century was debuted in February. On March 10, 1999, a GOMACO GT-3600 with a three-dimensional (3D) guidance system successfully slipformed the first curb and gutter radius without the use of stringline on a project in Alabama. Then, on September 14 of that year, Forrest Avenue in Ida Grove, Iowa, became the first street in the United States to be trimmed to grade and slipformed with 3D guidance. A GOMACO 9000 trimmer prepared grade and a GP-2600 two-track paver slipformed the new street 27 feet (8.2 m) wide with an integral curb.
Other innovations followed, from new placers, slipform pavers, barrier pavers, sidewalk pavers, trimmers, the GOMACO Smoothness Indicator (GSI®), the G+ control system, the advancement of 3D guidance, and more. GOMACO has always strongly supported its Engineering and Research and Development teams giving them the resources necessary to innovate. It's with great passion and determination that GOMACO has been and continues to remain the worldwide leader in concrete paving technology.
GOMACO has always taken great pride in the relationships it has with our contractors, our customers. Some of GOMACO's greatest innovations have been a result of contractor ideas, working together on them, and creating the machine to fulfill their specific requirements.
We're at work on a complete corporate history that will be published later this year. It's impossible to cover our entire history in just two pages of the GOMACO World magazine. Perhaps the most important thing to take away from 50 years... For all of us at GOMACO, there is nothing we enjoy more than visiting with our friends about concrete paving. It has been an honor to work with our customers, distributors, suppliers, and media personnel through "The First 50 Years." Thank you. We sincerely look forward to all the innovations yet to be created for concrete paving in our next 50 years.

Subscribe to Receive GOMACO World Magazine