GOMACO World Index --- GOMACO World 43.1 - September 2015
Paving Trends: UDOT, Municipal Agencies Effectively Utilizing Concrete and Asphalt Throughout Utah's Roadway System
Reprinted with permission from Brad Fullmer and Utah Construction & Design magazine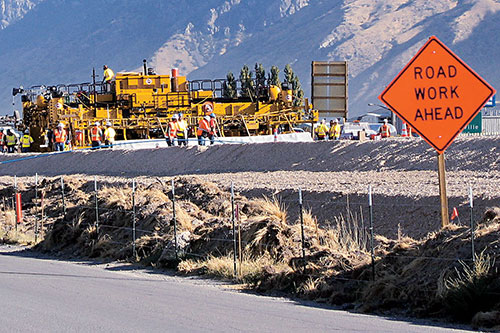 Concrete was the material of choice for the state of Utah's I-15 Corridor Expansion Project that replaced 24 miles (38.6 km) of Interstate 15 between Lehi and Spanish Fork.
Good roads are essential to Utah's future economic growth. That said, whether it is concrete paving or asphalt paving, municipal agencies think long and hard about which surface will provide the most bang for the buck, both initially and long-term.
"Everybody has their own opinions," Randy Park, Project Development Director at the Utah Department of Transportation (UDOT), says when comparing concrete vs. asphalt. "They both have their place. We have great pavements of both types that have served us well. There is always a personal difference. We look at different material types based on the inconvenience to the traveling public for maintenance."
Concrete paving is preferred by UDOT and other municipalities for major urban arterials with heavy traffic - including large trucks/diesels and all heavy vehicles - as it offers a longer life span and less maintenance. Park said recent and future concrete paving projects, including I-15 CORE in Utah County and the new 'The Point' project from Draper to Lehi, are designed for 40-plus-year life spans, with special concrete mixes that can withstand Utah's harsh winters.
"Most urban pavements we put down are concrete with 40- to 50-year life cycles," said Park, who has been with UDOT for 23 years. "Maintenance cycles (for concrete) are less. Asphalt is better on rural I-15 or I-80 as it is not as impactful to the traveling public. The majority of pavement in the state is still asphalt. Concrete was more durable in the past for heavy loads, but that is not the case with SuperPave asphalts. We have pretty much eliminated rutting issues on Utah roads with polymer-modified asphalts over the last 15 years."
An example of concrete's durability is I-80 in Salt Lake from 1300 East to Parley's Canyon, a pavement was initially laid in 1964. Park says UDOT is not looking at replacing that section, since it's completely serviceable and in really good overall condition. "As long was we keep up with rehab and maintenance it's fine," he said.
Comparable Initial Costs
While asphalt has typically been less expensive on initial costs, it is not considered as big of a discrepancy as it once was, said Jason Simmons, UDOT Region 2 Pavement Engineer. A 20-year asphalt pavement design - with eight inches (203 mm) on top of a 26 inch (660 mm) base, calculates out to $43/SY. A 40-year concrete pavement design, with 10 inches (254 mm) of Portland Cement Concrete, four inches (102 mm) of lean concrete base and a 16 inch (406 mm) road base is approximately $55/SY. Current major pavement projects utilizing concrete include I-15 South Davis project, I-80 from Silver Creek to Wanship, and SR-201 from 5600 West to 9200 West.
In regards to maintenance, Simmons said UDOT has a statewide budget of $34.3 million for preservation projects and $103.1 million for rehabilitation projects. "Maintenance repair costs vary depending on the type of project," said Simmons. "If we are doing preservation, we can chip seal a road from about $1.75/SY or $6.00/SY for a thin asphalt overlay. When we do a rehabilitation project we usually include three inches (76 mm) of asphalt with a surface treatment, between $13-17/SY.
"We're always trying to improve durability and life-cycle costs," he added. Ad mixtures and chemicals make concrete cure fast, but reduce durability. We want to improve products to make it cure faster but have the same durability. In regards to asphalt, we're turning our attention to low temperature mixes and testing to see how asphalt reacts when it's cold along with other improvements. If concrete is only 20-25 percent more (initially), when you run a life-cycle cost concrete wins almost every thing."
"We have a number of paving products that work remarkably well for our state," said Rich Thorn, President/CEO of the Associated General Contractors (AGC) of Utah. "We support educated owners in the selection of the product that is best suited for their particular need. Our members pave the majority of roads in Utah, and we have great firms on both sides. Rather than legislate, we need to spend more energy on helping owners make educated decisions."
Friendly Association Competition
The two major local paving associations are the Utah Asphalt Paving Association (UAPA) and the Utah Chapter of the American Concrete Paving Association (ACPA). Both chapter executive directors say they are committed to working together for the betterment of the entire construction industry, not just their chapter members.
"It should be about what makes sense for the taxpayer community," said Mitzi McIntyre, Executive Director Utah ACPA Chapter. "Concrete has benefits, asphalt has benefits. Engineers need to make that decision on what is the best solution. When you have a healthy pavement competition it is better for a DOT or municipal agency because they get the best price possible. We do not try and be adversarial with (UAPA). It's in everyone's best interest to work together at building better roads."
"I agree and appreciate Mitzi for taking that approach," said Reed Ryan, Executive Director of UAPA. "That is also the approach of our association. We will never attack concrete paving. What we want to do is build better roads through education and training. Approximately 90 percent of roads in Utah are asphalt and that carries a heavy responsibility to work together and be better stewards at what we do."
Better Mix Design; Night Paving
A key project nearing completion is 1300 South in Salt Lake City, one of the busiest roads in the state that runs past Salt Lake Bees Stadium. The project is being done with concrete for greater durability and less maintenance repairs.
Bill Brown, Pavement Manager for Salt Lake City Corp., said City Engineers and consultants go over multiple factors to ensure best cost, least impact to public, greatest durability, etc.
"This evaluation includes whether the pavement is new construction or rehabilitation, our available project funding, projected maintenance requirements of the pavement, and traffic volumes and loads," Brown said. He added that advantages of asphalt include speed of construction, typically a lower cost of initial installation, better ride quality, and less difficult utility repairs. Concrete offers better durability, little ongoing maintenance, and a reduction in urban heat islands.
"Both pavement types perform well when properly constructed and maintained," Brown added. "Asphalt makes more sense when rehabilitating existing asphalt streets and where funding restrictions require it. Concrete makes more sense when long-term durability and minimal maintenance is desired."
The 1300 South project, being built by Geneva Rock of Salt Lake, will likely be completed at the end of September, roughly 90 days from beginning, according to Cody Preston, Concrete Paving Manager. This project is unique, he said, because there is a lean concrete layer on top of stabilized road base. Also, none of the utilities are being replaced, and most of the curb and gutter will also remain intact. Major paving operations have been occurring at night from 11:00 p.m. to 7:00 a.m., part of the City's preference to mitigate traffic impacts.
Jay Ritche, Vice President of Geneva's Concrete Division, said this mix design includes one inch (25 mm) to 1.5 inch (38 mm) aggregate, 6.5 bags of cements, 20 percent fly ash replacement of the cementitious materials, low amount of water for minimal slump, and air entrainment chemical additives for freeze/thaw durability.
"We collaborate to make it the absolutely most durable concrete we can make," said Ritchie. "We like as much large aggregate as we can get and still have enough paste to give you a good finish. In concrete paving, it's very stiff (mix) and all handled by the (paving) machine. There is minimal contact with the workers, which contributes to higher durability."
Subscribe to Receive GOMACO World Magazine