GOMACO World Index --- GOMACO World 43.1 - September 2015
Workload Creates Demand for a New Paver in Wisconsin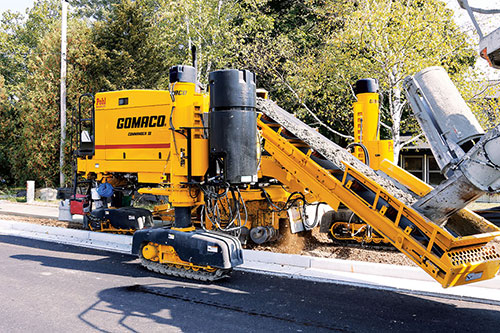 J&A Pohl Construction's Next Generation Commander III is one of the first of its model to be operating out in the field. The new machine was introduced for the first time at CONEXPO-CON/AGG 2014.
J&A Pohl Construction has been operating GOMACO equipment since they started their own slipforming company in 1992 in Brookfield, Wisconsin. A used GT-3600 was their first GOMACO, and as the company grew, so did their inventory of machines. They upgraded to Commander IIIs, eventually adding two new generations to their fleet. Last year, Dan Pohl, president of J&A Pohl, decided it was time for another machine, and traded in one of his new generations for a Next Generation Commander III. His paver was the second Next Generation Commander III off the GOMACO manufacturing line.
"It's a funny story, because I was at the trade show with my friend last year," Pohl explained. "The GOMACO exhibit is always pretty popular and there were so many people looking at the new machine. I wasn't really in the market to buy anything, so we moved on. In the spring, I started to think about it, about my age, how long I've got left, and the fact that our first machine was 13 years old. I'm always big on updating equipment, so I called up American State Equipment Company, my GOMACO dealer here. We went through the negotiating period and came to an agreement.
"The purchase made sense and now that the market is coming back, we're going to have the work for it so it will pay for itself."
J&A Pohl specializes in several different paving applications, including curb and gutter, sidewalk and mainline paving. The Commander III offers them the versatility they need for all of their applications, while offering them a heavier machine.
"We do parking lots and a lot of Department of Transportation roadwork so our projects are different all of the time... different, but the same," Pohl said. "The Next Generation will do most of the bull work, the high-production roadwork and subdivision work. It just pours out a good product being the bigger machine.
"The weight of the machine was one of the selling factors for me," Pohl said. "In talking with my finishers, weight allows you to pour a flatter product and they're telling me this is the best sidewalk we've ever poured. I've heard nothing but good things about the machine from them."
Size was just one of the factors in purchasing the new GOMACO. Other considerations included upgrading to the new G+® control system, new design features for operator comfort, and the Next Generation's quiet operation. The Commander III has a new optimized cooling package with the hydraulic fan controlled by G+ to adapt cooling needs to job-site conditions for both a quiet and efficient operation. Fuel efficiency is obtained with a power-optimized engine and load-sensed hydraulic circuits. Excellent fuel efficiency combined with an increased fuel capacity allows an uninterrupted day of paving on the project.
"The isolation of the operator's platform is a huge improvement because it just makes for operator comfort," Pohl said. "The noise reduction is a very good thing, too. I got on this new machine and tried to turn the throttle all the way up because I thought it was just idling it was so quiet. It was at 2200 rpms, full throttle, so that's a huge plus to all of the guys."
One of the first projects they put their new machine to work on is a Wisconsin Department of Transportation roadway expansion in Wales, Wisconsin. The project has approximately 55,000 feet (16,764 m) of curb and gutter, with an additional four miles (6.4 km) of sidewalk to be completed in multiple phases.
For the sidewalk portion of the project, J&A Pohl is simultaneously trimming with the Next Generation Commander III's powerful, sectionalized six foot (1.8 m) wide trimmerhead while slipforming. The sidewalk profile is five foot (1.5 m) wide and five inches (127 mm) thick. It is slipformed next to the new curb and gutter, and at each intersection, the paver has to be tracked over and out of the curb.
"One of the things I did on this machine that I've never done before is I got the rubber grousers on there, the pads, and it's made a huge difference," Pohl said. "We do a lot of in and out of the hole and we usually take tires or wood blocking or whatever and it takes two or three people at a time to do it. Now, you can just make a ramp and walk right out. A project like this shows the capability of the machine, coming in and out of the hole, and the versatility of it."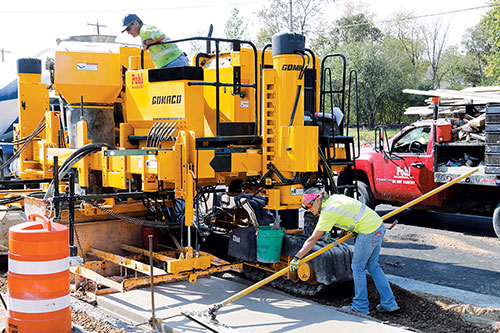 The Next Generation Commander III features improved operation with the redesigned operator's platform with a pivoting console, relocated vibrator circuits control panel, isolated platform and more.
The concrete for the sidewalk is a Wisconsin DOT specified 28 day mix with a 4000 psi (30 MPa). Zignego Ready Mix supplies the project from one of two plants, each located approximately 20 miles (32.2 km) away from the site.
Production on the project is limited by the short runs and ready-mix supply. Finishing work behind the Commander III is kept to a minimum, with just a bull-float finish and joints cut into the new sidewalk every five feet (1.5 m).
"We've done quite a bit of what I'd call more difficult logistical projects and we've used all GOMACOs," Pohl said. "We've been all the way back from the Analog to where we are now. It's a familiarity. It's a comfort level. It's a support level. I've got the history with GOMACO and American State to lean on a little bit.
"I'm big on upgrading machines, but I don't just upgrade them for any reason and this is a substantial technological change, I would say. When I did the math on what I have... the trade in value versus the cost and how many years I had it, then it was a no-brainer. I didn't even realize how cost-effective it was. We have work for it, too. This is the first year in 10 years that we're actually in a little bit of trouble. The market is back unbelievably and I'm turning down work, which I haven't done in 10 years."
J&A Pohl has slipformed curb and gutter and sidewalk applications with their Next Generation Commander III so far. They are looking forward to a busy schedule and putting more hours on their new GOMACO.
The Next Generation Commander
III

from an Operator's Perspective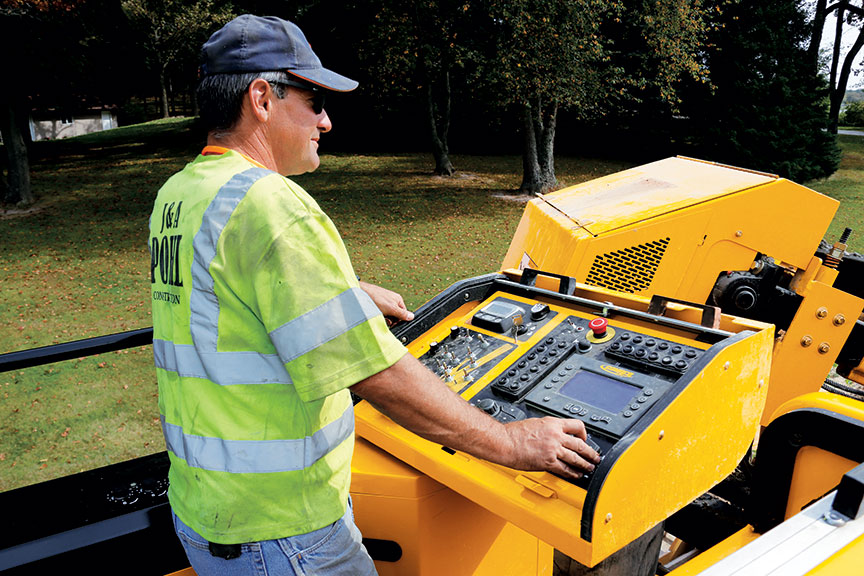 Neal Ellenberg, an operator for J&A Pohl Construction, has been working with the company and GOMACO equipment for the last 15 years. He started out on a GT-6300 with Analog controls and has worked his way through the GOMACO control systems to today's G+® controller on the company's Next Generation Commander III.
We had the opportunity to visit with him on the job site in Wales, Wisconsin, as they waited in-between ready-mix trucks.
How has the adjustment been for you with the G+?
G+ is pretty nice. I like it. It has a lot of old school on there and new school with the controls, which is very friendly towards an operator.
What do you like about G+ and the new control?
The machine is very quiet and you can definitely feel the power on it. The entire machine is extremely smooth and with the G+, its speed control is more incremental instead of just jumping up in speed. You can really ease into a pour.
That's the hardest thing to describe, isn't it? Just the whole smoothness of the travel with G+...
Yes, it's almost that when the machine is adjusting, I can hardly feel it sometimes. It's just when I go over a bump or something like that. I feel it more on the tilting of it versus actually seeing the corrections being made.
What about the travel dial? Do you like how that operates?
The travel dial is very nice. It's very incremental so you can just ease into a pour. The first couple of numbers or so you can see your percentage and how fast you're going instead of trying to look at a number one through 10. It helps you go a little bit slower, more accurate, and you can adjust your speed a lot easier that way.
What about setup?
Setup is very easy. If I would have the mold on, I could take it off the lowboy and probably start pouring within 15 minutes.
When the machine comes off stringline, it just stops.
Yes, when the grade wand gets bumped and comes off line, the entire machine stops... conveyor, trimmer, everything. Everything stops and it gives me the chance to find out what the problem was, correct it, reset everything, and then keep on going instead of going on with a longer handset. It's definitely a great feature.
Do you notice a difference in the isolated platform?
Yes, I do. Driving home after work I definitely notice it in my feet. I don't have that tired feeling I used to. You're still tired, because you're standing on your feet all day, but you don't have that fuzzy feeling that most operators know what I'm talking about.
Did you have any reservations when you switched from the old machine to this Next Generation Commander III?
The GOMACO service representative was here and walked me through the G+. It was very easy with how to guide through the thing, and of course there are a lot more features in there with troubleshooting. One of the features I really like is to find out what faults you have. I have a fault history, which is very important so you can see what's going on. The service rep helped immensely and I'll give him credit. He answered any questions I had. That's what I always like about GOMACO. They never refuse service and never refuse to answer any questions. It's always 1-800-GOMACO, I say. That's a major selling point with GOMACO is their service. The more we use the Next Generation, the more I like. It is a great machine.
You attended GOMACO University this winter and took the G+ Diagnostics class for curb and gutter machines and pavers. Was that class a great learning experience?
It definitely was. I'm a big fan of the school and the education you receive there. I've learned a lot of great tips in the classroom that I can share with the other operators here at J&A Pohl. The shop portion is always good and gave us the chance to work through the controller hands on. You learn from the instructors at the University and the other students as well. This is my seventh time at GOMACO University and I would recommend other operators attend.
Subscribe to Receive GOMACO World Magazine