GOMACO World Index --- GOMACO World 43.1 - September 2015
A New Commander
III

for the Next Generation of Valley

Valley Curbing Ltd. started out in business as a company named Okanagan Paving Stones and Curbing Ltd. in 1988 in Kelowna, British Columbia, Canada, by three original owners, Peter Layhew, Robert Oliver, and Lloyed Brandner. They have since retired, but the company has stayed family-owned. The current owners include Doug Valentino (Peter's son-in-law), Gary Brandner (Lloyed's brother) and new junior partners Chad Valentino (Doug's son) and Jesse Oliver (Robert's son).

The company has always owned GOMACO three-track Commander IIIs for their curb and gutter and sidewalk projects. After the new junior partners joined Valley Curbing they set their sights on a new machine and collaborated with the existing owners to spec out their own Next Generation Commander III. They worked with their local GOMACO distributor in British Columbia, Lonetrack Equipment Inc., to purchase the new machine.

"The next generation of Valley Curbing, Chad and I, we were the ones who chose the Next Generation Commander III because of its new features and technology," Jesse Oliver, Partner/Foreman for Valley Curbing, said. "We have always run a Commander III. It has the power that is required for us on a lot of these demanding jobs. Its durability is key. We can't be in a small community in southern British Columbia, hours away from necessary parts, and have it breakdown. That just can't happen and that's never been a problem with the Commander III."

To prepare for the arrival of the new machine, Oliver and three others from his company traveled to GOMACO University for the week-long three-track Commander III class early this winter. The courses combine classroom time with hands-on shop experience. This trip was Oliver's third time attending GOMACO University.

"Even if you're running an older machine, you learn little things just by talking and listening to other contractors," Oliver said. "The classes always give a good foundation of knowledge for us to build on. It really makes my guys feel good to go down and just be a part of it, and I think it gives them a sense of professionalism when they go to the school."

Valley Curbing's Next Generation Commander III made a stop in Las Vegas, Nevada, and was one of the featured machines in GOMACO's World of Concrete booth in February. From Las Vegas, it was delivered to Kelowna and immediately put to work on the Lakes Subdivision in the lake country of Winfield, British Columbia. It's a new development that sits up high overlooking Okanagan Lake, Kalamalka Lake, and Wood Lake.

For their first project with their new machine, Valley Curbing simultaneously trimmed through 20 millimeters (0.8 in) of crushed gravel while slipforming a 450 millimeter (17.7 in) wide rollover curb and gutter profile.

"I'd just like to commend the GOMACO service representative who helped us with that first pour. He did such a great job and I really liked him. In fact, I've even invited him to my wedding," Oliver said. "We took it easy off the start, but it's a very operator-friendly machine and by the end of that first day, we were trimming and pouring over 200 lineal meters (656 ft) per hour. We dumped out six cubic meter (7.8 yd3) loads in under eight minutes on a few occasions. That works out to about seven lineal meters per minute (23 ft/min)."

Concrete for their projects is a 32 MPa (4650 psi) mix with six to nine percent air entrainment. Slump averages between 15 to 25 millimeters (0.6-1 in). Behind the machine, a broom finish is applied to the curb and gutter and joints are tooled in every three meters (9.8 ft).

"The Next Generation Commander III is smooth," Oliver said. "Smooth and very user friendly. I love the new G+® control system, its screen, control dials and buttons. Plus, the G+ diagnostics are really good. I can go in and easily diagnose the machine with all of the feedback available.

"I like the fact that I can just hit the button and with Cruise Control, the machine will rev itself down. I don't have to jog the throttle down, I just track it and the machine remembers what speed it was at before it stopped. That works great. Its smoothness of travel is just really good and the machine holds tight to the line."

Valley Curbing has kept their Next Generation Commander III busy since its arrival on several different projects slipforming a variety of curb and gutter profiles in British Columbia.

"It's really a user-friendly machine and after just one day with it, we've been at full comfort level and full production capacity," Oliver said. "I've been running GOMACO machines for 15 plus years and I won't go anywhere but GOMACO. GOMACO is a great company and so is their distributor here in British Columbia, Lonetrack Equipment."
Select any photo to enlarge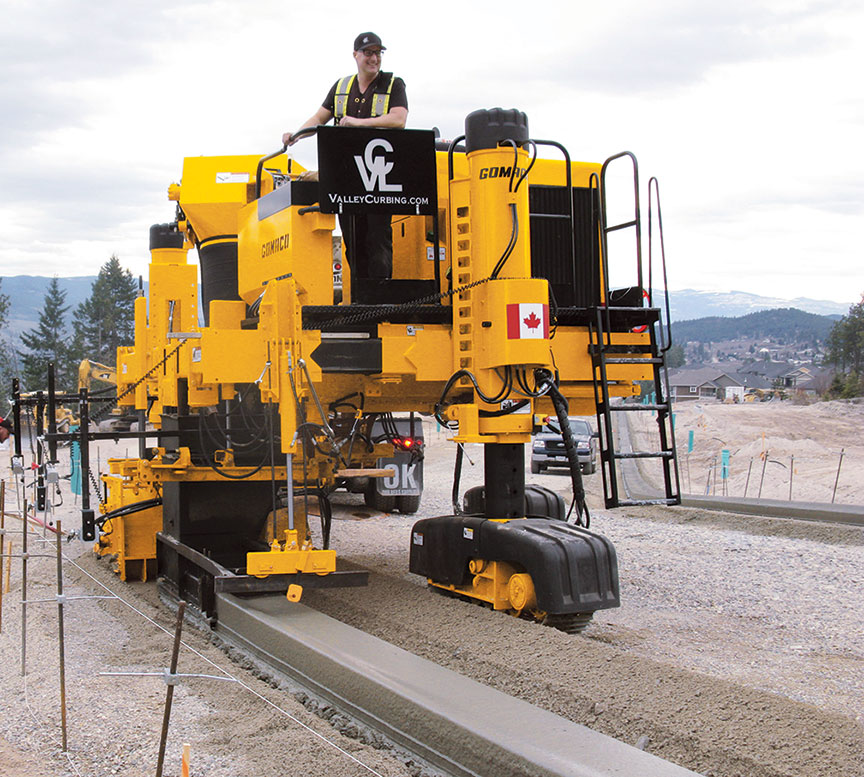 Jesse Oliver, Partner/Foreman for Valley Curbing, operates the company's new Next Generation Commander III on its first project simultaneously trimming and slipforming rollover curb and gutter at the Lakes Subdivision in the lake country of Winfield, British Columbia, Canada.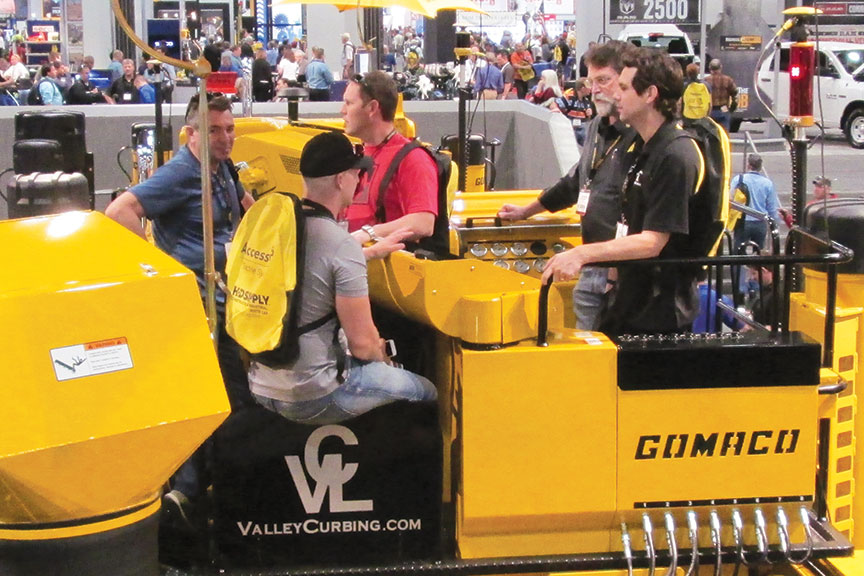 Valley Curbing visited their new machine on display at World of Concrete 2015.
Valley Curbing likes the user-friendliness of their Next Generation Commander III, along with its smoothness of travel and easy diagnostics with the GOMACO-exclusive G+ control system.
First days production rates reached as high as seven lineal meters per minute (23 ft/min) with Valley Curbing emptying a six cubic meter (7.8 yd3) ready-mix truck in under eight minutes.