GOMACO World Index --- GOMACO World 28.3 - December 2000
Versatility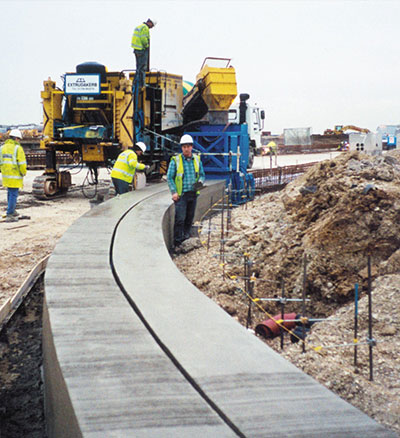 Extrudakerb, based out of Doncaster, South Yorkshire, England, has been kept busy slipforming slotted drain on airport projects in the United Kingdom, the R.A.F. Lossiemouth air base in northern Scotland, and variable height barrier and slotted drain in Edinburgh, Scotland.
At the airports, part of the improvements call for reinforced slotted drain to be slipformed up against the runways and taxiways. At Lossiemouth, Extrudakerb reconstructed approximately 119,603 yd2 (100,000 m2) of apron. Then, Extrudakerb headed to Edinburgh to slipform variable barrier and slotted drain for a city by-pass.
Extrudakerb's slipform paver of choice on all the airports is the Commander III.
Manchester Airport
Extrudakerb has been working at the Manchester Airport on and off this past year slipforming 41,010 lineal feet (12,500 m) of slotted drain next to a new runway. The free-standing slotted drain has a diameter of 12 inches (300 mm) with a width and depth of 26 inches (650 mm).
A plastic tube is inflated inside the slotted drain during the slipform process.
"It's a three-ply, disposable tube that's really durable. You just pave over it and the next day you pull it out with an excavator," Stewart Cousins, Technical Manager for Extrudakerb, said. "The pressure inside is quite critical. We run it at a pressure between 1.3 and 1.6 psi (90 and 110 millibars) which is very low."
Tight radii, weather and concrete delivery created challenges that had to be dealt with and overcome.
"We slipformed slotted drain on both sides of the new runway and rapid exit taxiways on the Manchester project," James Charlesworth, Extrudakerb's Contracts Manager, said. "The exit taxiways went down to an 82 foot (25 m) radius."
Their mainline mold for straight work was too long for the radius.
"The mold has a front shroud on it which is as long as a normal mold. When we came up against the radius work around the steel, the mold was too long and caught at the front and back," Cousins said. "We built a new mold that was 24 inches (600 mm) shorter than the other and we made the slot narrower. There was a bit more cover on the steel going around the radius and it had a slightly different profile."
Extrudakerb slipformed the slotted drain year round and winter weather conditions created problems.
"At Manchester, they get very bad weather and it rains a lot," Cousins said. "The airfield is also windy so we couldn't use a polythene cover on the drain because it would have been blown away and you can't have polythene blowing around on a live airport."
Extrudakerb built tenting and defied the forces of Mother Nature. The tenting protected the drain from the elements and allowed Extrudakerb to slipform through the rain.
Block-outs for catch basins were done in a unique way. Steel block-outs were placed in the areas where the catch basins were supposed to be.
"We just paved over the steel block-outs and left a two inch (50 mm) skin of concrete all the way around. It was easy to remove and it saved on concrete," Cousins said. "Twenty-four hours later, we would come in with a concrete saw and saw the ends clean and install the basins."
Concrete supply to the airport determined the production rates.
"Production could have been higher but the concrete couldn't come in any faster," Charlesworth said. "The batch plant was committed to other things."
London Stansted and London Heathrow Airports
Extrudakerb slipformed slotted drain four feet (1.2 m) wide, 30 inches (750 mm) deep, with a diameter of 12 inches (300 mm) next to taxiways at the Stansted and Heathrow airports. Stansted's drain was scab-on while Heathrow was free standing.
"These were, at the time, the first and only slipformed slotted drain at British airports," Stewart said.
They had to work with the main contractor and the client, the British Airport Authority (BAA), to get slipforming approved.
"We worked with them to design a profile that was slipformable and also met their drainage demands," Charlesworth said. "We also helped them determine the amount of steel they needed to get the loading they were looking for and also where the steel should go so it could still be slipformed. It was a learning curve and we worked with them."
"Even though the slotted drain is at the edge of runways and taxiways, it's still part of British airport requirements, it has to be designed and constructed to withstand the full loading of a wide-bodied jet," Cousins said.
Contraction joints were sawed in at 20 feet (six meter) centers to reflect the joints in the adjacent concrete taxiway. Both projects had a textured finish applied to the top of the slotted drain.
Both are on-going projects for the BAA. So far, 3937 feet (1,200 m) of drain has been slipformed at Stansted while 4921 feet (1500 m) has been done at Heathrow.
"We averaged up to 31 yd3 (24 m3) an hour, so this went faster than the Manchester project," Charlesworth said. "We consider 31 yd3 (24 m3) pretty good production. It won't go better than that."
R.A.F. Lossiemouth
Extrudakerb replaced their slotted drain mold with a 5000 series paving mold to slipform an apron reconstruction and taxiway project at the R.A.F. Lossiemouth airfield in northern Scotland.
"We actually had the pavement detail changed to allow us to slipform a 131 foot (40 m) radius," Charlesworth said. "It was drawn up as a hand lay with no radius. It was a series of basic angle changes and they allowed us to change it so we could sweep it nice and neat with our Commander III."
Approximately 119,603 yd2 (100,000 m2) of pavement quality concrete was needed to complete the project. About 70 percent of project was slipformed. The rest had to be handformed because Extrudakerb couldn't get concrete access to the paver.
The majority of the project was slipformed 16.4 feet (five meters) wide and 9.8 inches (250 mm) thick.
A GOMACO T/C-600 applied the texturing and curing behind Extrudakerb's Commander III.
Edinburgh City By-Pass
A design/build contract on the A720 Trunk Road to the west of Edinburgh, Scotland, required Extrudakerb to slipform approximately 5906 feet (1800 m) of six inch (150 mm) diameter bore-slotted drain and variable barrier. They used two of their Commander IIIs, both of them four-track machines.
The slotted drain was slipformed first up against the edge of the existing westbound roadway. Contraction joints were sawed transversely at 16 feet (5 m) intervals.
"Slotted drain production was up to 1969 feet (600 m) per day and could have been more, had longer lengths been available to us," Charlesworth said.
With the slotted drain complete, it was time to start the variable height barrier. Specifications called for a barrier wall with a minimum height of 31.5 inches (800 mm) between the two existing roadways. The difference in the levels of the east and westbound roadways wreaked havoc on that specification. The only answer was to slipform the wall with a double-sided variable barrier mold.
"A sensor mounted to the paver dictated the line and level of the top of the barrier wall," Cousins said. "The position of each side relative to the top of the wall is controlled automatically by a separate sensing and hydraulic system. The sensors, two for each side of the barrier, run along the surface of the roadway adjacent to the barrier."
The maximum level difference was 14 inches (350 mm).
Longitudinal reinforcement bars were fed into the front of the mold. The bars were located down the center line of the barrier at six inch (150 mm) centers.
Transverse construction joints were saw cut at 16 foot (five meter) intervals and aligned with the cuts previously placed in the slotted drain.
"We mobilized two Commander III, four-track pavers with right-mount capabilities, one for the slotted drain and one for the variable barrier," Cousins said. "Both machines completed their portion of the project without missing a beat. We would not have attempted such a project with anything other than a GOMACO."
Extrudakerb has been in the concrete business for 30 years and has owned several Commander IIIs. They like its versatility for the variety of jobs they tackle.
"In the UK, there's very little small work now. Most of it is big. Channels are five feet (1.5 m) wide. Barriers are five feet (1.5 m) tall," Cousins said. "If there is any small work that does come up, the Commander III can handle that anyway. We just find that it's as versatile as we need it to be."
Subscribe to Receive GOMACO World Magazine