T/C-600 Texture/Cure Machine
• Versatility is provided with GOMACO's texturing/curing machines. Versatility with one machine... texturing, curing, poly-roll, and burlap/astroturf drag.
• The T/C-600 accomplishes tasks quickly with its optional two-speed tracks, providing a high-range track speed up to 161 feet per minute (49 mpm). This allows the operator to keep up with the paving operation and have time to tend to other responsibilities. The low-range track speed of up to 61 feet per minute (19 mpm) provides tractive effort around and over job-site obstacles and ease in negotiating inclines during loading.
• The T/C-600 frame permits width adjustments from 12 feet (3.66 m) to 48 feet (14.63 m), contact the factory for wider width needs.
• The T/C-600 is equipped with two hydraulically powered, gear-driven crawler tracks.
• A central operator station and power supply provides hydraulic control from one location.
• Available with the GOMACO exclusive G+® digital control system.
• An optional power transition adjuster (PTA) hydraulically adjusts for crown height and permits on-the-go crown adjustments.
• Curing assembly includes a reservoir with hydraulic motor, pump, and controls. The spray bar has nozzles spaced 12 inches (305 mm) apart and adjustable height above the surface of the concrete for even coverage. The optional transverse curing system allows you to simultaneously texture and cure, saving you time and money.
• The texturing assembly travels transversely across the width of the concrete slab. Carriage speed is variable, up to 168 feet per minute (51 mpm). Texturing wire tine members automatically pivot to trail at the end of each pass, and adjustable pressure on surface contact between the texturing member and the concrete controls the depth and angle of the wire tines. Longitudinal texturing is available where required by project specifications.
• Extra versatility is provided with an optional burlap/astroturf drag or poly-roll which hydraulically lowers for the texturing process and raises off the slab for the curing operation.
• GOMACO's T/C-600 texture/cure machine is available with a skewed tining option. The skewed tining option allows the travel of the tining bars to run a skewed path while the frame of the machine is square to the slab. It simplifies the ability to transverse tine on newly paved streets and highways requiring a skew texture.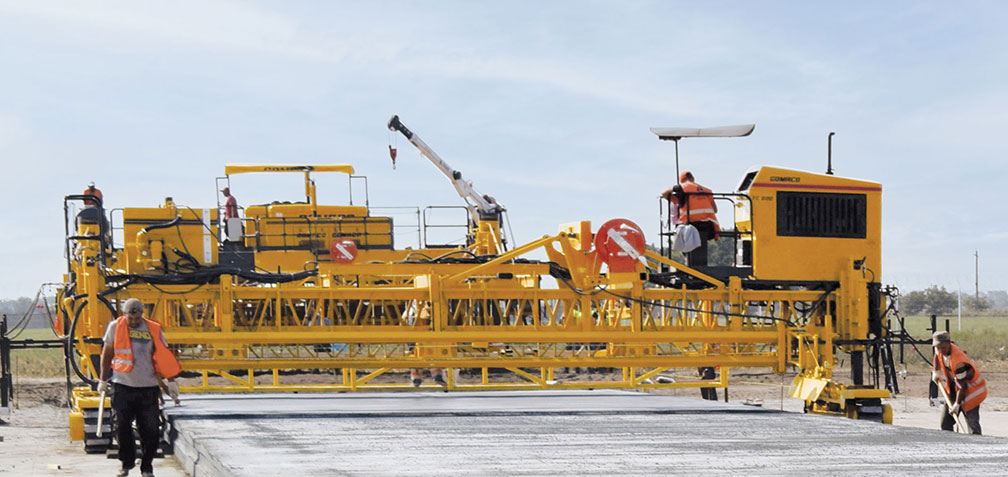 The T/C-600 texture/cure machine follows behind the GOMACO slipform paver to complete this section of an airport runway project.
Skewed Concrete Tining For GOMACO Texture/Cure Machine
1 minutes 15 seconds
T/C-600 Dimensions
The T/C-600 is equipped with two hydraulically powered, gear-driven crawler tracks.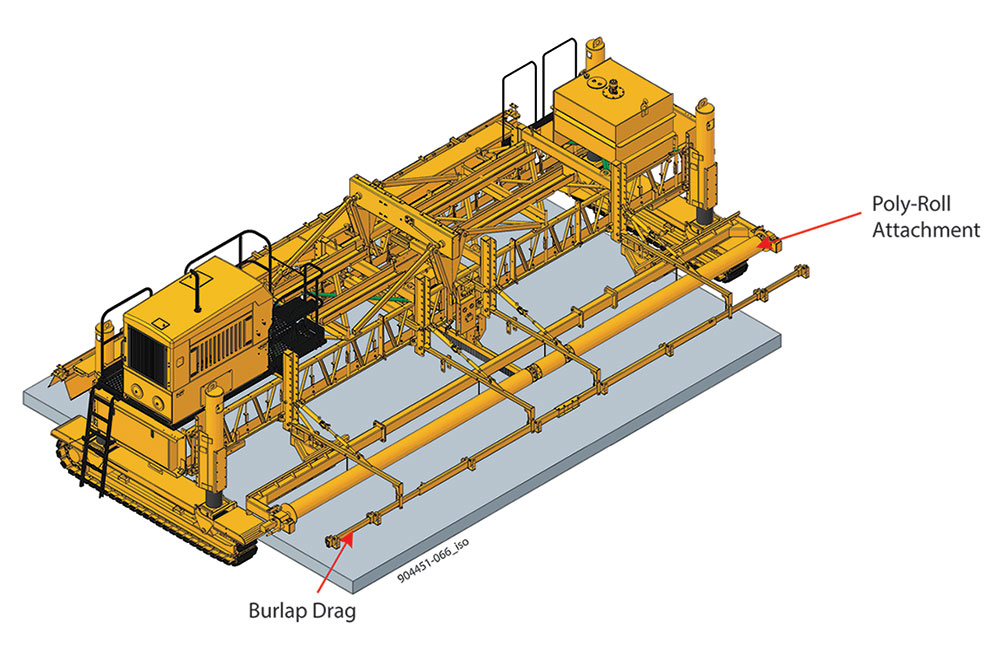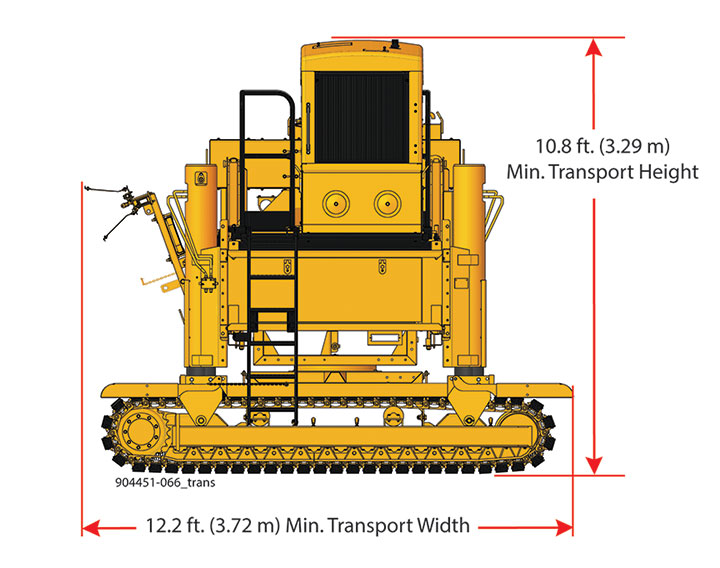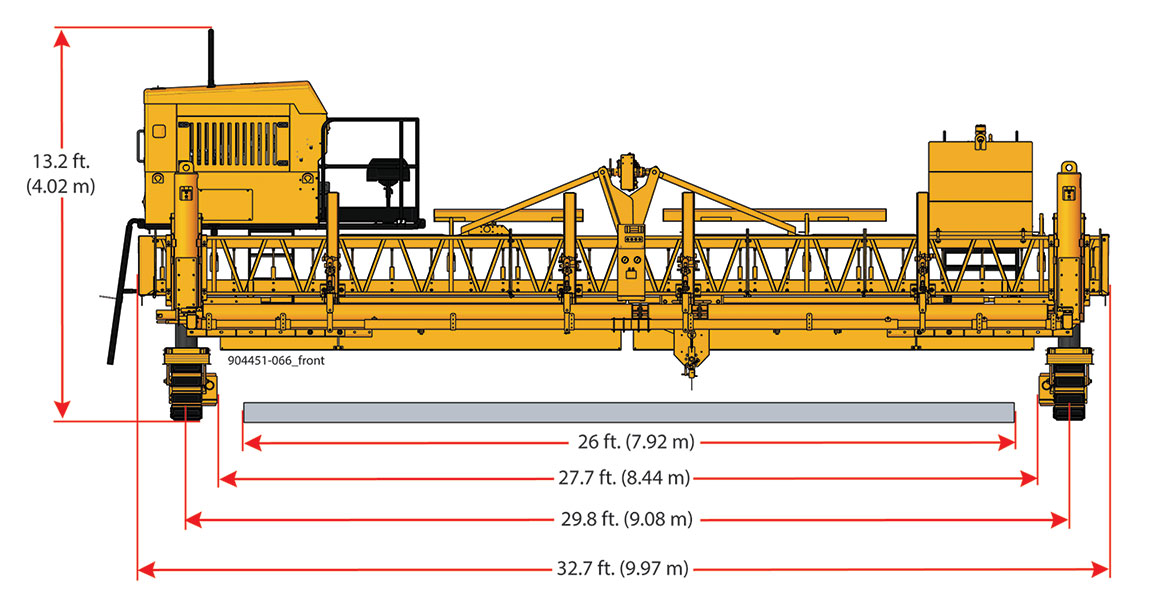 T/C-600 Specifications
ENGINE
Consult for options available.
SERVICE CAPACITIES
Fuel reservoir: 30 gal. (113.6 L).
Hydraulic oil reservoir: 44 gal. (166.6 L).
AUTOMATIC CONTROL SYSTEM
Type: Electronic-over-hydraulic.
Controls: GOMACO's exclusive G+ control system features forward and reverse steering and grade control. It is sensored off stringline or other methods from our sensor library. This provides ease of operation and accuracy in texturing and curing.
TRACTION SYSTEM
T/C-600
Type: Two hydraulically powered, gear-driven crawler tracks.
Track length: 11.1 ft. (3.38 m); center-to-center sprocket/idler length, 9.4 ft. (2.87 m).
Track pad width: 11.8 in. (300 mm).
Gearbox reduction: 100:1.
Ground pressure: Based on 17,700 lb. (8029 kg) machine with weight evenly distributed, 6.65 psi.
Track speed: Variable up to 97 fpm (29.57 mpm).
Optional two-speed: Low-range track speed of 61 fpm (19 mpm) and a high-range track speed of 161 fpm (49 mpm).
Optional: Poly track pads.
FRAME
Construction: All-steel welded frame, pin-connected main frame sections.
Width: Adjustable from 12 ft. (3.66 m) up to 48 ft. (14.63 m). Standard width is 32 ft. (9.75 m). Consult for wider width needs.
Optional frame extensions: Available in 2 ft. (.61 m), 4 ft. (1.22 m), 8 ft. (2.44 m), and 12 ft. (3.66 m) lengths.
Optional power transition adjuster: Hydraulically adjusts for crown height and permits on-the-go crown adjustments.
Optional: Off set jack mounts, four to allow 2 ft. (.61 m) more between end cars without extending the main frame.
OPERATOR'S PLATFORM ASSEMBLY
Operator's platform assembly is standard on both machines.
TEXTURING ASSEMBLY
10 ft. (3.05 m) wide with 5 in. (127 mm) long wire tines spaced to meet specification requirements.
Optional: Wire tine texturing members, fast change, and built to specifications.
CURING ASSEMBLY
250 gal. (946.4 L) reservoir, pump with hydraulic motor and controls. Includes spray bar, windshield, and work platform.
Optional: 350 gal. (1324.9 L) reservoir.
Optional: Platform assembly for reusable totes provides a quick cure tote exchange.
Optional: Spray bar, windshield, and work platform extensions are available in 2 ft. (.61 m), 4 ft. (1.22 m), 8 ft. (2.44 m), and 12 ft. (3.66 m) lengths.
DIMENSIONS
T/C-600 Transport
Minimum width: 12.2 ft. (3.72 m).
Minimum height: 10.8 ft. (3.29 m).
WEIGHT (approximate) (at 32 ft. (9.75 m) standard width)
T/C-600: Basic unit at 17,700 lbs. (8029 kg).
Note: Transport and operational weights and dimensions are variable, depending on the number of machine options.
TRANSPORT AXLE (optional)
The transport axle is hydraulically powered with 6.7 in. (170 mm) x 15 in. (381 mm) 12 ply tires and removable towing tongue for job-site use only.
POLY-ROLL ATTACHMENT (optional)
Poly-roll attachment is pin-connected for quick attaching to the front of the T/C-600 texture/cure machine and is sectional for variable widths. Hydraulically driven variable speed motor, up to 40 rpm, powers the poly-roller to match ground speed. Motor is reversible or can be disconnected to allow roller to free wheel when unrolling. The poly-roller has a minimum length of 14.75 ft. (4.5 m) and can handle up to 500 ft. (152.4 m) of poly-roll depending on thickness and width of poly.
Roller extensions may be ordered for different machine widths.
Consult factory for different widths, lengths, and allowable weight of poly-roll.
ADDITIONAL OPTIONS
32 ft. (9.75 m) texturing machine only, equipped same as standard machine, less curing system.
32 ft. (9.75 m) curing machine only, equipped same as standard machine, less wire tine texturing member assembly.
Skewed tining option.
Burlap drag assembly available for both texture/cure machines.
Other options are available to customize machines to accommodate applications and customer needs.