GOMACO World Index --- GOMACO World 30.1 - January 2002
CONEXPO-CON/AGG Q & A with Dennis Slater
Association of Equipment Manufacturers (AEM) Co-President, CONEXPO-CON/AGG Managing Director

GW: How will the 2002 CONEXPO-CON/AGG show be different from the 1999 show?
A major difference is IFPE, the International Exposition for Power Transmission. This is a co-location that has never been held with CONEXPO-CON/AGG before. It will bring another 8,000 to 10,000 people and 110,000 ft2 (10,219 m2) to the show. It brings a great emphasis to the power transmission and fluid power area.
In addition to IFPE, a number of new groups have come in. One of our themes is we're a gathering place for the industry and with that, new major conventions will be part of the show, including the National Utility Contractors Association (NUCA), the Concrete Sawing and Drilling Association (CSDA), the International Off-Highway Congress of the Society of Automotive Engineers (SAE), and also the Construction Materials Recycling Association (CMRA). Those are all new conventions this year and they build in a guaranteed attendance for the show.
In addition to the new groups, there are several key conventions returning: Associated General Contractors of America (AGC), International Road Federation (IRF), National Ready Mixed Concrete Association (NRMCA), American Road & Transportation Builders Association (ARTBA), and National Stone, Sand, and Gravel Association (NSSGA). This is all listed in our registration brochure, too. It's one of the keys to our success and we've doubled the number of conventions brought to the show.
There's an increased Latin America focus for the 2002 show. We've taken our promotion road show down to Latin America for the first time to concentrate our efforts on bringing more attendees from the region.
Another new item is the live auction which is being held on site by Ritchie Brothers. They've done some live video feeds before, but now some of the equipment from the show itself will be auctioned off. That will be a first.
There's going to be an area with historical equipment and we've never done that before. Everybody loves to see historical equipment, especially in our business. Those are really the most notable new features.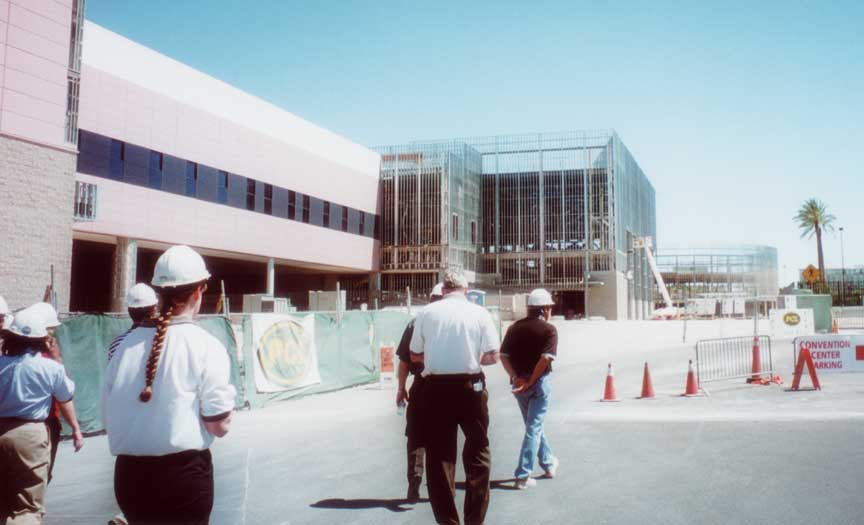 GOMACO will be in the new South Hall, booth #9005, which is
located right behind the main registration area.
GW: GOMACO's booth will be in the new South Hall, booth #9005. Could you walk us through the new addition?
The new South Hall is two floors. It is one-half million gross square feet (46,450 m2) on each floor so you have a million gross square feet (92,900 m2) of space there. It's going to be in the range of 420,000 to 450,000 net square feet (39,018 m2 to 41,805 m2) of the show.
The nice thing is, a primary bus drop-off and a main registration area are right there. In fact, GOMACO sits right behind the registration area. I'm excited about that hall and GOMACO is positioned for a great event. It has been under construction for about two years and is scheduled for completion in November.
GW: Why did you decide to create the Pavilions?
We call them product concentration areas. About two shows ago when CONEXPO and CON/AGG merged, we said we're just a huge event now. The customer really isn't going there to see every exhibit. We found they were getting frustrated with the fact that when they got there, they were having a hard time finding the exhibitor they wanted to see.
What we've done is created product concentration areas. The main purpose is for the attendee to get there, find specific products and find specific exhibitors. It's worked. We've done surveys after both shows and it's an overwhelming success as far as the customer is concerned.
GW: What will be the show's top attractions?
The exhibits themselves are the top attraction. This show is only every three years and it's a gathering place for the industry. The exhibits will feature product introductions. That's always been the pride of our show, the product introductions. In addition to that, there's two million net square feet (185,800 m2) of combined space in CONEXPO-CON/AGG and IFPE. It's a first in any trade show in the United States.
The conventions themselves are a major attraction. We have nine different conventions of people in our industry at the show. Groups like AGC and ARTBA, are major players, and it's a chance for the exhibitor and the customer to go to a convention and a trade show.
The seminars and education are definitely a big attraction. A lot of people don't attend to just kick iron anymore. They want it tied in with some education to make the trip more worthwhile.
Another attraction is just the overwhelming association support for this show. About 70 associations are cooperating for CONEXPO-CON/AGG. All of them are having a presence there and suddenly the whole industry is behind this thing.
GW: What types of seminars will be available?
CONEXPO-CON/AGG is noted for its exhibits, but behind the scenes you see a huge seminar program that is developed by the industry. There are probably a dozen associations who work with us to develop the topics, get the speakers, and get the descriptions together.
On the quality side, we feel we have the topics that are coming right from the industry. The industry is fully behind these. They are the ones getting the topics and the speakers and we put them on. We have grown through the years from a small offering of seminars back in 1987 to over 120 sessions that offer about 100 topics.
GW: Why should people attend this show?
This is the largest industry event in the world in 2002. Nobody else is even close in size to this. It is the gathering place for the industries. Everything related to construction, construction materials and power transmission will be there. New products are our forte and with the show every three years, the new product introductions are why people should be there. You're going to see the latest and greatest from the exhibitors.
One thing that separates CONEXPO-CON/AGG from any show in the States, I think, is the International attendance. We're looking at one in five attendees being from outside the United States.
This show also draws an extremely high number of presidents, vice presidents, general managers, and people who are running the companies and making the decisions on buying equipment.
I think another draw would be the image building that this show does. You get out there and see two million net square feet (185,800 m2) of what our industry does for commerce, for the United States and the world. We are the builders of the infrastructure that builds commerce and you see that story told throughout the show.
GW: Will you have any special services available for the International guests?
We're offering several services for our International guests. We begin by offering registration brochures in several languages, including English, Spanish, Portuguese, Italian, French, German, Japanese, Chinese and Korean. Once again, the U.S. Department of Commerce (DOC) has selected CONEXPO-CON/AGG for its International Buyers Program (IBP). The U.S. Department of Commerce's IBP supports our efforts to attract International attendance and assists International attendees, in particular, with matching International buyers with appropriate exhibitors.
We will also be offering an International Business Center which will be located adjacent to the main show registration in the South Hall, where GOMACO's booth is located. We will provide a separate on-site registration area, lounge area, and professional Interpreters in Spanish, Portuguese, French, Italian, German, Japanese, Chinese and Korean. The Center will offer international phone services, conference rooms, an electronic matchmaking system designed to match up potential buyers and sellers according to their specific interests and an electronic product locator to assist International visitors with locating exhibitors of interest to them. Personnel from the U.S. Department of Commerce will be on hand, too, to provide delegates with export/import counseling.
GW: How many are expected to attend?
In 1999, our attendance was 124,400. This year we're expecting 135,000. We're very confident we'll hit that.
GW: How can people register for the show?
If you were a past attendee, you will get the brochure. Secondly, on our web site (www.conexpoconagg.com), you can register online for the first time. Online registration is right there, it makes it quite easy, and it's available now.
The nine conventions being held there will also be doing mailings and the 70 or so cooperating associations all do mailings to their members. If you're a member of any of those associations, you're getting a mailing from them, too. I'm not surprised if any typical attendee wouldn't get three or four brochures sent to them. In addition, exhibitor promotion efforts are a major part of our promotion efforts.
GW: Is there a discount for early registration?
Advanced registration is $30. On-site registration will be $60. That's good for every day of the show, of course. Your badge is good for both events, CONEXPO-CON/AGG and IFPE.
GW: What is the cut-off date for early registration?
After February 15, registrations must be made on site. If you register before that date, you'll get the discount and your badge will be mailed to you. After that point, we ask you to pick up your badge on site.
GW: What is the best way for people to plan their trip?
I think the best way to plan your trip is through our web site. There's a show planner and it's probably the best way to get ready to go to the show. It contains an exhibitor list and the virtual trade show. An attendee can basically sit down, go to the web site, and use the itinerary planner in there to plan their trip. You can use our web site to book your hotel room, register for the show and the seminars, and obtain airline and travel information.
GW: How soon should they start booking flights and reserving hotel rooms?
The sooner the better, especially for flights. There's only a limited amount of airline seats into Las Vegas and the best thing to do is to hop in there very early. As far as hotel rooms, the sooner the better works too. If you're part of some of the conventions, they have their own room blocks. We have somewhere in the range of 22,500 rooms for CONEXPO-CON/AGG and an additional 4,500 rooms for the conventions. A lot of delegates who register to go to the convention will get their room that way.
GW: If people have questions, where should they go?
The registration brochure has numbers to call for housing, travel or show questions. If not, the web site offers the same thing. The web site also has a frequently asked question area and has all of our staff's contact information. It's very easy to get your questions answered.
GW: Anything else you would like to add?
I've worked on this show a long time. There's a real positive energy, positive atmosphere to the show. It really does bring together the success of our industry. Every three years we go out there and aim to show just what this industry has to offer and it's substantial. I don't think our industry does that enough.
Subscribe to Receive GOMACO World Magazine