GOMACO World Index --- GOMACO World 30.1 - January 2002
RTP-500 Rubber-Tracked Placer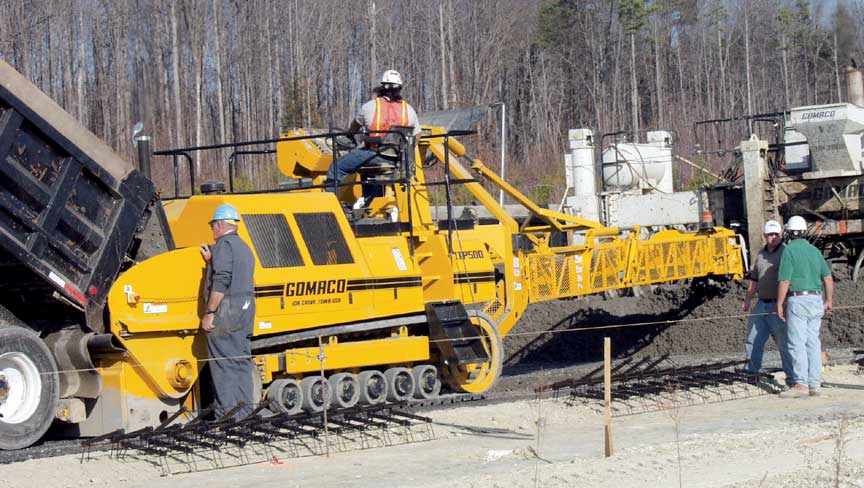 GOMACO's new RTP-500 rubber-tracked placer will make its show debut at CONEXPO-CON/AGG 2002. The RTP-500 is a placer that can handle any job-site condition contractors throw at it. See it yourself, in person, in GOMACO's booth #9005 in the South Hall of the Las Vegas Convention Center, March 19-23.
Two GOMACO positive drive rubber tracks on the job-proven RTP-500 allow it to go where rubber tires cannot and give it the ability to handle changing job-site conditions. Each of the tracks are 19 inches (483 mm) wide, 13.5 feet (4.11 m) long and provide a stable platform for operation while providing increased mobility.
The RTP-500, powered by a John Deere PowerTech 6081T turbocharged diesel engine, offers ultimate mobility with an operating speed up to 100 fpm (30.48 mpm) and a travel speed up to 10 mph (16.1 kph).
It has the longest placing conveyor in the industry at 35 feet (10.67 m) long. It specs out at 36 inches (914 mm) wide and has 170 degrees of hydraulic swing and 12 feet (3.66 m) of hydraulic elevation adjustment giving it the longest reach and greatest amount of swing of any on the market today.
Transportability was a major design issue and the conveyor was built to hydraulically fold to help minimize transport length. The RTP-500's transport length is only 37 feet 3 inches (11.35 m).
The GOMACO designed, auger-style receiving hopper has a working capacity of 4.75 yd3 (3.63 m3). It is 10 feet 9 inches (3.28 m) wide and has the largest capacity in the industry to accommodate end-dump paving operations.
Ultimate operator visibility and ease of operation were designed into the RTP-500. The operator's console can be set at five different positions on the machine.
Subscribe to Receive GOMACO World Magazine