GOMACO World Index --- GOMACO World 30.1 - January 2002
When Everything Clicks In Cleveland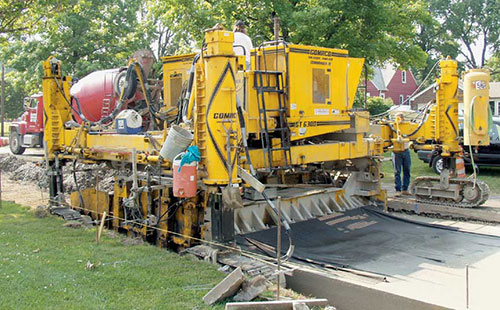 Fabrizi Trucking and Paving Company was having a good day. They were paving the first phase on the rehabilitation of Biddulph Street in Cleveland.
Biddulph Street runs through a picturesque residential area with nice houses, green lawns and beautiful trees. The sun was shining, ready-mix trucks were arriving on schedule and Fabrizi's Commander III four-track paver was operating flawlessly.
"It was one of our best paving jobs we've had so far," Emil Fabrizi, Jr., vice president of Fabrizi Trucking and Paving, said. "Everything seemed to click that day. The concrete was right, the mixers were there on time and the concrete was going through the machine really nice."
Fabrizi Trucking was working on the first lane of the first phase of the Biddulph Street project. It involves the removal and replacement of the existing sewer and street. When the project is completed, approximately 30,000 yd2 (25,083 m2) of 10 inch (254 mm) thick concrete will be slipformed on the rehabilitated street.
The lane with integral curb was poured 14.5 feet (4.42 m) wide over continuous wire mesh reinforcing. Dowel baskets were placed every 20 feet (6.1 m) in the reinforcing.
A Class-C concrete mix design with a 1.5 to two inch (38 to 51 mm) slump was used to slipform the lane. Production averaged around 100 yards (91 m) per hour on the project.
"Production depends on the application," Fabrizi said. "In a street like this one where it's rehabilitation, 100 yards (91 m) per hour is really good. If we were doing a new subdivision, our production would increase to 120 yards (110 m) an hour."
Fabrizi rotates between two operators on each pour to help increase productivity.
"We have two operators, one operates the machine and the other one acts as a ground man and the two guys will keep switching positions during the day," Fabrizi explained. "If the ground man can see there's no obstructions in the way, he'll go ahead and start helping the dump man put down more concrete so they can get done faster. We try to move everybody around by the machine so they're all well versed in each position."
This is the third season Fabrizi Trucking and Paving has been operating their Commander III. Its versatility was the reason they purchased the paver and is one of their favorite features.
"We really like the versatility of the machine," Fabrizi said. "We bought it with all the attachments to make it into a curb machine also. Afterwards, we experienced such a workload where we would need both a paver and a curb and gutter machine on two different jobs at the same time. It got to a point where we needed another piece of equipment and we bought a GOMACO GT-3600 for curb and gutter work."
They have also added a GOMACO 9500 to their fleet. The 9500, equipped with a mining head, is used for grade preparation and they also have the concrete hopper to use their 9500 as a placer.
Subscribe to Receive GOMACO World Magazine