GOMACO World Index --- GOMACO World 30.1 - January 2002
First Time Commander
III

Owners Tackle Tight Clearances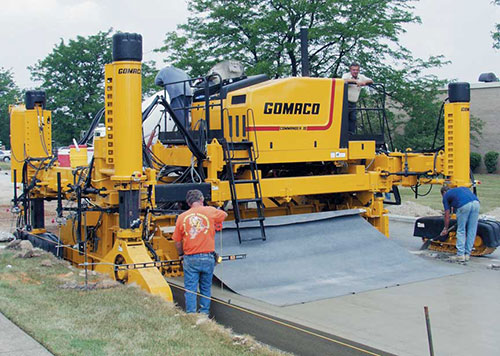 Massimo Leone, president of Chaney Cement Contractors, needed a new paver. They had one bad experience with a different brand and were looking for something better. They turned to GOMACO distributor RECO Equipment for a solution.
Chaney Cement specializes in commercial paving and total road rehabilitation projects. Commercial work involves a lot of driveways, telephone poles, fire hydrants and other obstacles that create tight clearances. The paver had to be able to work through those tight clearances.
They chose a new generation Commander III four-track with a high-drive track on the back, left side to be their new paver.
"We were looking for a machine that would be operator friendly," Marisella Leone, controller for Chaney Cement, explained. "The Commander III is going to save us a lot of time and money. We won't have to handform all of our projects and that makes us more efficient and will help us meet the deadlines we have.
"Plus, all of the rehab work in Cleveland has very tight tolerances. The high-drive track will allow us to pave those zero-clearance situations."
Two days after taking delivery of their new paver, they put it to work slipforming the North Industrial Road in Cleveland. The project included removing the existing pavement and slipforming a new one. The 1.25 mile (2.01 km) project included tight tolerances and 10 driveways that had to be dealt with.
The new roadway had to be slipformed one lane at a time to allow room for ready-mix trucks and to keep traffic open to the businesses along North Industrial Road. The lane was slipformed nine inches (229 mm) thick and 15.5 feet (4.72 m) wide with an integral curb on one side. Joints were 21 feet (6.4 m) apart.
"Slipforming the curb with the slab is a huge time and labor savings for us," Leone explained. "We can pave everything in one pass and be done with it."
Headers and footers had to be built in with the continuous steel reinforcing for ten driveway block outs.
"There are a lot of businesses on that street because it's an industrial parkway," Leone said. "Driveways are just another aspect of the job that involves some extra planning and work. You manage it and get the job done."
An Ohio Department of Transportation Class-C concrete mix design with a two inch (51 mm) slump was used on the project.
"We're really happy with the finish our Commander III puts out," Leone said. "It's very easy to operate and everything is working out great. It's giving us huge labor savings because we don't have to break our backs any more pouring the concrete and that's definitely a positive thing."
Subscribe to Receive GOMACO World Magazine