GOMACO World Index --- GOMACO World 30.1 - January 2002
Quality Sells New York On Concrete Paving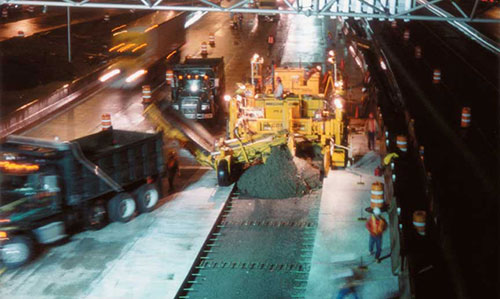 Concrete paving, especially slipformed concrete paving, is somewhat of a rarity in the state of New York. One contractor, Surianello General Concrete Contractors, Inc., is working hard to get concrete accepted. They're getting noticed and making headway with their quality work and GOMACO equipment.
"There was no concrete paving to speak of in New York state and concrete paving has never been slipformed before within any of the five boroughs of New York City," Frank Surianello, president and owner of Surianello General Concrete Contractors Inc., said. "It's just starting to make inroads."
One of those inroads was a project on the Long Island Expressway 495 in Queens, New York City. Surianello General Concrete was subcontracted to complete the concrete paving when the general contractor was unable to achieve or maintain the minimum rideability requirements with their form-riding paver.
"Some of the pavement was completed with forms and a form-ride paver, but it's a profilograph spec and they weren't able to maintain or get any kind of ride out of the profilograph," Surianello said. "They would have to do corrective grinding and then only get 85 or 90 percent payment because of penalties."
Surianello Concrete brought in their GOMACO Commander III four-track paver and a PS-2600 placer/spreader to complete the job.
"The purpose of the job was to take out some vertical sags and vertical curves to get better sight distances for the traffic," Surianello said. "Traffic was being backed up because drivers would be braking when they shouldn't be, and traffic would back up because they couldn't see over the hills."
Some areas of the grade had to be raised as much as six feet (1.8 m) to level the new roadway.
"Everybody asked us why we used the Commander III four-track on this project. Room constraints... there was just no room for a bigger paver," Surianello explained. "There was traffic running right next to us. Off the edge of the concrete, we'd only have four foot (1.22 m) of material to set our stringline and run the tracks and everything else. There were some pretty crazy areas."
All of the grade work created several different paving sequences and short runs.
"The job was so chopped up. We had two good days when there was room in front of us," Surianello said. "Our best day, in eight hours, was 1000 yd3 (765 m3), or the equivalent of about 2500 lineal feet (762 m)."
High traffic volumes on the expressway and maintaining a steady concrete supply added to the difficulties. The decision was then made to pave the project during the night-time hours.
"We had to pave at night for a couple of reasons. The concrete suppliers in the area are just so busy they would not have been able to supply us with any kind of regular sequence during the day. We basically had the run of the mill when we went at night," Surianello explained. "The second reason was the traffic. Traffic was intense and daily volumes are insanely high. It would have been a nightmare trying to get material to the paver during the day."
The new roadway was slipformed on cement-treated permeable base. Dowel baskets were placed on grade every 16 feet (4.88 m).
Surianello ran a PS-2600 placer/spreader in front of the Commander III. "We figured we could get the best ride and the best production if we put the concrete down with a placer," he explained.
The Commander III slipformed the new roadway at two different widths, 12 or 14 feet (3.66 or 4.27 m), depending on the specification. The entire roadway was 11 inches (279 mm) thick. Side-mounted bar inserters on the Commander III shot dowel bars for longitudinal joint ties into the edge of the slab every 24 inches (610 mm).
A New York State Department of Transportation Class-C concrete mix design with fly ash was used on the project. Slump averaged one to 1.75 inches (25 to 44 mm).
A random rake tine and spray cure was applied to the slab behind the paver.
And what about rideability?
"It came out excellent," Surianello said. "Our best rides were .19 and .51 inches per mile (three and eight mm/km), based on the two-tenths blanking band. The work we did on the project averaged between a three and five percent performance bonus."
The company attributes the smooth rides to the Commander III paver, controlled travel speed, and constantly monitoring the vibrators.
"You have to watch the travel speed. We were going seven feet (2.13 m) a minute when we were doing our best pavement," Surianello said. "We also outfitted the machine with a Wyco Smart System to monitor the vibrators. We were constantly checking it and keeping a close eye on it so we could eliminate vibrator trails. We didn't have to wonder what the vibrators were hitting at and that helped us keep them adjusted."
The successful completion of the expressway is leading to more concrete slipforming work in the state of New York.
"The state wants all of its concrete roadway to be slipformed now," Surianello said. "It's really going to open up a lot of opportunities for us."
GOMACO will be part of those opportunities. Surianello General Concrete has been slipforming with GOMACO machines since 1974.
"I'm sold on GOMACO," Surianello explained. "Both with the longevity that we've had with them since the early '70s and also the support. I'm comfortable calling the GOMACO service team with any questions. They give me answers immediately and I'm able to get the issue resolved and move on. That really is a big, big factor in this business, to be able to get your questions answered right away."
The project was completed in partnership with John Leone and Leone Construction Inc. Surianello Concrete paved with their GOMACO Commander III four-track paver and Leone's PS-2600 placer/spreader. Modern Continental was the prime contractor with Ron Hallquist serving as project superintendent and Nick Whittaker as project manager.
Editor's Note: Surianello Concrete's relationship with GOMACO began in 1974 when Domenic Surianello and his wife traveled to Ida Grove, Iowa, to purchase their first GT-6000. It would be the first of several GOMACO machines the company would own. Domenic's son, Frank, was only 13 years old at the time.
Frank joined the company fresh out of college in 1983. He earned his MBA and an engineering degree and is a licensed engineer with the state of New York. Frank is now president and owner of Surianello Concrete and he continues to operate the company in the proud tradition started by his father so many years ago.
We would like to dedicate this article in memory of Domenic Surianello who chose to Pave with Pride as he built a successful company.
Subscribe to Receive GOMACO World Magazine