GOMACO World Index --- GOMACO World 30.2 - April 2002
GT-3600 Brings Light Rail To The Northland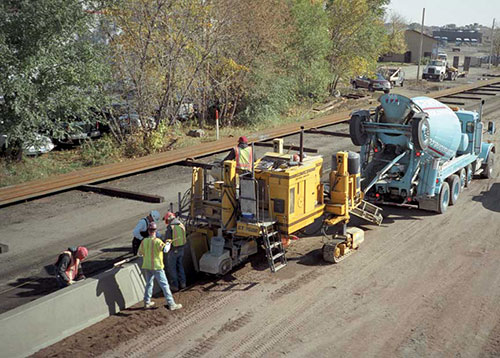 The city of Minneapolis, Minnesota, will be the site of the state's first light rail system. The design-build project will carry passengers between the city's largest malls, the Mall of America and the Nicollet Mall, with other stops along the way that include the airport.
A total of 11 miles (17.7 km) of light rail will be built by the project's completion. The work includes slipforming 40,000 feet (12,192 m) of ballast curb, 120,000 feet (36,576 m) of curb and gutter, and 300,000 feet2 (27,870 m2) of sidewalk.
Nordic Contracting of St. Cloud, Inc., is the subcontractor in charge of slipforming all of the sidewalk and curb and gutter. They'll do it all with just one machine, their GT-3600.
Nordic Contracting has plenty of experience slipforming curb and gutter and sidewalk. They've specialized in it since starting business in 1984. All of their work up to this point has been flatwork. The ballast curb is the first time the company has gone vertical.
The ballast curb stands 32 inches (813 mm) high and is 16 inches (406 mm) wide at the base and nine inches (229 mm) on top. It wasn't only a new application for Nordic Contracting, it's new to the state of Minnesota.
"This ballast curb had never been poured in Minnesota before and this is the state's first light rail project," Richard Foldesi, owner of Nordic Contracting, explained. "I had no doubts that we would be able to do it because of the capabilities of our GOMACO machine.
"I ordered a new mold from GOMACO, attached it to my GT-3600, transported it to the job site, ordered the concrete and took off."
The first pour was a learning experience for Foldesi and his crew. They're using a Minnesota 3A-22 modified, 3000 pound (1361 kg) mix design. The mix is very dry with only a .75 inch (19 mm) slump.
"We had to play around with our vibrators and get them positioned right to get the best consolidation of the dry mix," Foldesi said. "It was just part of the learning process and it was simple enough to take care of."
Production rates are averaging approximately 1500 feet (457 m) a day. Foldesi anticipates that rate climbing to 2000 feet (610 m) as he and his crew adjust to the new application and challenging mix design.
Two finishers work behind the GT-3600 applying a broom finish. As the curb dries, contraction joints are saw cut in every 15 feet (4.57 m) and expansion joints are every 90 feet (27.4 m).
The light rail system has to be built around, over and between existing buildings, streets and railroad tracks. It's one of the more challenging aspects of the project.
"There's a lot of areas where we're working between some pretty tight quarters," Foldesi said. "The machine has no problem getting around. The challenge though, is getting the ready-mix trucks to places we're capable of going with our GT-3600."
Nordic Contracting is producing a really nice looking product. It's a shame that only the top six inches (152 mm) of it will be seen when the project is completed. The two facing ballast curbs are filled with ballast rock, on which the light rails' track system will be built. The curbs' purpose is to keep the rock contained.
The next phase of the project includes slipforming the sidewalk with varying widths of five to nine feet (1.52 to 2.74 m). The curb and gutter phase will require four different mold profiles.
"It's very easy to switch molds on our GT-3600," Foldesi explained. "Most of the time we don't even stop the rotation of the ready-mix trucks. We just keep them coming, switch molds and take off pouring again."
Nordic Contracting enjoys the power and versatility their GT-3600 has to offer. They're capable of slipforming several different applications with just one machine and it has enough maneuverability to get through the tight clearances. Because of the success they're experiencing on this project, they can add a new application to their resume, ballast curb.
"The GT-3600 takes away a lot of my headaches. When I was bidding this job I was confident we could do it, even though nobody else in the state has," Foldesi said. "Ninety-nine percent of it is having a machine that is capable of doing it. The other one percent is making sure the concrete slump is going to be correct."
Subscribe to Receive GOMACO World Magazine