GOMACO World Index --- GOMACO World 31.1 - March 2003
GOMACO: Leading the Way in New Product Innovations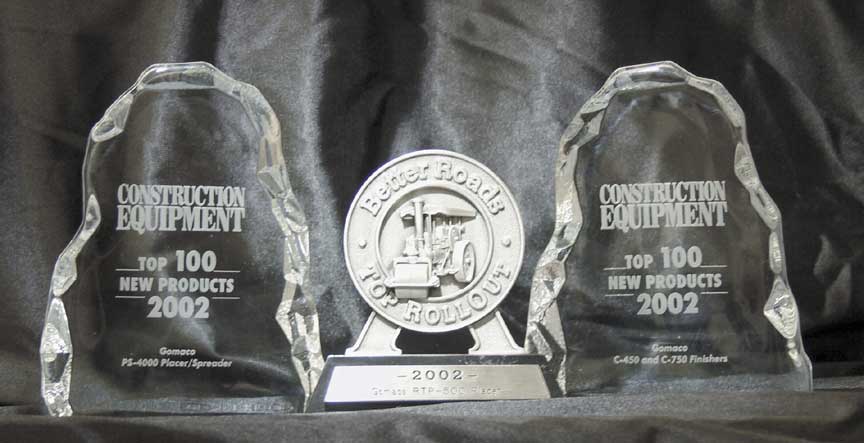 Construction Equipment magazine has once again recognized GOMACO for industry-leading innovations. Three GOMACO products have earned the magazine's highest distinction, the Top 100 Award for 2002.
The top products are: the new generation line of finishers including the C-450 and C-750 and the PS-4000 placer/spreader. They were chosen from a field of over 2,500 products.
"Our Top 100 Product Award program was conceived to call special attention to the most significant products introduced each year. We receive more than 2,500 product releases annually and publish nearly 700 of them," a news release from Construction Equipment magazine said. "In evaluating products for the Top 100 Awards, we look for advances in technology, new product lines, significant improvements to existing products or a product line that increases competition in the field."
GOMACO has received past Top 100 awards for the GT-3600 curb and gutter machine in 1992; the GHP-2800 paver in 1993; the GP-2600 paver in 1995; the GT-3200 curb and gutter machine in 1996; the In-The-Pan Dowel Bar Inserter (IDBI) in 1997; the new generation Commander III in 1999; and the G21 digital controller, RTP-500 rubber-tracked material placer, and the new generation In-The-Pan Dowel Bar Inserter (IDBI) system in 2001.
The RTP-500 rubber-tracked placer was named a "Top Rollout" and one of the 50 most significant new products for 2002 by Better Roads magazine. The magazine logged approximately 400 product introductions and changes between the November 2001 and October 2002 issues.
An article in Better Roads magazine stated: "In selecting this year's top products, we consulted reader service card data to identify products that had stimulated high interest from readers, and we also exercised our own subjective opinions. The result is a list of 50 products that the industry should definitely note."
Subscribe to Receive GOMACO World Magazine