GOMACO World Index --- GOMACO World 31.1 - March 2003
GOMACO Says Goodbye To Two Very Dear Friends And Employees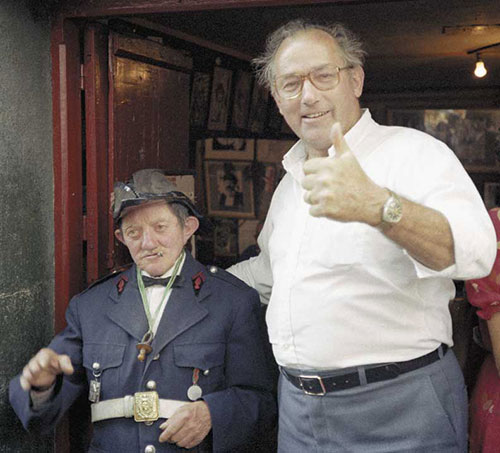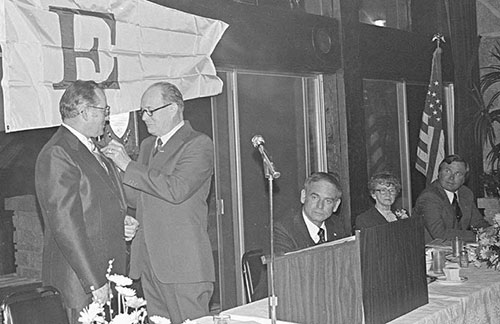 Harold Godbersen, GOMACO's founder, presents Herman, far left, with an E-Award pin as Iowa Governor Robert Ray, Leone, Harold's wife, and Gary Godbersen watch.
Herman Jensen:
December 17, 1924 – November 30, 2002
Herman Jensen, a man who was with GOMACO from the beginning and a long-time friend to the community, died Saturday, November 30, at the age of 77.
Herman was born December 17, 1924, to Herman and Martha (Schwenk) Jensen at the Grant Church parsonage in rural Ida County, Iowa. He was baptized January 4, 1925, by his grandfather, the Rev. Henry Schwenk. On April 2, 1939, he was confirmed in the Lutheran faith by the Rev. E.C. Zschoche.
On April 6, 1944, Herman married Vivian Margene Spahn at the home of his parents with his grandfather officiating. Into the marriage were born four children, Barbara, Beverly, Patricia and David.
Herman began working for Godbersen-Smith Construction Company when Harold Godbersen and Walt Smith started it in 1946. He later went on to work at GOMACO Corporation when it was established in 1965. Herman served as the Manager of Service, Sales and Export Departments before being named International Marketing Director in 1973. In 1979, Herman was named Vice President of International Sales and Marketing, and in 1986, he was appointed Vice President of Corporate Affairs. He retired in 1998, but continued to remain active in the company. Herman was active in state and national construction industry associations for the past 25 years, including the Iowa District Export Council and the International Operations council of CIMA. Herman served on the Ida Grove City Council for many years and was active in the American Legion, as well as many other community organizations.
Mission work was always a focus of Herman's life. His devotion to his faith was felt within the community and Iowa Western District, and throughout the world through his work with the Orphan Grain Train and his service on the synodical Board of Missions for the Lutheran Church-Missouri Synod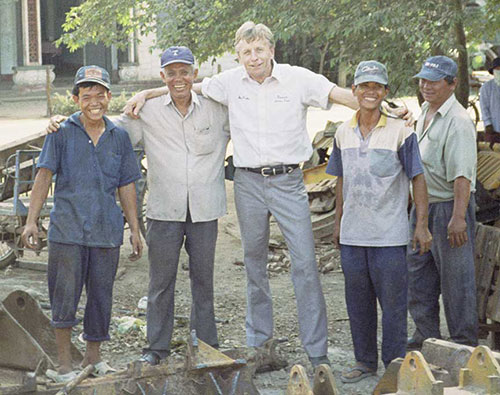 Joe recently went on a service call to Vietnam where he had once served in the Vietnam conflict.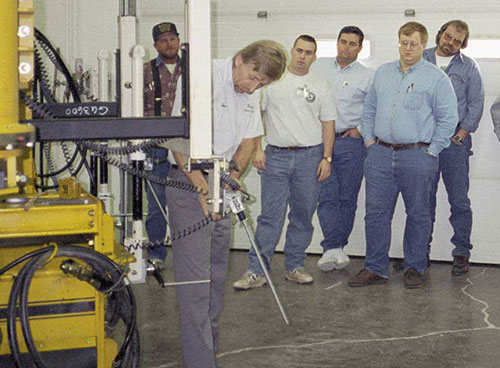 Joe also enjoyed sharing his GOMACO knowledge while teaching at GOMACO University each year.
Joe Paska:
June 28, 1944 – January 6, 2003
GOMACO lost a long-time and committed employee January 6, 2003. Joe Paska, 58, died at his home in Ida Grove, Iowa.
Joseph Allen Paska was born on June 28, 1944, in Omaha, Nebraska, the son of Joseph and Mary Paska Sr. He grew up and attended St. Francis of Assisi Catholic School in Omaha. He then served four years in the U.S. Marine Corps during the Vietnam conflict.
On June 28, 1975, he married Wanda "Kip" Cipperley of Washta, Iowa. The couple made their home in Omaha, where he worked as a patrolman at the Omaha Police Department for three years. He was then employed as a labor foreman for Peter Kiewit Construction Company. They moved to Ida Grove in 1985, when he started working at GOMACO. He was known as a dedicated and respected Serviceman throughout GOMACO's distributor network. During the winter and spring, he also taught and assisted in many classes at GOMACO University.
He enjoyed the outdoors and took great pleasure in gardening, flowers and maintaining his yard and home. He was interested in psychology and self-improvement techniques and loved his dogs. He traveled extensively throughout the world for GOMACO, with a recent special return to Vietnam.
Subscribe to Receive GOMACO World Magazine