GOMACO World Index --- GOMACO World 31.1 - March 2003
The Perfect Scenario For Owners, Contractors And Inspectors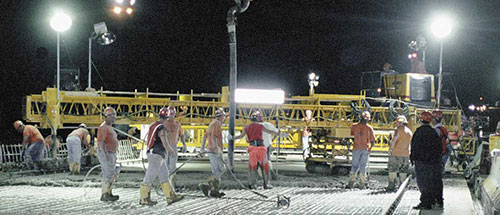 Oakgrove Construction Inc., based out of Elma, New York, won a $62.5 million contract from the New York State Thruway Authority that would require rebuilding five bridges and rehabilitating three more. They have owned GOMACO C-450 bridge deck finishers since the early 1980s. When it was time to upgrade to a new machine, they stayed with GOMACO and purchased a new generation C-450.
"Each of the structures had east and westbound lanes, so those five structures turned out to be 10 bridge decks," Ken Rawe, vice president of Oakgrove Construction, said. "We went with the GOMACO because a lot of the bridge decks were out to 90 feet (27.4 m) wide and lengths were approaching 600 feet (183 m). We wanted a machine that could go that wide and long. We needed a machine we could depend on and that could handle that large square footage."
Their section of the project on I-90, between exits 53 and 54, is a heavily traveled roadway. Approximately 120,000 motorists travel the stretch each day. The timing of the bridge deck pours and maintaining a steady concrete delivery needed to be carefully considered before the project could begin.
Oakgrove decided to do most of the deck pours at night to avoid the heavy traffic. Their concrete supplier, Lafarge, decided because of the high volumes of concrete needed for the bridge decks and other concrete paving in the area, they would set up a batch plant right on the job site.
"The batch plant was located in our staging area, which was right in the middle of the job site. It was terrific because we had a lot of time on those ready-mix trucks to discharge the concrete," Rawe explained. "Another reason is traffic is so heavy that you could lose a truck in traffic and then not have very much time to discharge."
During the night pours, Oakgrove kept three concrete pumps on-site, rentals from T&G Pumps. One was kept strictly as a backup, another placed concrete in front of the C-450 and the third was kept ready to take over when one pump was out of its reach.
The concrete was a very dense, high-performance mix with breaks after 28 days of 6000 to 8000 psi (41-55 MPa). Slump averaged between 3.5 to four inches (89 to 102 mm).
Oakgrove made a total of 34 different bridge pours at widths that varied between 36 and 90 feet (11 and 27 m). The C-450 had to be broken down or extended several different times.
"Changing the machine's width is very easy with GOMACO," Rawe said. "It was one of the reasons we stayed with GOMACO, plus our operator, Paul Ruminski, is very good at taking out sections and building a GOMACO for a certain bridge."
Before any of the decks were poured, the C-450 was taken across them in a dry run.
"It's a requirement that we do a dry run of the deck. That's the way you check your rail, the depths of the concrete to make sure you get it correct," Rawe explained. "It also gives a chance to check what the finished grade will be and, if any adjustments need to happen, you can still adjust either the machine or the rail at that time.
"Setting the rail is the most critical aspect of setting up for a bridge deck pour. Jim Parmenter is responsible for setting all of our rail and he does an excellent job," Rawe continued. "You also have to make sure that rail is supported properly so you get a true grade when you finish the bridge."
All of the decks were 9.5 inches (241 mm) thick and some of them had to be finished on a skew depending on the joints. Skews were as large as 34 degrees on some of the decks.
Production averaged 70 cubic yards (53.5 m3) per hour. Behind the C-450, a laborer bull-floated the deck and some handwork was needed on the edges because of rebar for a parapet wall to be added later. Behind them, a large crew worked on two Spanit® work bridges applying wet burlap to keep the deck moist and eliminate shrinkage cracks on the surface.
"We did something interesting with our work bridges," Rawe said. "We linked them together and put one engine on the lead unit so it mechanically advanced instead of pushing it with laborers. That probably saved us six men on the pours."
The C-450 also had some time-saving advantages for Oakgrove Construction. Its power transition adjuster (PTA), automatic advance, and double-drum finisher proved to be valuable features on the project.
"We needed the double-drum because our bridges on this project were so wide and very long. It basically allowed us to finish twice as fast," Rawe said. "We have many transitions in these bridges, too, and the PTA worked very well. We would go from a superelevated deck back to a normal crown by the time the bridge was finished. Mike McLaughlin, our bridge superintendent, was very innovative in applying this new machine to these particular bridges and getting the most out of the PTA. The automatic advance worked very well. It helped out the operator and freed him up to look at other aspects of the machine during placement.
"The factory support through our distributor, Syracuse Supply Company, is very good too. I was very impressed by that. We are totally happy with the end product and the machine."
Oakgrove Construction's next project with their new generation C-450 is the Michigan Avenue bridge in downtown Buffalo. But before they move on, they took a moment to enjoy the success of their I-90 bridge decks.
"The Thruway Authority was happy and the best part of the project... there was a large amount of dollars involved and we completed on time, on budget with no disputed work. That's the perfect scenario for an owner, a contractor and an inspector."
Subscribe to Receive GOMACO World Magazine