GOMACO World Index --- GOMACO World 31.1 - March 2003
Solution Creates Better Than Expected Results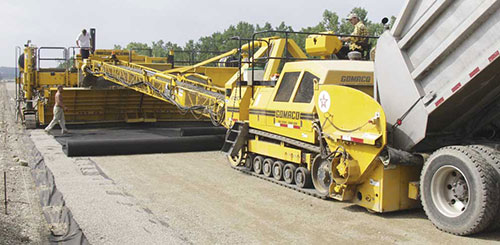 The Michigan Department of Transportation's (MDOT) specifications for placing a rock subgrade require a geotextile separator underneath the stone. The geotextile separator cannot be driven on by trucks during the process of laying it and stoning the subgrade.
The two combined requirements created a new challenge for Primco, Inc. They had a project in Coldwater, Michigan, requiring them to lay 123,191 square yards (103,000 m2) of open-graded 4G's rock base. The base needed to be four inches (100 mm) thick, have a crown and superelevations built into it and all of it had to be on top of the geotextile separator.
"We typically do work in Indiana and this was our first Michigan job," Rick Baumer, vice president of paving operations for Primco, explained. "We typically prepare grade by tailgating the rock out the back of dump trucks and putting it down with a grader or have a subcontractor trim it with a 9500."
Primco went to GOMACO and its research and development team to partner a solution. The result of the partnership is a new innovation, a rock hopper that can be mounted to any GOMACO placer/spreader.
An RTP-500 rubber-tracked placer feeds the rock from the dump trucks into the rock hopper on Primco's PS-2600 placer/spreader. Workers follow the RTP-500 with rolls of geotextile separator, rolling it out on the grade. The PS-2600 places the rock on top of the separator at the proper thickness. A double-drum roller follows behind and makes three passes across the grade.
"The PS-2600 ran off the same stringline that the paver did," Baumer explained. "It has a strike-off on the back of the hopper and the rock hopper is basically a funnel. It just lays the rock to grade and the PS-2600 has a PTA (power transition adjuster) in the middle for the crown and the transitions into the supers."
Equipping the placer/spreader with the rock hopper is a simple process.
"We just had to drop the belt and the rock hopper simply hooked right in like the strike-off pan section does," Baumer said.
Primco's base preparation production has more than doubled with their rock hopper compared to their usual tailgating method. Their first day's production, when they were still learning the process and only had a few rock trucks delivering, was 1700 lineal feet (518 m). Primco would average 2000 feet (610 m) with their old method of placement on a good day.
"By the end of the project, on long runs, our best was 4400 feet (1341 m) in a nine-hour day," Baumer said. "When we had trucks coming in right, we were getting 550 feet (168 m) an hour placing 28 feet (8.5 m) wide. We placed 2800 tons (2,540,117 kg) of rock that day. That's 311 ton (282,134 kg) an hour or five ton (4536 kg) a minute and that's including time for the trucks backing in and out and getting aligned.
"It more than met our expectations on how much footage we could get in a day."
The Coldwater project was a total GOMACO show for Primco. With the grade in place, Primco had 100,466 square yards (84,000 m2) of 11 inch (280 mm) thick concrete roadway to slipform.
Their rock hopper was removed from the PS-2600 and conveyor belt put back on. Primco brought in their GP-2600 paver and T/C-600 texture/cure machine to pave the project. Mainline paving passes were 25.6 feet (7.8 m), which included the shoulders.
The RTP-500 placed concrete in front of Primco's new generation Commander III paving the 9.8 feet (3 m) wide acceleration and deceleration lanes.
"The RTP 500's travel speed is unbelievably great," Baumer said. "That's a big asset being able to put it into travel gear at 10 miles per hour and get from one spot to another. This job was kind of messy with gaps on each end and we had to bounce around a lot. It was great for getting from one end of the job to the other.
"The 35 foot (10.7 m) reach with the RTP's belt was great for us," Baumer explained. "Michigan spec has a reinforced pavement at the bridges, so you have to set from the outside and pour them. We were pouring 25.6 feet (7.8 m) wide and we could reach the whole pour from the outside with great ease."
Finally, to finish the project, Primco brought in their GT-3600 curb and gutter machine to slipform 6562 feet (2000 m) of two different profiles of MDOT curb.
Their first project with the rock hopper was complete and they had achieved outstanding production results. High-production results do not mean anything without a quality end-product.
"This was as good of grade as we have ever paved on. They were the most accurate transitions we've ever paved on, actually. It was that close," Baumer said. "The Michigan DOT loved the operation, too, because they've been having a problem with segregation of the rock base on other projects. The way we were placing it completely eliminated the segregation problem.
"Primco would like to thank GOMACO and its R&D team for partnering with us and developing such a great solution."
Subscribe to Receive GOMACO World Magazine