GOMACO World Index --- GOMACO World 32.1 - February 2004
First Time Slipforming In Australia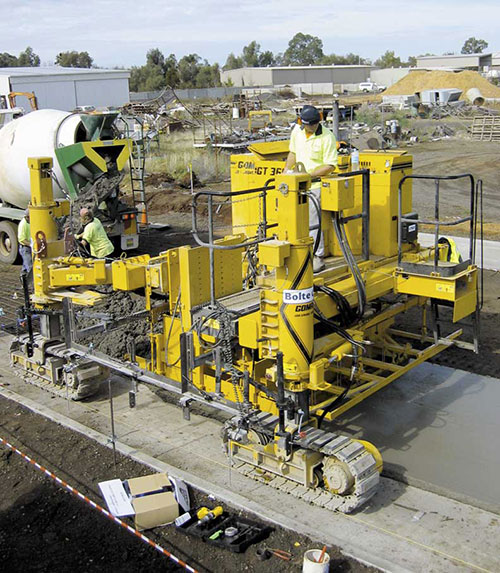 Bolte Civil undermounts a 9.8 foot (3 m) wide mold to their GT-3600 to slipform this section of roadway on a project in New South Wales, Australia.
Bolte Civil Proprietary Limited is a company based out of Wyong, New South Wales, on the eastern coast of Australia. The company has been in business for 11 years, specializing in residential subdivisions and civil works. Until last year, all the curb and gutter and concrete roadway on their projects was subcontracted. It was an arrangement that was causing Neil Bolte, managing director of Bolte Civil, some frustration.
"We started looking at a curb and gutter machine to do slipforming ourselves and we ended up with the GT-3600," Bolte explained. "We do some concrete roads and the GT-3600 had the versatility to slipform the roads and other applications."
With a new machine ready to break in, Bolte had to get his crew trained and teach the concrete suppliers what he needed to make a good, slipformable mix design. It was a challenging time for Bolte before they finally developed a good, consistent mix design.
"We run a slump of 1.2 inches (30 mm)," Bolte explained. "We avoid using water reducers because they make the concrete like jelly. You touch it and it runs all over the place."
It's just one of the many tricks that Bolte Civil has learned about slipforming in the few months they've operated their machine.
"Our biggest problem is a lack of trained personnel that are familiar with slipforming, and getting the concrete plants to supply what we want," Bolte said.
So far they've slipformed curb and gutter, roll curb, roadway and also a channel with curb, a 4.9 to 9.8 feet (1.5 to 3 m) wide flow path for drainage with a curb on one side. The amount of finishing work applied to each application is something Bolte is still working on with the local officials.
"People aren't used to things not being steel-trowel finished, but we're trying to get them used to the idea," Bolte said. "The GT-3600 is putting a consistent finish on our product out the back of the machine and we're not having to touch it much."
Two finishers work behind the machine doing some handwork and inserting contraction joints and gutter outlets. Contraction joints are every 9.8 feet (3 m).
"We're not up to measuring thousands of feet per day and that sort of thing yet," Bolte said. "We're happy if we can run about 4.9 feet (1.5 m) per minute. We just try to average that with whatever we're doing and it gives us a nice result."
So far, the first time slipformers have tackled radius work down to 9.8 feet (3 m) on one of their projects, and are hoping to tackle some tighter ones on upcoming projects.
Bolte Civil is looking forward to the future and more projects with their GT-3600, both in Wyong and also Dubbo, where the company has a satellite office. They're currently slipforming 161,464 feet2 (15,000 m2) of new roadway on a subdivision development in Wyong.
Subscribe to Receive GOMACO World Magazine