GOMACO World Index --- GOMACO World 33.2 - September 2005
California Canal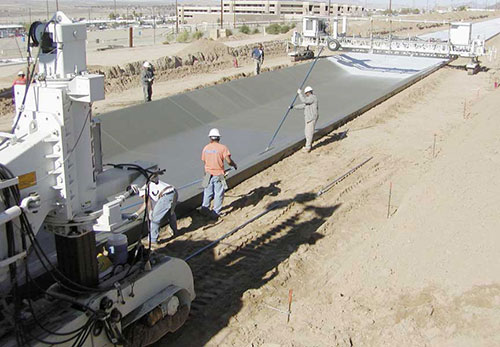 Baldi Brothers' GP-4000 paver was equipped with a chain-type trimmer to trim the final profile of the canal. They trimmed and poured simultaneously with their GP-4000 and achieved excellent production results.
Baldi Brothers, based out of Beaumont, California, recently completed work on an irrigation canal at the Twentynine Palms Marine Corp Base in Twentynine Palms, California. The base is the world's largest marine corp base and features several specialized training facilities.
Baldi brought in their GOMACO GP-4000 four-track paver to both trim and pave the project. The profile of the canal is 24.5 feet (7.5 m) wide and 36 inches (914 mm) deep and runs through part of the Mojave desert.
A T/C-600 texture/cure machine followed behind the paver applying a spray cure.
The project went smoothly for Baldi Brothers and they completed their work well ahead of the scheduled deadline.
Subscribe to Receive GOMACO World Magazine