GOMACO World Index --- GOMACO World 34.2 - October 2006
GHP-2800 Two-Track Paver Exceeds State Expectations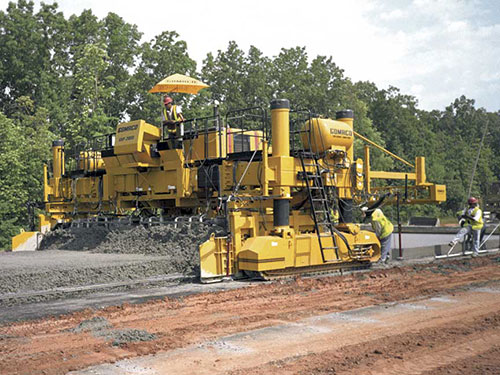 A two-track GHP-2800 slipforms a new 6.2 mile (10 km) long bypass around the city of Lynchburg, Virginia.
Lynchburg, Virginia, is located in the eastern foothills of the Blue Ridge Mountains in central Virginia. It was founded in the mid 1700s by John Lynch. The city has grown to over 96,000 citizens today, and traffic along Route 29, a U.S. highway that stretches from North Carolina to Washington, D.C., was severely congested. The Virginia Department of Transportation (VDOT) decided to create a bypass around Lynchburg to help alleviate some of the congestion.
The project would involve the new construction of 6.2 miles (10 km) of roadway, with two lanes running in each direction. APAC-Tennessee Inc. won the project's paving contract and added the project to their extensive resume of concrete paving.
"We were responsible for the concrete paving on this continuous reinforced job," Daniel Rowzee, general manager of concrete paving for APAC-Tennessee, said. "It was a new construction project and one of those that you don't find very often. We didn't have to work around bridges, traffic, ramps or anything."
APAC-Tennessee, based out of Memphis, specializes in highway and airport paving projects. Their concrete paver inventory includes several different GOMACO models, including four GHP-2800 two-track pavers with anywhere from 11,000 to 18,000 hours on them. Their GOMACO pavers are well used and well taken care of.
"We prefer a two-track paver because of their maneuverability," Rowzee said. "We'll do a job anywhere from 500,000 square yards (418,050 m2) down to 10,000 square yards (8361 m2) of concrete paving. With the versatility of a two-track, we can just drive it onto a low-boy trailer, go with it and pick it up on the next job and never have to change anything over. It works out well for us."
For the Lynchburg project, they decided a new paver was in order and went to GOMACO for another new two-track GHP-2800. VDOT was convinced the project needed to be slipformed with a four-track paver, but APAC-Tennessee knew that a two-track GOMACO would be able to handle the project's International Roughness Index (IRI) smoothness requirement. They convinced VDOT of that fact and paving for the project began.
A PS-2600 placer/spreader was used out in front of the paver to help place the concrete over the continuous steel reinforcing. Concrete for the project was supplied by an on-site batch plant. An average of nine tri-axle, end-dump trucks carrying 10 cubic yard (7.6 m3) loads supplied concrete to the placer/spreader. Slump averaged 1.25 inch (32 mm).
The most challenging aspect of the project was just getting concrete in front of the paver. Shoulder conditions for the haul road were terrible, and in certain areas of the project, impossible for the dump trucks to drive on to access the placer/spreader. According to Rowzee, it took some creative thinking on the part of his crew to come up with an in-the-field solution.
APAC-Tennessee brought in their GOMACO RTP-500 rubber-tracked placer with a 35 foot (10.7 m) long placing belt. Concrete trucks could run on the adjacent two-lane highway and dump into the hopper on the RTP-500.
"We had a couple of areas where the shoulders were pretty bad and the RTP-500 worked well for us," Rowzee said. "We could use it to cast the concrete across the median right onto the belt of the PS-2600. We averaged about 2300 cubic yards (1758 m3) of concrete paving per day while operating that way."
The new GHP-2800 slipformed the roadway 24.6 feet (7.5 m) wide, 11.8 inches (300 mm) thick and on a constant cross slope.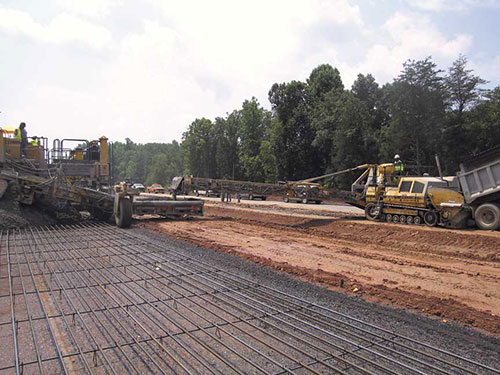 An RTP-500 transfers concrete across the median onto the belt of the PS-2600 in some areas of the project because shoulder conditions were so bad the concrete trucks couldn't drive on them.
A new-style Auto-Float® is attached to the back of the paver to help with the finishing process. It features proximity switches on the Auto-Float's framework to set its travel length. The switches can be easily moved across the framework to change the settings.
"Instead of the old mechanism, the proximity switches have magnets on them so we can control the stopping and starting points easier," Rowzee explained. "We like it and we like the machine in total. The new G21 control system is working well for us and we like the expandability of it. We're going to eventually expand into the new stringless technologies and this controller will allow us to do that. This new-style machine is also a lot quieter and our operator is enjoying that."
A GOMACO T/C-400 texture/cure machine follows the paver applying a random transverse tine and a spray cure for the final finish to the new highway.
Final ride numbers on the project were very good. The project's IRI smoothness index required a reading of 70 or less for 100 percent pay. APAC-Tennessee averaged 65.9 for the southbound lane and in the low 50s for the northbound lane across 12.5 miles (20 km) of roadway.
"We were just following our standard operating procedure," Rowzee said, explaining their smooth results. "We made sure we had enough concrete to keep the paver moving, ran wire stringline, ran a high and a low stringline for the PS-2600, and just kept a constant check on our margins, especially with the condition of the shoulders we had."
VDOT was also pleased with the final results of the project.
"They are very happy with it and want to see all of their projects end up as nice as this one," Rowzee said. "In the beginning, they were convinced we needed to pave this project with a four-track paver, but we dropped in there with a two-track GHP-2800. Once they saw our ride numbers, they changed their minds and it's something that we laugh about now.
"We like our GOMACO machines and the company is great to work with. It's a good family atmosphere and they are always there to answer any questions we have."
Editor's Note: Congratulations to APAC-Tennessee, Daniel Rowzee and their paving crew! The American Concrete Pavement Association (ACPA) named their Route 29 project a Silver Project Winner in their 17th Annual "National Excellence in Concrete Pavements Awards." The awards recognize contractors, engineers, and owners for their work on quality concrete pavement projects.
Subscribe to Receive GOMACO World Magazine