GOMACO World Index --- GOMACO World 34.2 - October 2006
A Project Report From The Pulkovo Airport In St. Petersburg, Russia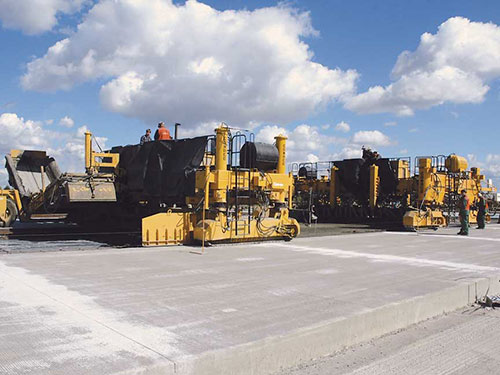 A GOMACO paving train slipforms a new 197 feet (60 m) wide runway at Pulkovo Airport near St. Petersburg, Russia.
Pulkovo Airport is an international airport located just south of St. Petersburg, Russia, and during the summer of 2006, gathered the attention of the world. St. Petersburg, hometown to Russian President Vladimir Putin, hosted this year's Group of Eight Industrialized Nations (G8) Summit and world leaders from the United States, Britain, China, Japan, Italy, France and Germany. The Summit's agenda would focus on three areas of global concern: energy security, education and the fight against infectious disease.
The world leaders would all be landing at Pulkovo, but the airport's aging runways weren't capable of handling some of the larger aircraft. Pulkovo has also grown to be Russia's third largest airport, handling 4.2 million passengers last year. It was time for the airport to be upgraded. Funds were appropriated for the reconstruction and widening of the #2 runway and adjacent taxiways, along with other improvements to the airport.
The runway renovation project would consist of slipforming over 70,000 cubic yards (53,519 m3) of reinforced concrete runway. Centrodorstroy JSCo., with headquarters in Moscow, Russia, was the prime contractor in charge of the runway work. Centrodorstroy used their GOMACO paving train, consisting of a PS-2600 placer/ spreader, four-track GHP-2800 with Auto-Float®, and a T/C-600 texture/cure machine, to complete the concrete paving on the project in three month's time.
The new #2 concrete runway is 197 feet (60 m) wide and over two miles (3.2 km) long. Thickness varies between 11 to 11.8 inches (280-300 mm), according to the project's specifications. Paving passes with the GHP-2800 were 24.6 feet (7.5 m) wide.
Concrete for the project was mixed on site in two portable batch plants. Twelve dump trucks with a capacity to carry between 10.5 to 15.7 cubic yards (8 to 12 m3) of concrete hauled concrete from the batch plants to the PS-2600 placer/spreader. Paving production averaged three feet (1 m) per minute, with their highest daily production reaching 1570 cubic yards (1200 m3).
The Pulkovo Airport project, now complete, is able to accommodate all kinds and sizes of airplanes, including the A380 and Boeing 787. It's the first airport in Russia with this distinction, which allowed the world leaders to land at Pulkovo for their G8 Summit.
Editor's Note: Special thanks to Alexei Ponomarev, Commercial Director and Sales Manager for GOMACO equipment for KwintMadi Moscow. Alexei's assistance and translation skills made this article possible.
An aerial view of the new runway at the airport shows the immense size of the project, which was completed in only three months.
Subscribe to Receive GOMACO World Magazine