GOMACO World Index --- GOMACO World 34.2 - October 2006
We Lost Someone Very Special...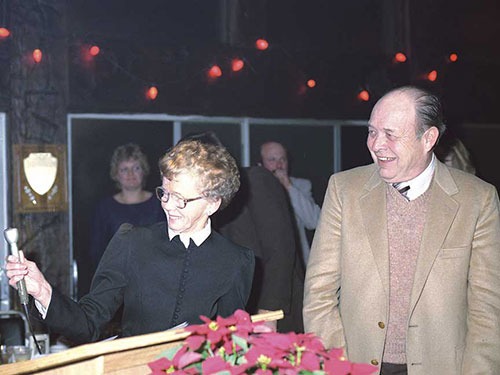 Christmas was Leone's favorite holiday and together with Harold, enjoyed all of the GOMACO corporate Christmas celebrations.
Leone L. Godbersen, mother of Gary L. Godbersen, President and CEO of GOMACO Corporation in Ida Grove, Iowa, died Tuesday, June 27, 2006. She was 92 years old.
She was born Leone Fern Lee on December 6, 1913, in Battle Creek, Iowa. She graduated from Danbury High School in 1932 and married Harold W. Godbersen on July 31, 1938.
They moved to Ida Grove in 1941. Harold co-founded Godbersen-Smith Construction Company in 1946, and in 1965, with son Gary, founded GOMACO Corporation. Leone was the secretary/treasurer for both firms and she continued to go in to work at the construction company up until her passing.
Leone was a member of the First United Methodist Church, Eastern Star, PEO, and Horn Memorial Hospital Auxiliary. She was named Ida Grove Citizen of the Year in 1981. She was very active in the community and generous to the needs of people and projects, including Horn Memorial Hospital, the Ida Grove Public Library, and the new Ida Grove Rec Center.
She is survived by her only child, Gary L. Godbersen and his wife, Sharon; grandson Grant and his wife, Julie, and great-grandchildren Jennifer and Jackson; grandson Kent and his wife, Jill, and great-grandchildren Reed, Carson and Morgan; and granddaughter Micki Rettinger and husband, Len, and great-grandchildren Libbie and Ty.
She was preceded in death by her husband, Harold W. Godbersen, in 1986; also her parents, George and Olive Lee; and four brothers, Lawrence, Paul, Myron, and Marvin.
Subscribe to Receive GOMACO World Magazine