GOMACO World Index --- GOMACO World 34.2 - October 2006
The New Skewed Tining Option For GOMACO Texture/Cure Machines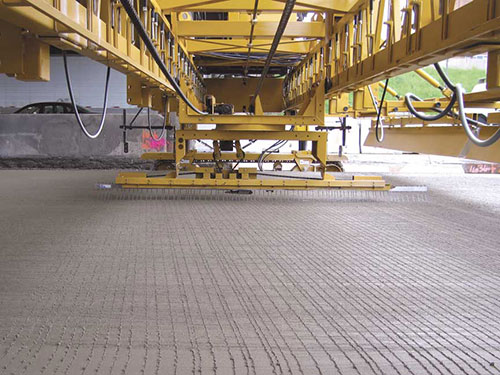 GOMACO's T/C-400 and T/C-600 texture/cure machines are now available with a skewed tining option. It allows the travel of the tining bars to run a skewed path, while the frame of the machine is square to the slab. It simplifies the ability to transverse tine on newly paved streets and highways requiring a skew texture. In the past, the frame of the texture/cure machine had to be skewed and incorporated the use of a secondary crawler track mount with a center pivot, which added length to the machine. The skewed frame had to be broken down for transport.
The skewed tining innovation was created after a contractor in Illinois, Walsh Construction requested the option. The state of Illinois requires skewed tining on all of their highway projects, and on Walsh's tight-clearance job on the Dan Ryan Expressway in Chicago, they just didn't have any extra room.
The tine rake on the texture/cure is gear driven, and as the rake travels across the slab, it moves longitudinally in a sliding mechanism through the mount. The final tining pattern is accomplished simply by sliding only the rake. No matter where the broom starts or stops, it always has the same skewed pattern, because it is timed off the carriage's back and forth travel.
The sliding movement is controlled by a timing chain that runs from end panel to end panel. The direction of the skew can easily be changed by moving the timing chain either over or under the main drive sprocket on the upper carriage.
Simplicity was the main design concern. There are no electronic controls with the texture/cure's new skewed tining option. The sprockets, chains and mechanical items are ordinary pieces that are easily replaceable and can be purchased at the local hardware store.
The response to the new skewed tining option has been positive.
"It's worked great," Rocky Bellis, general superintendent for Chicago Heavy Highway Division of Walsh Construction, said. "We've modified all of our texture/cure machines in Chicagoland. GOMACO developed a retrofit package for some of our older machines and we have not had one problem with them. It's been great and works real slick."
Subscribe to Receive GOMACO World Magazine